Appreciations
View(s):

The "tall man" who was our leader and mentor

Prof. Jagath Wickramasinghe

Justin Wimalasiri Wickramasinghe was born in Matara on 16.03.1939 and passed away on November 6, 2014 in Colombo.

A simple man by nature, he was an academic, economist, speaker, author, lawyer, orator, administrator and was involved in national politics. I would like to pen a few personal memories of Loku Thaththa, as the son of his only brother.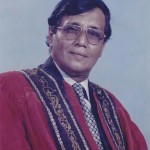 My first memory of Loku Thaththa is when I travelled with him to West Berlin in the late 1980s, as a very young boy, with many "stopovers" on the way. At that time Loku Amma was doing her higher studies in Germany and my father in London. At one stopover, I, in my sleep, had, relieved myself on his jacket. My mother had wanted to carry me but he had refused saying not to disturb me, and that he can get the jacket cleaned later. That was typical of Loku Thaththa's caring approach towards his family.
He was the "tall man" – our leader and mentor. We all looked up to him. We were proud of him and he adored his kith and kin.
For the family, friends or any person who approached him for advice, employment opportunities, or any other assistance he was readily available and willingly assisted to the best of his ability.
Even with his busy schedule he found time to look into the wellbeing of his nieces and nephews. The day, the O'L results were released in March 2000, he had called seven times to find out my results despite his busy schedule as Chairman of the Insurance Corporation at that time.
When I was studying for my A/Ls, and faced a few difficulties with chemistry, he arranged for a coaching session with a young lecturer from the University. During my days as a medical student he would bring me many books during his foreign trips as these books were not available here.
When I graduated from the Faculty of Medicine he was overjoyed and hosted a party at his Nawala residence. He invited all family members for the celebration and gifted me with a Stethoscope.
He followed my progress with joy and pride and encouraged me to join the academic staff in the University. When I joined KDU as a lecturer, he was happy and when I moved to Colombo Medical Faculty he was delighted.
He was a very dutiful and caring son. On one occasion, while he was overseas, my grandmother was in Colombo for her routine medical check-up and he went straight to visit her on his return. When she expressed a desire to visit the Dalada Maligawa, he immediately took her to Kandy to fulfil her wish. He always found time to spend with achchi and visit Matara.
It was very sad for all of us to see his health deteriorate. Loku Amma looked after him with devotion and commitment until his last breath.
Loku Thaththa, we miss you; our lives will not be the same without you.
May your sansara journey be lighter and shorter.
Dr. Dakshitha Wickramasinghe
Thank you for the music
Prof. Valentine Basnayake
It is almost six months since you left us and I still find this difficult to do – very difficult. I cannot put into words what you were; respected mentor, friend, educator, physiologist, biologist, but above all, a musician – such a rounded whole – so many facets – each of which shone when required – with so much perfection.
Humble to a fault – you taught us to appreciate true values. We were learning all the time we were with you – obviously without realisation.
The gentleness with which you pointed out mistakes and corrected them, the way you respected each individual, however young, accepting them for what they were and imperceptibly guiding them to a realisation of their particular strengths.
The indefatigable way you worked on anything that caught your interest, as evidenced by the long hours spent correcting and re-correcting the 'Notes' till you were finally satisfied with your efforts of appreciating and publishing local research findings,
Seeking no recognition whatsoever for these – such was your abhorrence of self- advertisement.
How you helped innumerable students along their way, from one stepping stone to the next, pointing out the pitfalls in between and helping them to find the best means of avoiding these – all the while insisting gently but so firmly on perfecting each step before going on to the next.
I saw this best in the field of music, when even the Professor who so kindly volunteered to teach a child with talent was ready to take him on – but you felt that this child had not still put in his best efforts in preparing for the audition.
How the stray animals must miss you! The dogs, cats, crows, mynahs, sparrows, geckos, ants and yes – Homo sapiens too.
Enough said – those who knew you know the richness of your nature and count themselves very very fortunate to have had the good luck of knowing you.
Music – this always came first so I'll just say;'
'Thank you for the music……………. for giving it to us'
It was such a blessing knowing you…..
Alkan
Renowned lawyer, unswerving defender of human rights
R.K.W. Goonesekere
It is too soon for us, of the Civil Rights Movement and the Nadesan Centre for Human Rights Through Law, to write a full appreciation of R.K.W. Goonesekere, who headed our movement for so long. For the present, let us just take a glimpse at our records. Thirty six years ago we wrote of him:
We would like at this stage to say something about two men of distinction who have headed our movement. Our first Chairman was Prof. E.R. Sarachchandra. Our movement will always be profoundly grateful to this distinguished don and dramatist for his ready acceptance of this office at a time when many were reluctant to be identified with CRM at all. During Dr. Sarachchandra's absences abroad our Deputy Chairman R.K.W. (Raja) Goonesekere, then Principal of the Law College, acted for him. Later Dr. Sarachchandra was appointed Ambassador to France, and we asked Raja Goonesekere to take his place. His response was characteristic– "Yes certainly, but are we sure there's nobody better?"
CRM could not have been more fortunate in having as its head this mild mannered, scholarly man, of distinguished academic record, extraordinary integrity and deep commitment to human rights. Raja Goonesekere was no figurehead in CRM, he gave it his time and talent freely, participating in its research and analyses and signing his name to its public statements and declarations. As a result he was sometimes at the receiving end of crude attacks including in Parliament where personal jibes took the place of reasoned reply to our arguments. Some time later, legislation was passed assailing the independent status of the Law College and bringing it under control of the Ministry of Justice. Raja Goonesekere continued with his work as Registrar of the Council of Legal Education and Principal of the Law College, both as a teacher of law and with the legal research which was always his abiding interest, and he continued as before to give of his spare time to CRM. Suddenly, he found himself the target of intrigue and a shameful campaign of vilification, which culminated in his decision to resign from his job. After a short interval Raja Goonesekere, who never had any ambition other than to pursue his vocation as a teacher of law in his own country, regretfully took up a teaching post abroad. The loss to the students of the Law College, to legal education which he had served for twenty five years, and to the CRM, was great; the loss to our country was greater still.
[from the Introduction to The People's Rights: Documents of the Civil Rights Movement of Sri Lanka 1971 – 1978]
Fortunately for us all, Raja returned to Sri Lanka a few years later and resumed his contribution to the training of young lawyers, the development of constitutional law, the promotion of civil liberties and the enrichment of the intellectual life of our land. When a vacancy occurred, he resumed his role of Chairman of the Civil Rights Movement and of the Nadesan Centre, which positions he held till he died. A whole book now remains to be written about the outstanding contribution to society of this remarkable and most admirable of men.
Suriya Wickremasinghe
Very much loved and forever missed
Krishni Sourjah
A tribute to our beloved friend on her birthday on December 4
She was brave…..
In the way she handled life head on
She was unique…..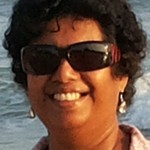 With an inner strength that stimulated everyone around her
She was inspirational…..
By making us feel special and cheerful
She was witty…..
With twinkling laughter and contagious energy
She was a foodie…..
By showing compassion and pure joy through food
She was full of resolve…..
With integrity, determination and confidence
She was always in control…..
As an exceptional friend and incredible team mate
She was very much loved…..
And will be forever missed….Our dearest Krishni!
Friends and colleagues