Come Christmas season, come the rogue traders
View(s):

Santa Claus is coming … and so are investigators prepared to punish traders scheming to cheat customers splashing out on food and other items to celebrate the festive season.

"Importers and traders find it easier to dump these expired foods on the unsuspecting public during the festive season," Consumer Affairs Authority (CAA) Chairman Rumy Marzook said.

Unscrupulous marketing techniques ranging from re-labelling of expired goods, sale of low-quality items in bulk, failure to display prices, hoarding etc. will be treated sternly, he said.

A special squad to be deployed by the end of this month to investigate and identify errant traders in Colombo, Negombo, Wattala, Moratuwa and other areas that see high business turnover at Christmas-time.

"We have already received information about traders re-labelling and renewing old goods with new wrapping," Mr. Marzook said.

"Buyers should take care: For each and every product one buys whether it is retail or in bulk, it is important to obtain a receipt and check for quality."

Mr. Marzook said most people thought expired food items are sold only in bulk shops or retail grocery stores. "In fact, supermarkets too sell these items as there is a big demand during the Christmas season. This is a period when most food items come on the market, whether it is biscuits, cheese, cordials, meat, canned food, Christmas cake ingredients or other food items."

He said that due to increased demand of items in December and January, traders might hoard goods in order to create an artificial shortage. CAA raiding officers have been given special directions to be vigilant about this, he said.

Partygoers who will be visiting beauty parlours are being advised to check the expiry dates of beauty products that are being used and to reject

them if the product does not bear an expiry date or looks as though it has been re-labelled.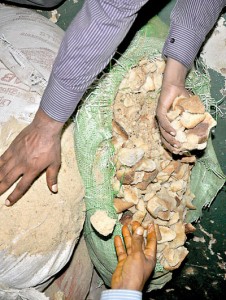 Last December saw raids by the CAA and Public Health Inspectors uncovering large stocks of suspect food items including outdated canned fish, sugar, frozen pork and chicken, cheese, biscuits, fruit juice, pumpkin puree, baked beans, mayonnaise, BBQ sauce, cashew nuts, raspberry jam, flavoured drinks, fish sauce etc.
The CAA also recovered more than 5,000kg of chilli powder made of expired chilli flakes and stocks of chilli and other curry powder mixed with fabric dye and other artificial colouring.
Earlier this year, the CAA recovered 10,000kg of outdated cocoa powder and 150,000 packets of outdated jelly crystals in factories.
Public Health Inspectors Association President Ajith Rohana said inspectors had found outdated meat products such as sausages and meatballs being sold in retail shops as well as outdated imported food in shops and supermarkets.
Last week, PHI officers found canned tuna sold in unlabelled tins at a supermarket in Thalawathugoda.