Vidanage's comeback trail
By Naushad Amit
View(s):
While the entire world celebrated the traditional '31st Night' galas during the past two years, once discarded weightlifter Chinthana Geethal Vidanage had to experience the darkest couple of birthdays ever in his life. Vidanage has come across many December 31s, to become a matured man of 32, but by this time he also probably becomes the only national level athlete to be debt ridden, more than once, to continue the sport he loves, weightlifting.
Returning freshly from a two-year ban imposed by the International Weightlifting Federation Vidanage slashed all critics by establishing a new Sri Lanka record in the 85kg weight category in the snatch method at the North Central Province Weightlifting Meet, but still grieves on the valuable time he had to let go.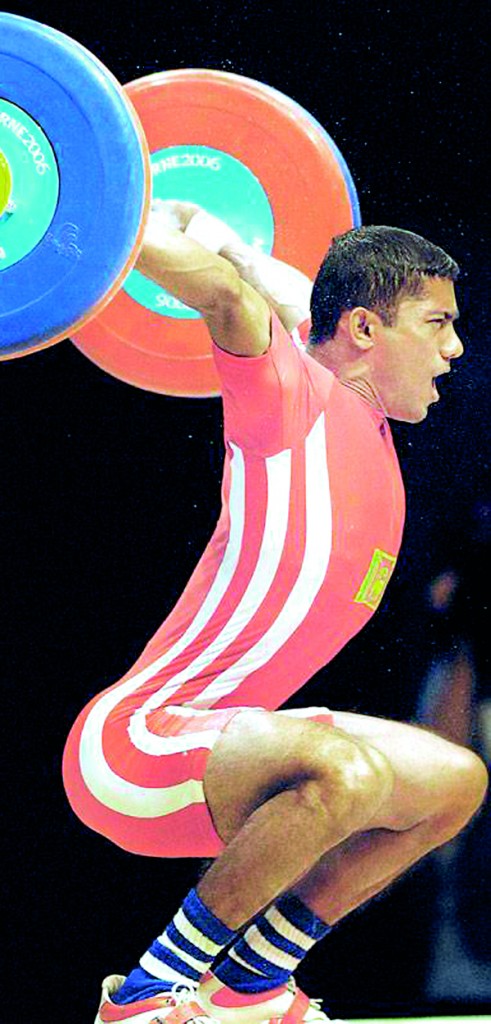 He partly blamed the whole system where the top hierarchy in sports administration handpick lucrative sports and place them into different categories, naming which needs development and attention and which does not.
"I think probably the two-year ban came at a crucial time of my life. That period from 2011 to 2013 was a time I could have done a lot and achieved in the sense of national duty; an aspect most of our administrators don't adhere to. But then again I could name this 24 months as a transition period, which helped make my self-confidence stronger than ever," Vidanage, spoke of his second life in weightlifting to the Sunday Times.
Vidanage, who had competed at many international events representing Sri Lanka, had won two medals, both at Commonwealth Games, in 2006 in Melbourne and in 2010 in New Delhi. His first was a gold medal in Melbourne, in the 62kg category and four years on in New Delhi he won a silver medal in the 69kg category. He competed under a wild card entry in the 2008 Olympics held in Beijing and impressed with a stupendous performance, indicating he was ready for a medal in another four years.
But just before a year for the next Olympic Games in London he was banned for four years by the International Weightlifting Federation after the World Anti Doping Agency (WADA) tested him positive for using a nutritional supplement which contained metabolites of methylhexaneamine. As Vidanage revealed the banned substance had contained in a supplement he used to take daily, which can be purchased from any pharmacy or sports nutrition outlet. Incidentally this brand which comes under the label 'Jack3D' has been a popular product among weightlifters and Powerlifters until, the WADA put it into the banned list in 2011 — the year Vidanage became the offender.
"It was at the Asian Championships in China. I remember the incident like today. I really had no reason to bother because I have been tested so many times earlier and tested negative, after using the same supplement. But when I was tested positive I was really flabbergasted. I thought to myself, how come now, when I was not proved wrong so many times earlier," Vidanage, who was still surprised of his ban even after two years.
However, Vidanage, as he is adamant in weightlifting to achieve new heights, was optimistic that he would receive clemency from those who imposed the ban on him. He made several appeals and fought back to regain his rights to compete in the sport he loved most.
Considering his previous results from anti doping tests and with the International Weightlifting Federation officials coming to a term that it was a genuine mistake, Vidanage's four-year ban was reduced to two years and was officially released to take part in competitions from mid May this year. During the past two years, according to Vidanage he was left with nothing to do other than maintaining his physical fitness which he was entitled to do as a human being. He had nothing but dejection left in his mind for being a victim of others' failures which almost made him a national disgrace.
"As the whole country knows I'm from Polonnaruwa and I'm totally based there. I was educated at Royal College Polonnaruwa and I represent the Polonnaruwa Weightlifting Club.
Moreover Polonnaruwa is a haven for weightlifters, even before I made my entry as a schoolboy in 1996. Knowing these facts and others such as our inability as individuals to travel on daily or weekly basis from Polonnaruwa to obtain advice and information from the National Sports Medicine Unit based in Colombo, the officials could have made other propositions. Even if we come to Colombo we have to spend a day or at times two, standing in long queues until we get our chance.
There was no exceptional treatment for those who come from outstations, especially those who represent the country. Until I got slapped with a ban, this was an ignored fact. Now things have gradually changed," Vidanage charged while adding that this avenue of miscommunication has forced many others to give up weightlifting, even before he stepped in to the circle.
He went on to say that if the officials were more committed as the sportspersons were, many would have at least had the joy and pride of representing the country for the mere reason of working closer with selfless officials.
"The situation is otherwise. Officials do not face the consequences, but we do. They don't face challenges or tribunals, but we do. On the other hand we don't get paid for what we do but they do get paid because it's their profession. So why couldn't they be more committed. If you take the WADA list, it keeps changing; there are certain times when caffeine is banned. And if that is so, many Sri Lankan athletes could have drunk coffee and won Olympic gold medals. But in reality the impact of nutrition supplements is something different.
The WADA puts some product in the banned list when it is proven harmful for the human body. We were sort of ignored from being educated but, I as a person have learnt my lesson," Vidanage told the Sunday Times while tormenting on the fact of being a bad debtor among his friends after borrowing money to carry on with his sport.
Though Vidanage claims three national records under his name he also claims a heavy load of debts for the mere reason of being unemployed, mostly during his career. Vidanage had two national records in the 69kg and 71kg categories, in snatch and clean and jerk methods and overall, before claiming his third, in the 85kg category in snatch method a week ago.
Since 1996 Vidanage has been engaged as a fulltime weightlifter. His rapid progress helped him to be drafted to Sri Lanka Air Force as a volunteer officer under its sports programme in 2001. After serving five years he joined the Brandix Group as a Human Resource Executive and won financial assistance by Access Group in 2006, the year he won the Commonwealth gold medal.
But in 2008, by the time he returned from the Beijing Olympics, he lost both ways of assistance. Since then until 2010 where he won the silver medal and a cash prize of Rs. 1.3 million Vidanage was jobless, as he was forced to borrow money from his friends and supporters. After settling an amount of slightly over Rs. 1 million Vidanage had barely three and a half Lakhs to spend on his family and future training programmes.
Follow @timesonlinelk
comments powered by

Disqus