Five star rooms for whom?
View(s):

Five star rooms for whom?

The Proteas are coming and the organizers are busy booking rooms to accommodate them at five star hotels. These hotels have a habit of giving some free rooms and compliments and the organisers are planning to have a big bash when the foreign team arrives. Most of the officials who are planning to occupy these rooms are from Colombo. The strange thing is that none has been set aside for those in the outstations.

Through the back door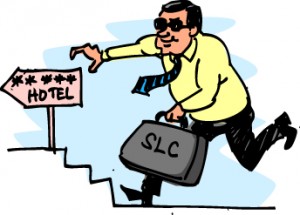 A top school by the sea has imported nine players through the back door in preparation to meet their arch rivals next year at the SSC. This, they have done, because they swallowed a bitter pill at the Big One this year and do not want to taste the same in the next year too!
Parents, Old Boys and followers of the game are aghast at this move done with a very short goal in mind. It looks as if those lads who have been attending practices and striving very hard from the bottom are in for a very raw deal. What is happening to the tradition that they have been boasting about all these years? How could they cheer 'go Thora go'?
Women's section deserted
The women's section of a top sports body is deserted these days. The two officials in that section have gone abroad but not for the sport that they are involved in. They have gone overseas for a sport that is played with a net and a ball. Could these two officials be planning to quit the sport that they are being paid for? Your guess is as good as mine!
Have money will travel
'Have money will travel' seems to be the way an eight member team went to Busan in Korea to take part in a ping-pong tournament. Those who had sweated and qualified to make the tour were high and dry as they could not raise the funds. So for any tour, if one has the funds, he or she can make the trip whether they qualify or not, so to say.
The quiet man's decision
A quiet man in the sport that is being kicked about has decided to call it a day as he is not willing to play ball with the sport's big man. Those in the know say that he wants to quit because he is not in the good books of the new boss.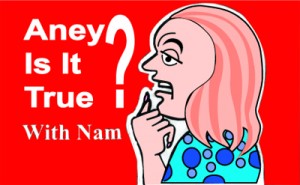 Who voted for him?
A scorer who has made it big in the international scene is not qualified to be in that position say insiders. How he made it to the top is anybody's guess. He has a reputation of changing the score sheets before officials take a close look at them. Anyway he has been selected to the post by votes. Who voted for him is the big question now!
Curbed enthusiasm
A cheer leader made his way to Blighty to cheer the local team. He was not seen on TV nor was he heard of. Before he left there was a big hue and cry and even a sponsor came forward to give him a return air-ticket. Could it be that the performance of the team curbed his enthusiasm
Follow @timesonlinelk
comments powered by

Disqus