England and New Zealand will be Lanka's cricketing friends
By S.R. Pathiravithana
Will meet Australia in a series only once within the next five years
View(s):
Sri Lanka cricket administration's penchant for the limited overs version of the game would go on till end 2014. From now till end of 2014 the Lankan cricket fans will only see their cricketers being involved nine Test matches.
That too is because the administration has been able to clinch an away series against England which is out of the Future Tours Programme of the ICC. That tour will take place in May 2014 where they will be engaged in two Test matches, five ODIs and a single T-20 affair. If not Sri Lanka would have had only four Test matches against lowly placed Bangladesh and Zimbabwe and 3 Test matches against Pakistan in Dubai.
However the status quo looks to be changing in 2015.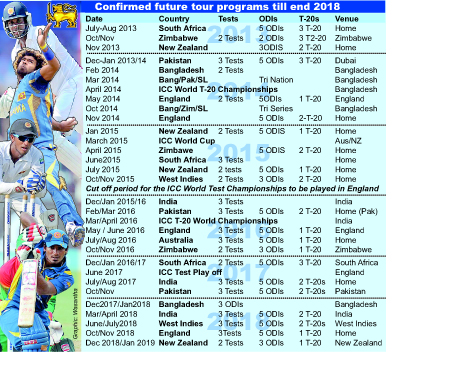 In 2015 Sri Lanka would play a further nine Test matches in just ten months. In November 2015 the probable cut off period for the ICC Test championships would come into effect. The ICC Test championships would work off in June 2017 in England. The top four teams of the ICC ratings by the cut off period would meet in this final play-off.
However, Sri Lanka will play a further 3 test matches against India in December 2015 and January 2016.
However in this schedule there is one very significant point. Up to end 2018 Sri Lanka will meet Australia only in one home series where they would play 3 tests 5 ODIs and a T-20 match. This will be besides the ICC T-20 championships which would take place in Bangladesh in 2014 and in India in March/April 2016 along with the 2015 ICC Cricket World Cup in Australia and New Zealand in 2015.
Strangely, England will have the most number of exchanges along with New Zealand during this period. The two countries will have four series each against Sri Lanka during this period.
Besides the seniors the Lankan juniors will also be busy in the near future. The SLC officials have been able to clinch a series of matches to the juniors.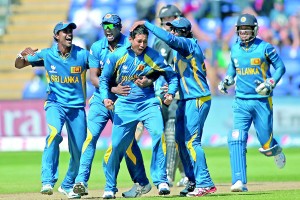 The Indian under 19 team would be in Sri Lanka for two four day matches and 3 ODIs. This series will take place 20th July and 9th August this year. Then between 30th November and 23 December this year the Lankan under19 team will be engaged in a tri series also involving England and Pakistan, in Sri Lanka.
The Lankan 'A' team upon their return to the island from the West Indies will be busy taking on the New Zealand 'A' team in 2 four day Tests and 3 ODIs and then will once again be active between 28 January 2014 and March 2, 2014 taking on the English Lions 'A' team in two three day matches and 3 four day Test matches.
In February/March 2014 the ICC under 19 Championships will take place in Dubai. Meanwhile the Lankan lasses who are in the Irelands for the ICC Women's World T-20 Qualifiers will travel to South Africa to take part in the series involving Momentum Proteas, Sri Lanka, South Africa Emerging and the England Academy between 11 October and 3 November.
Follow @timesonlinelk
comments powered by

Disqus