Dream team – Sri Lankan fans can only dream about winning
View(s):

We Sri Lankans love to self-flagellate ourselves every now and again, especially when there is a major ICC tournament around. So it has become almost habitual – just like breathing air or putting one foot in front of the other – that we find fault with our cricketers while the masochistic pain envelops us.

Six, or is it seven now, close brushes with glory in as many years is no laughing matter. It underscores a major fault-line in our team, our approach to the game as well as the national psyche – the latter being a shrug of the shoulders and a so-what attitude.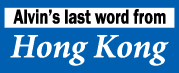 This can be an exemplary and pragmatic approach usually, especially when faced with life's manifold obstacles. But when it comes to our favourite sport, this suggests a sorry stance, almost akin to that of our heroes at the crease.
And our batting has been at the heart of all the ills over the past few years. A reputation for flamboyance and natural aggression has withered with a painstaking clinical approach where minutely prepared game-plans have overtaken instincts.
Batsmen of the calibre of Aravinda de Silva and Sanath Jayasuriya went out and played in the only way they knew to, and that helped us win our first, and only, major title, the 1996 World Cup.
If Aravinda had gone out with Sri Lanka having lost both their openers early in the World Cup final against Australia and batted cautiously according to a game-plan mapped out by analysts and experts, we would never have been able to haul down Australia's score.
His aggression and counter-attacking paved the way for a momentous victory. It is this free-spirited approach, un-inhibited by worries of failure which turned that final on its head. Aravinda didn't step back when faced with adversity.
Yes, it was a bad toss to lose and the pitch at Cardiff favoured the bowlers, but we knew we had to put on a decent score of at least over 250 to stand a chance against India's batsmen. Instead we pottered to 181.
People might say Tillekeratne Dilshan's injury – it smacks of not having warmed up sufficiently pre-game – was a turning point. But setbacks happen all the time, it is how you react to it which counts. And on that day, we circled the wagons immediately.
Angelo Mathews has to take a large portion of the blame. His body language was poor at the crease. His failure to push the singles and rotate the strike was deadweight in the bid to increase the run rate.
He might have top-scored with a half-century, but that knock had more than 50 dot balls. Just imagine if he had been able to translate at least half into singles – it would have pushed our score past 200, psychologically a boost.
Mathews is still young as a captain. But first impressions are worrying. He is too cautious in his thinking.
His batting best exemplifies that approach, having taken on the role of a finisher. But to finish, you have to first get close to the goal, and in this case, the goal was to score in excess of 250 and set India a challenging target.
On the field, he fails to set attacking fields as shown in the game against Australia when the tail-enders were allowed to milk runs by pushing down the ground. That they came within 20 runs of pulling of a sensational win was only halted thanks to a brilliant catch by Dilshan.
If Australia didn't go for the runs, needing to overhaul Sri Lanka's 251 in 29.1 overs, we would have certainly lost that match.
It was individual performances that took us as far as we got with Kumar Sangakkara's superb 134 against England, Mahela Jayawardene's 84 against Australia, being the two best examples. But we cannot keep relying on individuals to come up trumps always.
What is needed is a cohesive and aggressive approach to the game. Lose, but lose with a fight must be the way ahead. Play positively. Against India, Sri Lanka lacked any intent when batting. There was no attempt to score runs instead keeping wickets in hand was the mantra.
It is a negative game-plan as it takes all the pressure off the opponents. And it is worse when it doesn't come to fruition as it proved in the end starting with a farcical batting power-play followed by a tame end.
A negative mindset can be infectious. Was this the reason why Nuwan Kulasekera left a half-pitch ball down the leg side, begging to be hit over the square leg fence, and instead hoping for a wide? He was bowled by the turn.
It is time Sri Lanka has a leader with a positive outlook, where being aggressive is second nature, someone like Arjuna Ranatunga. We need a fighter, a mongrel who can scrap with the best and not a thoroughbred who will politely wag his tail.
Until we find such a captain, we will continue to end as brave losers. We have had enough of this.A close friend of mine, Jehaan Ismail, had the best take on this. He said the Sri Lanka cricketers are a dream team – the fans can only dream that this team will win a major title.
Follow @timesonlinelk
comments powered by

Disqus