Moratuwa University emerge 2013 SLUG champions
View(s):

The University of Moratuwa bagged the overall championship at the recently concluded Sri Lanka University Games (SLUG) 2013.
SLUG, which is known as the grand festival of Sri Lankan university sports, has been held triennially since 1980. This year the 11th SLUG event was hosted by the University of Moratuwa and was held from May 2 to 12.

The competition recorded the highest number of contestants, with about 5200 sportsmen and women participating in 22 sports which included 35 events. Athletes from the Universities of Colombo, Peradeniya, Moratuwa, Sri Jayewardenepura, Kelaniya, Jaffna, Ruhuna, Eastern, Rajarata, Sabaragamuwa, Wayamba, South Eastern, Visual and Performing Arts and Uva Wellassa took part in the games.
Moratuwa University scored an overall 321.5 points, followed by Colombo University with 312 points, Sri Jayewardenepura University with 288.5 points and Peradeniya University with 269.5 points.
"Moratuwa University was able to claim both the mind games and the physical games, despite having many engineering undergraduates who gained the highest z-scores in the country," said K.R.D.C. Ratnamudali, Director of Physical Education at the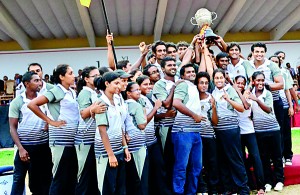 Moratuwa University.
The games in which Moratuwa University emerged champions varied from baseball, cricket, hockey (men and women) and rugby to indoor games like carom (men), chess (men), taekwondo (men) and tennis (men).
They also came second in badminton, both men and women, carrom(women), football, table tennis (men) and track and field (men).
UOM also came in third place in chess (women), hockey (women), swimming (men), weightlifting and wrestling.
"Moratuwa University has been coming second for many years due to the shortage of female athletes and a small student population. Universities like Colombo and Peradeniya have about 14,000 students but Moratuwa University has only about 5000 students," he said.
He added that this year's win proved that students of UOM are not only brilliant at academic work but also in sports.
"Students were practicing for more than two years. We knew that we will not be able to claim many women's games. Students were given training by professional trainers and even floodlight facilities were provided for students at night from them to practice after lectures," he added.
Mr. Ratnamudali, who is also the Secretary General of the Sri Lanka University Sports Association, said that that this year there was a significant increase in the number of students from Jaffna and Eastern Universities.
"The games were held in the best venues and had qualified referees from national associations. There were 26 game venues, ranging from the Sugathadasa Stadium, Maharagama Youth Council, Havelock's grounds, Diyagama Mahinda Rajapaksa stadium to Moratuwa University's indoor gymnasium," he stated.
The idea of a university sports festival was first brought forward in 1980 by Lesley Handunge, who was the director of Physical Education at the University of Peradeniya. . The previous SLUG championship was won by the University of Colombo.
For the first time in SLUG history, the 11th Sri Lanka University Games (SLUG) was inaugurated by President Mahinda Rajapaksa.
- Nadia Fazlulhaq
Follow @timesonlinelk
comments powered by

Disqus