Blowing or taking cover
View(s):

The influence of money and the tension it creates in players and coaches as well as administrators is laboriously explained in a book

written by Eric Dunning and Kenneth Sheard titled 'Barbarians, Gentlemen and Players: A Sociological Study of the Development of Rugby/ The open abuse of referees twice within a week calls for an urgent look at what is happening in the sport that has cherished cornerstones. The tension and expectations run high when losing means losing a livelihood. The scapegoat often is the referee.
Yes, referees are people crowds love to hate, but authorities have to make sure the perceived villain remains the stuff of theatre. Who should take the blame for this? It is the referees who have continued with the whistle over the years despite the fact that they have been abused both physically and verbally. As long as rugby doesn't turn into football, we are all right is what one wag said last week. To me this is not all right though and players as well as coaches keep disputing decisions going against them.

Like in football the drama looks real at times and we love it though it is dishonest and embarrassing, as players feign issues whereas in the past they did their best to look unwounded. This problem is growing fast in Sri Lanka and the behavior of players and coaches directly affects that of the folks in the stands. Players and coaches must understand that they set the tone the minute they take the field. The men in the middle can be fiercely competitive and physical but if they remain respectful, the crowd will almost always remain respectful. There is now a new level of shame surrounding the way officials are treated.

Rugby players in history have all disagreed with decisions and made this known, but in the past these exchanges were never allowed to become aggressive. An honest dialogue between players and officials is a vital part of the game, but the line has to be drawn. That dialogue has to be two-way and both parties should not succumb to manipulation or place self interest before the game.
Some players now seem to offer up a sermon every time a decision goes against them. The odd flap of the arms and the traditional shake of a player's head were part of the game and natural reactions. But the appeal to heaven and facing the crowds which are more forceful and laced with venom shifts the tone immediately. When players and coaches start to lose respect for the values that have made rugby so charming for so long, they give permission to those watching to do the same. Players will always question the referee, as will supporters, but the minute those appeals and disagreements become animated and aggressive, we are one step closer to slashing the referees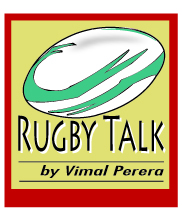 Rugby is in trouble and it requires the players, coaches and administrators to give undiluted, though not unquestioning, respect to the men with the whistle. Otherwise take the whistle get into the middle and do a better job than those who have taken the risk.
The vast majority does give respect and they need to be brave enough to campaign for the protection of one of the values that makes rugby great. Every time they do not, they give permission to the young lad in the crowd to do the same when he plays at school or for a club. These damage the game at the national level as when you are used to it you repeat this behaviour at international games and you will be shown the door.
The incidents of the last two weeks culminate events that have been building gradually. In the Wesley-Royal match there was an incident of verbal abuse of the referee and gesturing toward the Assistant Referee. The culprits happened to be parents and the excuse for their behavior leads to a huge psycho-social question. Parent say, "My son is under much pressure to perform and when a referee gives a decision against him I react." This is a reflection of the high expectations.
The chanting of the crowd in the following week when Wesley played Royal was, "Do you want to be sorted out like last week?" while the Peters-Science match brought out the slogan "We sorted one referee out the week before and we will sort out this referee this week."
The frightening scenario was more significant than the punching or pulling of the collar by one or two individuals. As a referee explained, "It was terrifying with around 500 chanting to teach the referee a lesson and to wipe out the referees society. The ugly mob included coach, officials and players."
Another unreported issue is the attempt made to intimidate the referee following the Kingswood-Science match when a mob followed the official to the car park and banged on his vehicle. Yet another was the taunting of a referee and his assistants who had stopped about 40 km away from Bogambara to have their supper. The attack was from a busload of supporters who were supposed to be parents of a Colombo school. The referees used their sixth sense and beat a retreat, saving themselves to blow another day. The worst is when you make up a story that the referee was with the opponent's coach enjoying a drink. It is also alleged that the manger had later phoned the referee and made an accusation of the referee being with a coach. Inquiries have revealed that it was a cooked-up story.
At this rate referees will not be safe if they travel or even just take a causal stroll.
-Vimal Perera is a former Rugby Referee, coach and Accredited Referees Evaluator IRB
Follow @timesonlinelk
comments powered by

Disqus