Tug-O' War down South
View(s):

Tug-O' War down South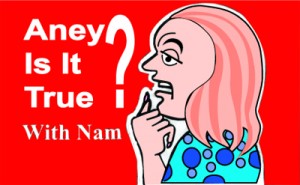 Now that the Sinhala New Year is around the corner a favourite sport in the offing is the Tug-O'-War contests. Recently a keenly-contested event took place down South and the winners were a team associated with keeping peace and order amongst the higher-ups. It is alleged that this team came into the final of the competition due to the efforts of a top sibling who had a hand in giving the winners weak opponents. It is also said that a top law and order man was going around saying that this is the win to win such events! The ultimate winners were of course a team from a leading security maintenance team, who had been winning these contests with ease in the past.
A scene from 'The Don'
A scene akin to the Hindi film 'The Don' took place at a sports meeting where even guns were drawn. What's more the meeting was summoned by the lady who is in charge of conducting such events to elect a new head and she had to call in the nominations. At the end of the meeting six vehicles with armed men, who are trained to bring such situations under control, were summoned. This is what happens when those contesting for posts such as these have easy access to firearms.
Buzzing bees
A leading sports body is akin to a hive of disturbed bees these days. Allegations are tossed around saying that at a popular contest held in the hills, low quality balls were used; poor quality kits were worn by the players even down to the boots. The top man in sports is being hounded by these allegations and he is wondering how to answer these questions especially when the competition was named after the top man in the country.
What next?
The CEO of a leading local sports body is all set to resign following the directions of a world body to ban a leading local figure, the reason being that this CEO has spread his tentacles elsewhere and is said to be drawing a salary from that source as well in addition to the salary that he draws here. One thing leads to another. Wonder what's next.
Follow @timesonlinelk
comments powered by

Disqus