University Education not just a dream
View(s):

Start your university education – 4 after O/Levels and 3 A/Levels

Value of University Education

University education is an investment for a life time. The choice made on a certain university or a degree program will impact the future career options, salaries, prestige and subsequently will affect the overall social and living standard of students. Due to this many students, parents are highly concerned about making the right choice to achieve more from their higher education.

Globally recognized University degrees in Sri Lanka

Good university education leads to excellent career opportunities in leading local and international companies, top salaries, and many other advantages. While there are many other university degree options (UK, Australia, New Zealand, Canada, and Malaysia etc.) available in Sri Lanka, the practical and all-round nature of American university education system makes it superior to all others. With more than 50% of the top 50 world universities being US, America has led the world university map for the last 50 years. Today an American degree has become the certificate of excellence for industry and career ready graduates.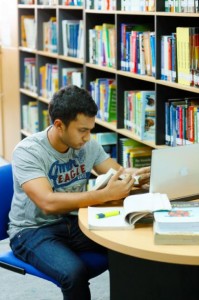 Following paragraphs will elaborate the key areas that students and parents need to study before selecting a university or a degree programme. The article clearly highlights the competitive advantage of graduating with an American degree in a market full of local, UK and Australian graduates.
Acceptance and ranking of university and degree programme
Degree awarding universities of most private education providers in Sri Lanka are based overseas. Some of these universities are well below the accepted level of ranking in their home countries. In order to make an informed decision Sri Lankan degree seeking students and parents must refer globally recognized university rankings such as Times Higher Education ranking and US News and World Report. University ranking and recognition can be a decisive factor in gaining access to well paid jobs and ensuring a place in an esteemed postgraduate institution.
Academic quality assurances
Degrees awarded locally by these foreign universities must be identical to those granted by the partner universities, and they should be accredited through the relevant accreditation bodies. The partner universities should conduct regular audits and assure equal academic and infrastructural standards. All national and regional accredited universities are listed in the UNESCO handbook of universities. This is used as the guideline by all government higher education authorities including UGC (University Grants Commission) in Sri Lanka.
Qualified and experienced faculty
Certain foreign qualifications offered in Sri Lanka are taught by faculty without relevant foreign exposure. This prevents students benefiting from complete international education experience.
Furthermore in some institutions it's common practice to see faculty members with basic professional or academic qualifications teaching areas outside of their sphere of expertise.
Local Campus Resources
As students of foreign university qualifications you are entitled to at minimum certain basic facilities from the local education provider. A good library and student resource center with adequate reading and study material, computer labs with up-to-date hardware and software configurations and high-speed internet connections, fully equipped engineering and science labs, class room with proper seating, space and basic facilities such as multimedia, internet, and air-conditioning are considered as the absolute minimum for any international university student. As a result of limited local campus resources most students are unable to enjoy the full benefits of their degree programme.
Quality of the students and their values
It's quite unfortunate to see that some graduates who are the products of these private institutions are alien to Sri Lankan culture and values. A proper understanding of local values and the ability to understand local, regional and global issues thorough international education is an essential quality in the job market. Furthermore it's very important to know the quality of other students who will be with you in the same class. This is an important aspect of informal education in university student life.
Job prospects for graduates
The true meaning of university education goes beyond examinations and project assignments. Employers today need graduates with multiple skills who can start with minimum training. This is even more valid for regional and global employment where only the very best gets selected for top jobs.
The examination focused approach of most institutions fails to achieve the full potential of modern university education. The resulting graduates are not what the companies want.
Real value for money
It's sad to see that many parents and students wasting millions of rupees due to the lack of knowledge in their education decision making. As rightful consumers parents and students have a right to question whether they get full value for their education investment.
Achieve More – Don't settle for anything less
To find out answers to above questions, and find out about local and international career trends, international university degree programmes you can contact Mr.Gishan Sumanasiri on 0777 662211. A free career Counselling session will allow you to explore more about yourself, career opportunities and how to optimize your education plans. You are also invited to visit us at ANC Education, 308 – 310, R.A.De Mel Mawatha Colombo 13 or www.ancedu.com/lk Don't settle for anything less, achieve more with your American degree at ANC Education.
Facts about A/Level Examinations
2012 A/Level results are out. According to UGC statistics approximately around 23,000 students will be selected out of around 240,000 students. This means only around 9% of students who sit for A/Level examinations gain university admission. More than 91% of students fail to achieve their university admissions. Today, many students and parents have understood the true nature of such competitive examinations. Repeating these examinations many times will only delay the problem and not help resolve it.
We invite students and parents to read the following and make wise decisions with regard to their higher education plans.
Follow @timesonlinelk
comments powered by

Disqus