Für Elise – and für just about everyone
View(s):

Beethoven is everywhere, writes Stephen Prins

For most piano students, the high point in their beginner's keyboard training is learning to play "Für Elise." We recall our excitement when, as children in shorts whose bare feet barely touched the piano pedals, our music teacher turned the pages to Für Elise, in "Everybody's Favourite Classical Piano Pieces". The work not only sounded impressive (played by others), it looked impressive:

visually, it presented the most challenging score we had encountered thus far in our early music education. The piece runs to three pages that are thickly populated with black notes and other black music filigree; the mid-section is the blackest – all that extra ink corresponding to the music's increasing volume and drama. Playing Für Elise was/(is) a thrill.

Most impressive, of course, was the fact that it was the work of Ludwig van Beethoven, the great German composer we had been trained to revere and talk of in hushed tones. Learning to play Für Elise marked the moment we crossed the threshold and entered the world of the adult piano student who would soon be thundering out Beethoven sonatas.

There is no escaping Für Elise. It is the darling of the electronic age. The melody is a ringtone and call-on-hold favourite. In this city it is heard daily since it became the signature tune of a mobile baker's franchise; as the baker's cart rolls by – morning, afternoon, evening – it sings Für Elise.

Give us the baker's Für Elise any time of day in preference to the ice-cream vendor's infernal, utterly non-human jingle. This mobile ice-cream business operates to a tune that is no tune but an arbitrary sequence of notes that could only have been conceived by a malfunctioning computer serviced by a tone-deaf, half-mad programmer.

Not long ago a reader wrote to this newspaper to moan about the ubiquitous baker, or "Choon Paan Man", and his "vulgarisation" of Für Elise. The writer was complaining mostly about the loud broadcasting of the music, not about the music itself. Do we ever tire of Für Elise? Good question.

Would Für Elise be chosen in the first place if the melody was ultimately wearisome? If Für Elise was subject to the law of diminishing musical returns, would the theme be adopted and adapted for repeat global electronic use, sounding a million times a minute?

There is a train station in Hong Kong that plays Für Elise morn, noon and night. The melody is used to help visually impaired commuters navigate their way through the station at Tai Po, in the New Territories, north of Hong Kong Island. The tune starts playing at six in the morning, when train services start, and continues non-stop till the last train has left at midnight. If the theme is repeated,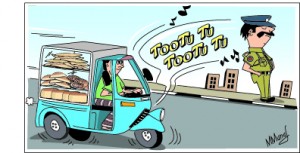 say, six times per minute, then it has played 6,480 times in the 18 hours the station has been open that day. That is 194,400 repeats in a month. There have been no reports so far of Hong Kong railway employees throwing themselves in front of an oncoming train after being driven insane by Für Elise, so we may assume that Für Elise is resistant to over-use, over-exposure in most cultures.
The Sri Lankan music critic Elmer de Haan (1906-1979) remarked that there a few rare melodies, tunes if you like, that, no matter how often they are heard, can never lose their appeal. He cited Mozart's "Eine Kleine Nachtmusik" and Strauss's "Blue Danube Waltz." These would be ideal as Desert Island Music – you wouldn't throw yourself at the sharks for want of something else to listen to. It may be that built into Für Elise is that same mystery durability, everlastingness.
We will never hear Für Elise played at a piano recital. That is because the neighbourhood baker, or Choon Paan Man, has chosen it as his encore. It is his staple tune – the melody by which he earns his daily bread.
Follow @timesonlinelk
comments powered by

Disqus