Once upon a time, we had idols with whom we could identify – and whom we could easily identify. As pre-teen schoolboys of a certain generation, some of us were rather taken up with Roger Moore and all things 007 – until, with the onset of puberty, we realized that Sean Connery was that much more a man as James Bond. In our early twenties, we were surprised that women couldn't understand why we had no sympathy with their idolization of Timothy Dalton and Pierce Brosnan, both of whose licence to thrill was strictly for the, er, birds. The less said about George Lazenby the better.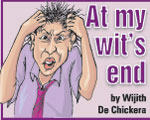 But I'm drifting off topic, dears. We were not talking about matinee idols. I'm not even sure whether the youngest of my readers (the other two of whom are 73 and forty-teen-(?) something, so that should give you some idea) knows what 'matinee' means. We meant to put before you the image of false gods to whom brazen altars were set up and maidens sacrificed on a regular basis between breakfast and going berserk in the name of Baphomet. Think Baal, think Moloch, think Mammon.
These cunning deities survived the extinction of the Amorites and the Canaanites (heck, they even survived the decimation of biblical Israel). They resurrected or reinvented themselves in every culture, society, and language from the cuneiform to the contemporary, from ancient Egypt to modern Esperanto. We find them influencing golden ages of peace and plenty, in the thick of crusades and through the thin of famine and plague, via enlightenments and shifts in worldview and even the advent of postmodernism. Idols take their business seriously – and don't get me started on American Idol and that pompous pretentious rich British idle who makes a mint by passing nasty remarks at tyros in singing (Simon Cowell's an idol to some, if only the tycoons who rake in the shekels thanks to his savvy and sarcastic bite).
There I go again. Head me off at the pass when the old stylus wonders, would you, dears? In the good old days (when we were not good, not old, and never mind the days) idols were false deities who took the place of the One True God (read on, folks, it's not about religion at all). So you'd have Football, the Firm, and Family – or Cricket, Career, and Condominiums. Today, idols are rather more about chemicals than chemistry. I mean Diesel, Petrol, and Kerosene. And if you'll stop trying to turn the page, I'll tell you why they are Baal, Moloch, and Mammon in disguise.
Baal was the chief fertility god among jovial natural deities whose worship was, as Professor Packer says, "a rampage of gluttony, drunkenness, and ritual prostitution". He it was (Baal, not poor Packer) who was induced to make rain by men and women lying together on every green hill in rank abandonment in the Promised Land. His acolytes were slim, sleek, and smooth; and his suave priests would have travelled in S-class Mercs today if his cult had continued. Like Petrol, his contemporary parallel, Baal luxuriated in being able to deliver the goods to those keen on sense, sensuality, and unrestrained sexuality. Indulgence. Lewdness, lechery, licentiousness and lasciviousness. Sophistication on a cosmopolitan scale. Star-class lives –jets for jet sets, yachts for yuppies – powered by high-octane petroleum. What a gas.
Moloch was the master-manipulator among the Tophet-minded prophets of old. Not in the Machiavellian or Manichean sense of manipulation; but the brutal, crude pulling of the powerful heavenly principality's strings that often included children being burned alive in blazing-hot fires stoked up for the god's pleasure. Rough. Rugged, in an un-beautifully utilitarian way. Ready-to-go. Low maintenance, but high yield. Sort of like Diesel, if you know what I mean. It's still the deity of the most powerful lobbies today: bus, train, shipping, import/export, trans-shipment logistics; the trade-union controlled sectors that can hold a nation to ransom. Strike one for Molech, Milcom, or Melqart.
That leaves Mammon: not really a deity, but a semi-divine personification of the profit motive – a sort of false god among false gods. This idol is the patron saint of those who will sell their grandmother for a kettle of fish… which reminds me, the recent ruckus in Chilaw about kerosene-started diesel-operated boats and deep-sea trawlers hinged on the simultaneous hike in prices of both Kerosene and Diesel.
Idolatry is alive and well today. And we no longer mean Sex (Baal), Stomach (Mammon, the Baal of the Canaanites), or Shekels (Mammon). Not even Pleasure (Baal again), Power (mmm, Moloch), or Possessions (Mammon). The fuel (pun intended, folks!) says in his heart, "There is no God."
And the people perish for lack of vision of corrupt politicians, crippled bureaucrats, and crafty salespeople who have sold the country's birthright for a mess of pottage. Petrol (Baal), Diesel (Moloch), and Kerosene (Mammon) hikes at the same time? Idolatry upon idolatry! Just whom are we idolizing anyway? The rich and pleasure-seeking Baals? The high and mighty Moloch-like powers that be? The down-and-dirty IMF-possessed ultimate-profit-seekers of Mammon?