BERLIN is where Lakshman Joseph de Saram should have been on Friday, February 16 – to attend the world premiere of the Hollywood movie "Bel Ami", for which he wrote the music. This was a red carpet event, at the Berlin International Film Festival, with some of the biggest names in cinema in attendance. Instead, the Sri Lankan musician and composer spent the day in Colombo, in his usual way – with his family, among fellow musicians and colleagues, including members of The Chamber Music Society of Colombo, of which he is founder and music director.
The road from Colombo to Hollywood, should you dare take it, has to be a long and winding one, with unavoidable surprise turns along the way, and no guarantee that you will reach your destination. For anyone who aspires to the glittering capital of the film world, Hollywood is a golden cinematic shimmer at the far end of an almost impossible dream.
How Joseph de Saram came to be involved in a major Hollywood production is a convoluted tale, in which hard work, a huge artistic talent, and chance determined the outcome.
Where to begin?
Let's do this like a short film, story-boarding each scene in text. Scene 1 (Colombo, the early '80s): A 14-year-old schoolboy is seen slipping out of the gates of a leading boys' school in Colombo, at 10.00 am on a week day during school term. He makes his way up Flower Road, then down Turret Road, and arrives at the Liberty Cinema. He pauses in front of the movie poster at the cinema entrance and takes in the details – names of actors, director, producer, composer, and so on. He buys a Rs. 1.50 ticket and takes his seat inside. The film is a Clint Eastwood spaghetti Western, with music by the Italian composer, Ennio Morricone.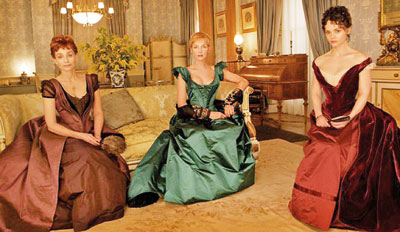 Les Girls of new Hollywood movie, Bel Ami: Kristin Scott Thomas, Uma Thurman, and Christina Ricci – all three victims of one ambitious rake's progress.
Scene 2: A Saturday afternoon: The schoolboy is at home, at his desk. Close-up reveals the lad doing not his homework but designing what looks like a movie poster. The movie is a piece of his imagination, the credits carry fictitious Hollywood names. Only his own name set among the credits is real.
Scene 3 (New York, the late '80s): The Sri Lankan schoolboy is on the R Train subway, on his way to The High School of Performing Arts, a school for artistically gifted youngsters. He has a violin case on his lap. He looks hard at the cinema posters lining the subway station.
Scene 4 (New York): The music student is studying a bulletin board outside the famous New School, on 12th Street, downtown Manhattan. He is looking at an ad inviting applications for a course in film music writing. The only requirement is the submission of an eight-bar "movie-type melody."
Scene 5 (New York): The student is in the apartment he shares with his sister, a law student. He is writing on a sheet of music manuscript paper. He puts the sheet in an envelope and steps out to mail the letter.
Scene 6 (NY): The student is seen excitedly tearing open an envelope that has come in the mail. Close-up of text of letter: "You have been successful in your application to attend a two-month course in writing film music. The course costs US$ Xxxx." The student puts the letter back in the envelope. Image of student's face shows a look of longing and regret. It is clear he cannot afford the fee.
Scene 7 (NY): The music student has come to Tower Records, New York, in search of a CD. He sees a salesperson who could be Indian, Pakistani, Bangladeshi, Sri Lankan. He asks for the Shostakovich Symphony No. 7, performed by the Berlin Philharmonic, under conductor Sergiu Celibidache. Sorry, come in a week's time, we'll have the CD ready for you, says the South-Asian.
Scene 8 (Colombo, Sri Lanka, 10 years later): The music student, now back in Sri Lanka, is at a crowded roof party. He is introduced to someone who looks faintly familiar. Five minutes into conversation, the two recognise each other. The music student says, "I am Lakshman, I met you in New York, years ago." The other says, "I am Boodee, and I remember you too. You came to Tower Records in search of Shostakovich." One had been a student at the Juilliard School of Music, New York, the other a film student at the School of Visual Arts, Manhattan. Film-maker Boodee Keerthisena asks concert violinist Lakshman Joseph de Saram to write the music for his current film. Lakshman, who has never written a film score, is hesitant, but agrees to "give it a try." The film is "Mille Soya" – a feature about young Sri Lankans illegally migrating to Italy, as stowaways in a bus.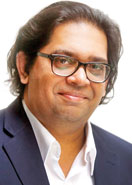 Lakshman Joseph de Saram. Photo: Kesara Ratnavibushana
That was 11 years ago, in 2001. In the past decade, Lakshman Joseph de Saram has written the music for nine films, art-house and commercial. One is the 2008 "Machan", an award-winning Italian production about a group of Sri Lankans who illegally migrate to Europe by pretending to be a national handball team.
The director was Uberto Pasolini (nephew of the great Italian film director Luchino Visconti). Pasolini, who was advised to engage the services of Joseph de Saram, was so impressed with his work that he approached him again two years later to write the music for a Hollywood remake of "Bel Ami" that he, Pasolini, was producing.
For the next six months, Joseph de Saram works on the score, in close consultation with film composer Rachel Portman and her team. (Portman was also involved in writing the music for 'Bel Ami'.)
There are two visits to London, the first to meet the film's two directors, Declan Donnellan and Nick Ormerod, to discuss "the tone" the music should take. The second visit is to attend the recording sessions of Joseph de Saram's film score. The orchestra is assembled at Angel Studios and is composed of members of leading British orchestras. Both experiences – meeting the directors, meeting the musicians playing his music – are cruel tests of nerve. The completed, much revised, score is ready by December 2010.
In the 14 months since Joseph de Saram delivered the final "Bel Ami" score, we have had several informal chats about the project. It is a fascinating world, behind the scenes of film production, and a Hollywood project at that; it can be as complex, unpredictable and scary as a good Hollywood suspense thriller. And the stakes are vertiginously high, of course, and the stake-holders super powerful entities.
There was the tingle of excitement on first hearing of the project, and hearing magic references to "Hollywood", "Bel Ami", "Guy du Maupassant." It is a little hard to believe that the Sri Lankan musician seated in front of us, sipping a cappuccino at the Bambalapitiya seaside patisserie Waves, is beginning to make serious arts circle waves overseas, and will soon be moving at a level that will eventually bring his name alongside such famous movie marquee fixtures as Uma Thurman and Kristin Scott Thomas, among others.
"How come?" is likely the first question to pop to mind on hearing that a Sri Lankan, who has spent most of his life in his homeland, has written music for a film centered on 19th-century Parisian life.
"Superficially speaking, I have been immersed in the fine arts of the West – the music, the art, the thought, the food," explains Joseph de Saram. "And so, writing a simple waltz comes to me a lot easier than writing in the Dhrupad style. It's that uncomplicated. I would be way less confident if I had to compose the soundtrack to a documentary on the hymns of the Rigveda or something like that.
"Furthermore, on the level I work, and with the directors I work with, being Sri Lankan, American or Icelandic does not mean much.
We are mostly locked with human emotions, looking for ways to express guilt through music, for instance, and no matter what passport you carry, those emotions are the same."
Actually, there is no surprise here, if you know anything about the musician and his background.
Lakshman Joseph de Saram grew up in a home that breathed Western culture, and breathed it heavily. His parents, the late Sooty and Sita, aggressively promoted Western Literature and Music to their children. Their home in Lauries Road, Bambalapitiya, was a temple dedicated to Western culture. Sita was a music teacher, and all four children played instruments. The house resonated with mostly piano and violin, but also recorder, cello, flute, oboe, clarinet, trombone and bassoon. It was Western Music 24/7.
Sooty was E. M. W. Joseph, a playwright and hugely popular newspaper columnist, while Sita was Sita de Saram, musician, sculptor, artist. It wouldn't be a stretch to say that Joseph de Saram could write an original waltz in his sleep. His music would have "hit the right notes" all the way for "Bel Ami."
What was it all like, we ask, a week ago and 14 months after our first "Bel Ami" tête-à-tête. We are sipping iced teas at the Coco Veranda, in Ward Place. What was the big challenge in switching from art-house movies to a big commercial venture?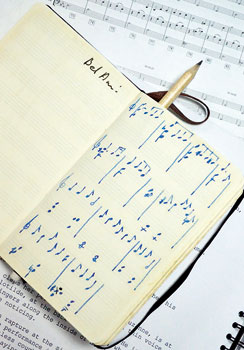 Bel Ami music score, screenplay, and Joseph de Saram's Bel Ami notebook, with the film themes.
"The sheer scale of it," says the musician. "Your typical art-house film may require a score of less than 20 minutes of music, using a minimalistic configuration of quirky instruments, drunken street musicians, or maybe just a string quartet. I am fine with that. With 'Bel Ami', it was baptism by fire. Almost 60 minutes of music, a production that had four Oscar nominees and winners, and directors who were highly regarded theatre personalities, one of the biggest names in present-day Hollywood, musicians of The London Symphony, The London Philharmonic, The Royal Philharmonic, St. Martin's in the Field. It was daunting. But I had as co-composer, Rachel Portman, who was as generous and accommodating as one could have hoped for. Her being there was all-important. Having Uberto [Pasolini] around was hugely beneficial too. His generosity of spirit and passion for the art is undeniable.
"My biggest challenge was not having an established team of editor, arranger and orchestrator. Especially with a score that big, that includes a full-scale orchestra, your team on the ground is essential. It's like an architect working on a skyscraper.
You have the plan, the idea, and then you have, surrounding that, the surveyors, the mechanical engineers, your structural engineers. I had initially the composer Stephen Allen, who lives in Sri Lanka, a good friend and a great composer. He helped me bounce off ideas, and then eventually the team assigned to the film in London. 'Bel Ami' has three people credited with orchestration and arranging. A film like 'The Artist', heavily dependent on its music, had nine orchestrators and arrangers. These people are important."
The Coco Veranda waitstaff are clearing tables, switching off lights. It is near midnight. We get into Joseph de Saram's car, and for the next 45 minutes we cruise along the empty streets of Colombo 7, listening to the "Bel Ami" music score on the car's superior stereo system, while the composer drives and explains the tracks and their place in the film narrative.
There is the music that illustrates the main characters of the story – the social-climbing libertine and the women he beds to achieve his career objectives, and the music that evokes places and situations – low-life haunts, cafés, upper-class homes, salons, La Belle Epoque, Paris in the late 19th century.
As we glide along Alexandra Crescent and turn into Horton place, with its patches of shadow and yellow light under street lamps, we hear the music that charts the darkening of the main character, Georges Duroy (the young actor Robert Pattinson), who is sliding towards moral baseness. Next is the bright but measured music for Madeleine Forestier (Uma Thurman) – "coy, manipulative, yet noble"; next, swooning strains for Madame Walter (Kristin Scott Thomas) – "helplessly good, an unwilling victim"; next, upbeat rhythms for Clotilde de Marelle (Christina Ricci) – "decent and hopelessly smitten"; next, unaccompanied strings for Suzanne Walter (Holliday Grainger) – "extreme youth, blind innocence."
We have come full circle and are doing the empty Colombo streets again, along Kynsey Road, up Norris Canal Road, listening to now boisterous Paris tavern music, now stately dinner music, now a string quartet a la manière de Haydn. We are heading to Liberty Plaza junction. The nocturnal cinema chit-chat, in a car doing a dreamy 12 mph, will continue deep into the night.
'Bel Ami' producer Uberto Pasolini had full confidence in local composer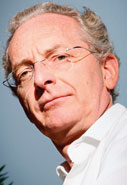 Uberto Pasolini
On the eve of the world premiere for Hollywood movie, Bel Ami, we contacted the film's producer, Uberto Pasolini, who is based in London. We had a few questions for him.
What prompted you to consider a remake of the Guy du Maupassant novel, Bel Ami?
Maupassant was a favourite author when I was a teenager, and Bel Ami a novel I thought about from my early days in the film business. It was adapted badly by MGM. The mixture of eroticism, politics and media make the story feel very contemporary, while the period is ripe for visual splendour.
What prompted the choice of Declan Donellan and Nick Ormerod to direct Bel Ami? They are essentially theatre directors.
Declan and Nick's work in the theatre is characterised by a visceral take on the classics and a readiness for the unorthodox, qualities we needed if we wanted to make sure the adaptation did not have any negative "period" feel. And, of course, Declan's work with the actors is always masterful.
You worked with Mr. Lakshman Joseph de Saram on the film "Machan", a contemporary story, a comedy, set largely in Sri Lanka. The worlds of Machan and Bel Ami could not be more different. What gave you the confidence that Mr. Joseph de Saram would deliver a score for Bel Ami to your satisfaction?
Lakshman's music is marked by an extraordinary sensitivity to the emotions of the characters it accompanies, and I knew he would be able to help the tortured souls of Bel Ami just as successfully as he had done with the troubled lives of the Sri Lankan national handball team. His great knowledge of classical music was also going to be vital in strengthening the period atmosphere.