Can art really initiate social change? This is the question Becoming: the Colombo Art Biennale 2012 which enters its final day today, February 19 tackles. They've already carried out a social experiment-splashing double-page centrefold prints of the artists work in three newspapers in the weeks preceding the biennale. Proof is at hand; sightings are reported of the centrefolds up in homes, bakeries and shops. Each painting is interpreted. Each means something different to someone else.
Every artist wonders at some point, what will my work mean to the viewer? As biennale curators Roman Berka (Director, Museum in Progress, Vienna) and Suresh Jayaram (Founder Director, 1 Shanthiroad, Banagalore) explain, the beauty of contemporary art lies in interpretation. Art, they believe, is a conversation between the painter and the viewer. The painter might portray something, but the viewer might not always agree with or understand the portrayal. Understanding art is eventual, and this year's theme 'Becoming' is just that. It tells of transition and gradual realization. Each artist's interpretation of the theme varies widely; from paintings to film, from photographs to installation pieces-the medium of art is broadly construed.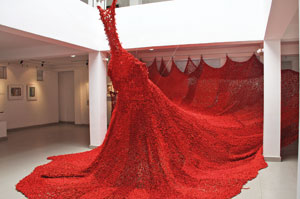 Stunnung in size and colour: 'Second skin'. Pix by Indika Handuwala
There certainly is ample ground for a wide variety of work. The biennale has brought together 24 local and 17 international artists from India, Pakistan, Bangladesh, Nepal, Germany, Austria, Sweden, Netherlands, Norway, Australia and the US.
These artists have been sponsored by the Standard Chartered Bank along with a host of other generous embassies to create their interpretations of the theme, and they've rallied to the point.
Taking a trip around the three main exhibition venues; the Park Street Mews, JDA Perera Gallery, and the Lionel Wendt, you witness what Founder & Director of the Colombo Art Biennale (CAB) Annoushka Hempel describes as 'works by some of today's most exciting artists-the living treasures of Sri Lanka, those who have worked hard to present impressive projects inspired by this insightful theme.'
Biennale is Italian for 'every other year', and it is most commonly used within the art world to describe an international manifestation of contemporary art. The first Colombo Art Biennale, 'Imagining Peace' was held in 2009 as an attempt to respond to the post war/conflict situation in Sri Lanka. For an event that the organizers describe as a pilot project the response was encouraging, and a tradition was born.
Finding your way through the biennale can be a dangerous journey. Some works will literally stop you in your tracks, only to elbow your way through a host of other onlookers, eager to get a closer look. Some will inspire you to withdraw from the outside world and contemplate on the piece. Some will spur you to know the story behind it; and the artist would be inundated with questions about the inspiration behind the piece.
One such artist among many was Eric Pirolt presenting a 'Self Portrait', along with Tori Wranes. The weeping woman in a tub and a decapitated man hanging his clothes on a line connected to the head draws in viewers like moths to a flame. 'This is what it means to be a human being. It's so existential,' Eric gestures at their work, 'the piece is about the pain we all share'. Equally stunning in size and colour is 'Second Skin', a combined work by Anoli Perera, Shirmal Silva, and Dilki Perera.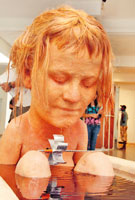 The weeping woman in a tub stopped many in their tracks
The massive red hanging piece deals with the female experience of dealing with the anxieties of change that their bodies are subjected to. 'An Atlas' by Pala Pothupitiye is a book of reworked official government maps of Sri Lanka. It is a graphic map that represents transitory cultures and changing landscapes.
The Fireflies Artists Network presents 'Redefining Serendipity', a massive map of Sri Lanka by 12 different female artists with different techniques, each representing a personal view of Sri Lanka's current phase of transition.
Celebrated film maker Vimkuthi Jayasundara screens 'Time?' a panoramic view through three screens. He believes it to be 'a process of finding yourself. That's what I believe 'Becoming' means, and that's what I try to bring out through this short video.' A brief glimpse of Kannan Arunasalam's 'I am'; a multimedia exploration of identity through the lives of Sri Lankan elders is thought provoking.
The glimpse affords an insight into club cricket of the olden days, and the impact it had on ethnic divisions and eventually, Sri Lankan cricket as it is today. Taking a turn for the personal is Australian documentary film maker Aaron Burton's film 'Ape Ammage Gama (Our Mother's Village)', a personal response to three ethnographic films made by his parents in Sri Lanka in the late 70's. He places video footage from the 1978 films alongside footage from 2011, and the comparison reveals great social transformation over the three decades that had passed. 'It's about inheritance, and continuing my parents' work,' Aaron explains.
'Et Tu Brutus', by Madiha Sikander is an illustration on a second hand book, one of several such pieces by the artist. Madiha buys or uses her own old books to draw simple illustrations. 'They've already got so much history on them,' she says 'look at all the markings and writing on it already. All I do is illustrate something very minor on it.' Chandragupta's series of drawings 'These Are Not White Flags' is an installation that deals with the questions 'Are we citizens or subjects? Or are we becoming subjects?' a very current topic of debate.
Nigel Sense from Australia presents '1000 Rupee Note Three Times', a painting of the commemorative 1000 Rupee Sri Lanka note with cricketer Muttiah Muralidaran's face on it, representing the childhood innocence of 'becoming'. Dominic Sansoni and Menika van der Poorten photograph their interpretations of the theme in vivid bursts of colour, along with a collection of other gifted photographers.
They are among some of the talented artists whose work you can see at this year's biennale.