Today, over 300 participants from 35 countries will converge on Galle Face Green as the first Ironman 70.3 event in South Asia and the first 5150 Triathlon in South East Asia kick off. According to the organisers, the events will become part of the Ironman 70.3 Series that includes over 40 races worldwide and the 15-race 5150 Triathlon Series. Competing are a diverse group of triathletes, both amateurs and professionals, and for many the race is an extraordinary opportunity to participate in an iconic and famously challenging event.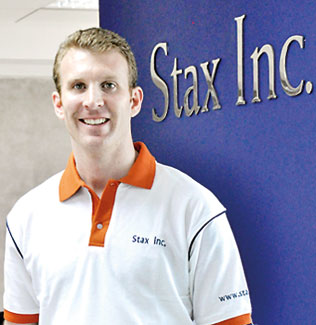 Brett Conradt: A participant
Dana Wagner from Germany has been running triathlons for close to 10 years and says she's run over a hundred. Last year ended on a high for her, with a victory in the 25-29 category at the ITU Long Distance World Championships in Las Vegas, Nevada. She's never been to Asia before, but the Sri Lanka race is special in more ways than one. It marks the beginning of her first year as a professional triathlete. She knows making it to Hawaii, the holy grail of the Ironman circuit is likely to be near impossible this year, but she's determined to compete anyway. "It's kind of a lifestyle.
You live it. It's who you are," she tells. Joshua Rix on the other hand, is making an earnest bid for Hawaii. Joshua, who ran his first triathlon in 1992 when he was just 14 years old, is now a part of the elite group of pros who chase such challenges across the globe. He has competed in France, the US, Korea, Japan, Canada, Mexico, Thailand, Holland and Singapore. Now, like Dana, Ironman has brought him to Sri Lanka for the first time.
It made sense to come, he says, because he and his wife are currently based close by in Singapore. It's also a vital chance to start logging in those points. The winner of this race will earn a whopping 500 (points), which will go toward determining his or her rank at the end of the year. Pro triathletes looking to make it to the famed Hawaii Ironman need to have competed in at least five Ironman events this year and be ranked among the top 50 triathletes to earn a place. (There's also the chance of getting in by winning a lottery, but those tickets are few and hard to come by) In approximately another five weeks, Joshua will be competing in the Melbourne Triathlon and he says the timing of this one couldn't be better.
If there's one thing that has him worried, it's the heat and the humidity. "I'm going to be drinking lots of water to keep me cool," he says.
Brett Conradt, a director at Stax Inc., says the swim is definitely going to be challenging. The amateur triathlete having come from a significantly colder Chicago, is also nervous about the heat. At least the course will be comparatively easier to navigate than some simply because it's "flat."
The competition is famous for forcing people to drain the very dregs of their stamina and willpower. "It's intensely personal because you're not just competing with the others, you're competing with yourself," says Brett. His wife will be here to support him and he knows he can expect to see her cheering him on at several points along the route. Though he smiles and waves, acknowledging the encouragement of family and friends, the struggle can still be unexpectedly lonely. "What I don't think the spectators see sometimes is when you're out on the bike, or you're out on the run and you don't have many people around you, you find you're out there against your own doubt, your own physical limitations, the challenges of your environment. People don't see that, it's an internal battle."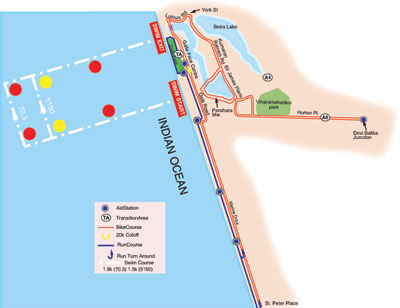 Its why when he finishes, there's a real sense of gratitude. After having given himself some time to recover, he also always goes back to the finish line to cheer other competitors on. "Regardless of when they're finishing, they're finishing," says Brett. It's an example of how community-driven the sport is, with its emphasis on sportsmanship and simple niceness.
Sri Lankan triathlete, Vajira Ranjan Ramanayake is taking the idea to another level by choosing to run for eight- month old Oshadi Upeksha, a baby girl who will not survive without a liver transplant. The surgery, which will cost her family an estimated whopping six million rupees, can only be performed in India, Vajira says. Friends and well-wishers are determined to raise a significant chunk of the cash. Vajira first represented his college and then his country in various sporting events says he is anticipating the challenge. Having only ever contested in local triathlons he's very excited to have Ironman coming over here, but says that his mind is going to be on doing what he can for baby Oshadi.
"This is a really great event," he says earnestly, adding that he's happy that Sri Lanka is hosting it. He hopes that it will introduce more people to the beauty of the island and the warmth of its people – "I hope they go back with lovely memories," he says.
The Course
Competitors in the 70.3 will begin their 1.9 km swim at Galle Face and follow it up with a 90 km bike ride made up of three laps to Rajagiriya and back. The last stretch is a 21 km run that will border the banks of the Beira Lake.
For the Ironman 5150 the distances are shortened: a 1.5 km swim, a 40 km bike ride and a 10 km run. If you'd like a chance to see some of the competition, these are the timings you need to know. The 70.3 will start at 6 a.m. and 5150 at 6:30 by which time the first of the 70.3 triathletes will be already out of the water. The former are expected to hit the bike course before 7 a.m.
The cut-off time for the swim segment is 8 a.m. The cut off time for the bike races is 11a.m. and the cut off for the final segment, the run is 2 p.m.