A Select Committee has been set up to go into the report submitted by the Lessons Learnt and Reconciliation Commission to arrive at a decision to solve the ongoing ethnic problem. The LLRC report had touched on the most vital political mistake made - that is the introduction of Sinhala Only by a politician who was in a hurry to become the Prime Minister of this once peaceful country.
He was supported by ultra nationalists, Buddhist monks and the hoi polloi who considered those who spoke English as a higher social class - Brown Sahibs. The Jaffna Tamils who were in the majority in the Public Service had no avenue of income or employment.
This caused other problems making the Tamil youth retaliate, supported by their own political leaders, and saw the birth of a leader in Velupillai Prabhakaran whose ruthless desire was to carve out a separate State called Eelam. It is not necessary to go into details of the terrorist war which we faced for over three decades.
During this unrest, there came another force to fish in troubled waters and that was India. This language issue is one reason why this country is in this predicament today. What are the solutions or what is the solution?
To me it is simple but drastic. Introduce English as the Administrative language with Sinhala and Tamil as State Languages or whatever you may call them and teach English in all schools as a medium of instruction, where boys and girls of every race or community will sit together in one class; learn, interact and thereby cultivate an everlasting bond, friendship which we in our days enjoyed and yet continue to enjoy.
With this the other issues like land and Police powers will not be issues to worry about as they will be solved with the passage of time and change of heart. Incidentally, it is worth mentioning, the founder Principal of D.S. Senanayake College, Colombo R.I.T. Alles started Tamil classes for Tamil students, in the same premises and also built a Hindu Kovil, Mosque, a Christian church and Buddha statue for students but the interaction was poor as they learnt Tamil in a separate classroom. I believe if all studied in one classroom, the result would have been different and one to emulate.
It is also encouraging for the clergy to get involved in the Select Committee on LLRC deliberations, especially the Buddhist clergy like that erudite scholar monk Rev. Prof Bellanwila Wimalarathana Thera and Ven Maduluwawe Sobitha Thera.
The 13th amendment was forced on this country, and had to be accepted for fear of dire consequences from India. It could be repealed now as the circumstances and ulterior motives have changed.
The above suggestions are rather politically sensitive, and to be implemented need statesmanship, guts and national interest, rather than petty personal politics. If those in power speak to any Punchi Singhos Kandasamys, Marikkars, Heppenstalls, and Tuans, all will say in one voice, 'introduce English'. This is also obvious when the government itself is encouraging students to learn English, and also the language is compulsory, to enter Universities.
What is more, the springing up of tutories in every nook and corner of the island to teach Spoken English shows to what extent the people want English, to further their social and economic standards, even to seek employment in other countries. Let us not deprive them and the future generations.
Who will that statesman be? Will it be the incumbent President who has over two thirds majority in Parliament?
Soma G. Weeracone, Rattanapitiya
School vans: Stick stickers with emergency numbers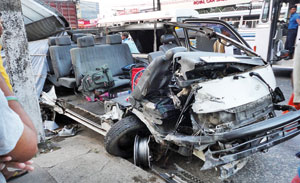 Mount Lavinia: Scene of the tragic accident involving school van
The horrific accident in Mount Lavinia involving a school van and a bus shocked the nation. Effective and prompt action is necessary to prevent such tragedies in the future and the public too could play a role in this.
All school van operators should be required to paint or paste a sticker on the rear of the vehicle showing a line drawing of a recklessly driven school van and alongside it an emergency number to ring.
Thereby anyone who sees a school van being driven recklessly would be able to alert the relevant authorities.
Affected Parent, Colombo 6
Another clarification on Icicle Hall
This refers to the letter by Firoze Sameer that appeared under the headline, 'Sri Kotha was an Abdul Caffoor Property called 'Icicle Hall' in the Sunday Times of February 12.
According to our records, this property named 'Icicle Hall' belonged to the late N.D.H. Abdul Caffoor who died in 1948.
Mr. Sameer in his letter says that 'Icicle Hall' was sold by N.D.H. Abdul Caffoor, whereas it was his eldest son Colombo Municipal Councillor and later a Member of Parliament M.Falil A. Caffoor MBE, who on behalf of the Estate of the late Mr. Caffoor sold this property to the United National Party for a nominal price in 1955, when Sir John Kotelawela was Prime Minister.

Omar Kamil President, Moors' Islamic Cultural Home (Inc), Colombo 1.
Improve rail transport to ease road traffic
The article entitled "Soon you'll be speeding at 15 kmph on Colombo Roads", appearing in the Sunday Times of December 12, should be an eye-opener for those responsible for planning and managing the transport sector. As pointed out by Professor Kumarage, expressways, flyovers and elevated roadways is not the answer. Neither should road widening be attempted in most of the urban areas.
I am not well versed in the subject, but would like to present a suggestion. We have a double rail track from Colombo Fort to Mount Lavinia and beyond and a rail track from Colombo Fort to Pannipitiya and beyond. What I am suggesting is the development of a Circle Line with double tracks: Colombo Fort-Mount Lavinia-Pannipitiya-Nugegoda-Colombo Fort, and to have trains running both ways at, say, 10 minute intervals during rush hours.
This would involve the construction of a double track from Mount Lavinia to Pannipitiya and an additional track from Pannipitiya to Colombo Fort, since there is only a single track at present. Additionally, the Mount Lavinia station will have to be upgraded to enable long distance trains on the coastal line to terminate at Mount Lavinia.
Passengers travelling from the southern coastal stations can then disembark at Mount Lavinia and have the option of taking the circle line to reach any of a whole range of points closest to their final destination, (or to go on to Colombo Fort and take trains to other destinations). The circle line is bound to absorb a huge proportion of the people that now use road transport, somewhat like the London Underground.
This I believe, will be a long term solution to the problem of road congestion in and around Colombo. It will be a costly project, no doubt, but less than some of the other development projects that the government is implementing, and the outcome would make it worthwhile.
This proposal needs to be carefully studied from all angles by experts in the relevant fields (with additional details such as intermediate stops being considered) before a decision is made.
L. C. A. Wijesinghe Via email