"Breathes there the man, with soul so dead,
Who never to himself hath said,
"This is my own, my native land!"
Whose heart hath ne'er within him, burn'd,
As home his footsteps he hath turn'd,
From wandering on a foreign strand."
Written over 200 years ago, these lines by Sir Walter Scott still echo in our hearts, in an age when more people than ever find themselves out of their own countries. The call of home is gentle, but insistent. "Come back," it says, "come back. This is where you belong; where your roots are; come back, come home."Sadly, though some long to answer the call, they cannot do so.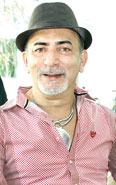 Gerald: Cutting a colourful figure. Pix by Indika Handuwala
But there are those who heed the poignant call of home. One such person is Gerald Solomons. In his spacious, sun-lit salon 'Chagall', Gerald spoke of the 45 years he had been out of his homeland.
What made him leave? "Most of the Burghers were leaving Sri Lanka at that time," he reminisced. "They felt there was more scope for them in the West."
At 17, Gerald was young enough to feel excited at the prospect of adventure. "They were good years," recalls Gerald. Years in which he gained in knowledge and experience in his chosen career - hair styling.
He speaks with gratitude of Moira Muthukrishna, beautician and hair stylist of repute, under whom he had received his training in Colombo.Gerald worked in London and Australia but when nostalgia overcame him and Sri Lanka pulled at his heart-string, he would return for short periods.
Gerald opened his first salon "Chagall" in New Zealand. Why the name "Chagall?" "Because Marc Chagall was a great artist whose paintings I admire," replied Gerald, who is himself an artist of a different sort - a tonsorial artist - if you like - he works on living canvases!
In New Zealand young Gerald made a name for himself. His clients were many and varied. He was the hair stylist for the first ever Miss New Zealand and also a Miss Australia. Two people used to fly all the way from Australia to get their hair done in Chagall New Zealand!
With his reputation firmly established in New Zealand, Gerald opened a second Chagall in Australia, in one of the most exclusive areas in N.S.W. -Double Bay. Meanwhile, the call of home was too strong to resist, so Gerald kept coming back to Sri Lanka year after year, sometimes more than once a year. Even during the years when the country lay bruised and bleeding, Gerald kept returning, getting about, seeing people and visiting places.
Each time he returned, Gerald found it more difficult to leave his homeland. He knew it was time to make a decision, so Gerald obtained dual citizenship. In 2010 he took another decisive step and opened Chagall Colombo at Crescat Boulevard. He wished, he said, to pass on his knowledge and experience to the people of his country.
If there's a special motto in Chagall, it's 'change'. "Change the way you look, the way you dress and you often change your lifestyle," holds Gerald. In Chagall Colombo there is plenty of scope for people to make such changes under the expert guidance of Gerald and his trained staff. The salon offers a range of services; hair-styling, hair tinting, facials, body massage, waxing, tattooing and body-piercing.
Practising what he preaches, Gerald himself looks totally different each time one sees him!
On this day, dressed in a deep crimson handloom sarong, with a strikingly original shirt of stripes and checks, a chunky chain and a smart grey hat to complete the ensemble, Gerald cut a colourful figure in the salon.
But Gerald takes change beyond mere outward appearance to other areas of his life. Suave and debonair, he treats his staff with easy informality. All staff members call him by his first name. There is no, "Yes Sir, No Sir, Three bags full Sir," in Gerald's salon. Quite frequently the entire staff dines with him, either at his residence or in a hotel. But while there is friendliness and fair-play, there is also hard work and discipline, and when Gerald is around, there is no doubt as to who is the boss!
Any plans for the future? "There are," says Gerald, who hopes to expand either in Sri Lanka or India. He is also thinking of a training academy for young people who wish to make beauty culture their career. "But I'll make no promises of jobs abroad," maintains Gerald. "The students I train should, in turn, practise their skills in their own country."
Meanwhile Gerald is kept busy on a variety of projects. He has appeared on "Ayubowan, Sri Lanka" - a morning programme on Swarnavahini - demonstrating bridal styles and fashion in general.
"I spoke in Sinhala," said Gerald with some pride, adding laughingly that everyone in the studio, including the camera crew, were openly amused at his manner of speaking, as Gerald's Sinhala, though understandable, is quaint and foreign sounding.
Gerald also acts as both hair stylist and a judge in Art TV's on-going programme "The Making of a Top Model".
Despite a busy schedule, Gerald gets about in Colombo and in other parts of the country. His face lights up when he speaks of the rapid changes he sees - especially in his hometown Galle, where he received his education at St. Aloysious College. Gerald, who attended the Galle Literary Festival, is inordinately proud that his hometown hosts such a prestigious event each year.
Gerald Solomons has a message for others, who, like him, left Sri Lanka and have been abroad for many years. "Come for a holiday first," suggests Gerald. "Travel around the country and see for yourself the amazing changes that are taking place." After a couple of visits, says Gerald hopefully, "who knows? They too may wish to come home."