Artists don't always need expensive canvases and paints to give expression to their views on varying issues as 12 women artists who came together to exhibit their creations at the Colombo Art Biennale amply demonstrated.
Using items varying from discarded CDs, to old notebooks, X ray sheets and newspapers, the female artists who are part of the Fireflies Artists' Network put up several impressive works of art challenging art enthusiasts to look at issues affecting society in a new way.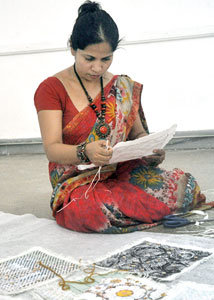 One of the artists at work. Pix by Saman Kariyawasam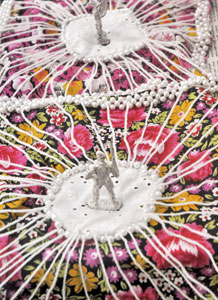 The soldier is represented in many of their work
The theme the women worked with was "Becoming" or "Redefining Serendipity" and each used their imagination to give life to what they see as the positive and negative aspects of the vast changes taking place in post-war Sri Lanka.
"There are many changes taking place and a lot of it is seen as positive but there are also certain aspects that get shielded by the massive projects taking place.
Each of us is trying to express our feelings on how post war Sri Lanka is moving ahead," said Lakisha Fernando, one of the 12 who make up this group of women.
The artists come from different parts of the country such as Jaffna, Anuradhapura and Embilipitiya and their themes varied and reflected their own personal experiences in today's changing context.
Manori Gamaarachchige, an art teacher whose husband is a military officer used her work to humanize the face of a soldier. "We have seen soldiers fighting the war but we don't see the human side of them and see how they struggle to integrate into everyday life situations in the absence of a war. I used camouflage material and used my work to reflect the side of a soldier that many of us didn't see," she said.
The subject of soldiers was a popular one among the artists given the pivotal role they have played in the recent history of Sri Lanka. One artist used her work to show how a soldier has become a commemorative piece in today's society being bound by threads from all sides and unable to express his feelings freely.
Thujeba Vajaypalan from Jaffna used cardboard boxes and old newspapers along with a few other items to show both the suffering of the people in the north during the war as well as the new optimism with which the people of the area are going forward after the end of the war while another artist used a nest with paper butterflies to show that while some of them have managed to break through the nest many others remain trapped.
Layla Gonaduwa picked Hambantota as the city that is undergoing immense changes in the post war period; while massive buildings and other projects are emerging, hidden among them are also people who lack basic necessities such as water and proper infrastructure. She used melted glass on copper, aluminum and wires to create a map of the Hambantota District on which the varying changes taking place were shown while those that remain stagnant too were highlighted.
The Fireflies Artists' Network emerged through the Women Artists' Colloquium (WAC) which was started by Theertha as a programme that encourages female artists to actively engage in their creative talents.