This is a sad lot of men, women and children, holed up inside a detention centre in the West African state of Togo, with no money and nowhere to go after they were duped and dumped with the familiar false promise of a passage to Canada.
This has been the plight of the group of Sri Lankans, mainly from the East for the past one month and some of them have contracted yellow fever that is fast spreading throughout that country and the region.
In this case of human trafficking, around 250 Sri Lankans were flown out in separate batches from Colombo and grouped together at five safe houses in Togo with the agents promising them an early departure for Canada across the Atlantic. Each paid an exorbitant sum to their agent.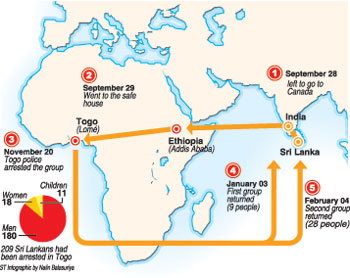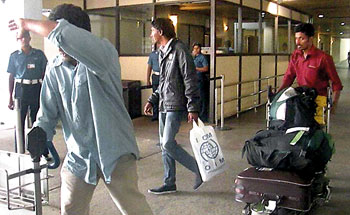 Coming back home: Some of the Sri Lankans arriving at BIA on Wednesday. Pic by N. Kumarasinha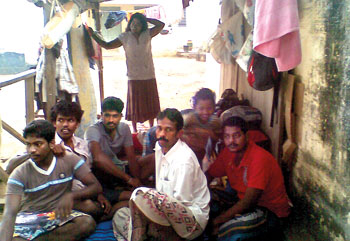 Stranded: Some of the Sri Lankans at a camp in Togo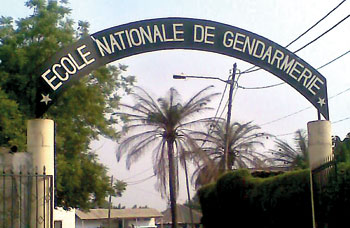 But this was not to be, because one morning the Lankans found they were surrounded by police and immigration officials and later whisked off to detention centres where they now face charges for overstaying their visas.
Visitors are provided with a visa valid for one week on arrival in Togo. The human traffickers had made use of this facility to bring the Lankans over there giving them an assurance that they would be sent to a Canada via ship. But this was not to be. As their plight aggravated, the international humanitarian groups stepped in.
The International Committee of the Red Cross (ICRC) assisted by the Canadian authorities have stepped into assist the Sri Lankans, but they have been urged to head back to Sri Lanka since nothing can be done, a senior official with External Affairs Ministry told the Sunday Times.
Since then, 37 of them have returned to Sri Lanka in separate batches to their homes in Batticaloa district but many are refusing to get back demanding justice as they have no money with them too.
Initial investigations revealed that each person had paid about Rs. 500,000 to the agent for the trip with the same fee being charged for the minors, of whom there were around 10 in the group, the official said.
He added that if the group continued to agitate and stayed on in Togo then the local authorities there will have no option but to deport them.
"Many of them have even destroyed their travel documents but still alternative papers could be made for their journey back," the official added. One of the recent returnees, Nallathamby Vimalaraj, 37, a father of two from Chenkaladi in Batticaloa told the Sunday Times they flew out from Colombo on Septemeber 28.
"There were five people in the group. Our handler gave us our passports, tickets and other documents before we entered the airport. We were told that we would land at Togo on a tourist visa and flown from there to Canada,
"When we arrived at the Togo airport, a Togolese person and a Sri Lankan welcomed us and took possession of our passports. Later the Lankan left assuring us that the other man would look after matters and there was nothing to worry.
"However, there was much to worry in the following days and we soon found out that we were not alone, as there was another group of nearly 200 plus Sri Lankans and many of them had been there for several months, waiting to go to Canada.
"The conditions in the safe house were appalling with limited sanitary facilities and one meal a day. Many were suffering from malaria, too. There was no sign of the passage to Canada although by now we were told it would be by ship.
"The handlers told us that they had to collect more passengers since the ship had been chartered to carry an estimated 1,000 persons so we would have to wait till this target was met."The weather changed from icy cold temperatures to sweltering heat but there were no facilities to adjust accordingly and therefore we had to suffer in silence.
The worst hit were the children including a 10-month-old toddler that was down with diarrhoea. "Shortly after that we were rounded up by the authorities and taken to an abandoned army camp where we stayed until arrangements were made for the return trip to Sri Lanka," Mr. Nallathamby said.
(Additional reporting by Deva Athiran)