Roads are clogged with vehicles, with an average of 1,400 cars, vans, three-wheelers and motorcycles being registered every day. An increasing number of Sri Lankans spend more time on the roads, paying more for fuel, as the number of vehicles on the roads keep increasing.
According to the latest statistics, the ratio of vehicles against the population is 1:4, with a staggering 4.4 million vehicles, though the actual number on the roads are less, with some of the registered vehicles not running now.
More than 500,000 vehicles were registered last year, with a large number still held up in the port awaiting clearance, while some are in warehouses yet to be registered. The increase in the number of vehicles on the roads, not only contributes to traffic congestions, but is also chiefly responsible for the hike in accidents, and adds to the fuel bill of the country.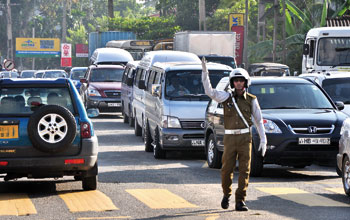 Sri Lanka currently has some 2.7 million vehicles on the roads. Pic by Mangala Weerasekera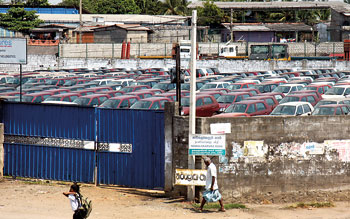 Newly imported vehicles at a yard in Peliyagoda. Pic by Nilan Maligaspe
Transport and Logistics ManagementSenior lecturer Prof. Amal Kumarage told the Sunday Times that, currently, the national average speed is 26 km per hour, which is gradually reducing, while within Colombo district, the average speed is 22 km per hour. The national average speed is projected to drop to 19 km per hour, while the Colombo district figure would drop to 15 km per hour, by 2031.
According to Prof. Kumarage, studies show that, on an average, 250,000 vehicles, made up of 15,000 buses, 10,000 trucks and 225,000 private vehicles, enter Colombo daily. Sri Lanka currently has some 2.7 million vehicles on the roads, though the number of vehicles registered was higher.
This translates to 130 vehicles per 1,000 people, out of which 66% would be two-wheelers and three-wheelers, four-wheelers, small and large, making up 45 vehicles per 1,000 people.
According to Prof. Kumarage, the vehicle population in operation would go up to 4.8 million by 2021 and 7.8 million by 2031. "20 years is the period taken to plan, execute and operate any highway transportation projects. The southern highway was planned in 1990, but we began to use it last year. So something planned now, will become operational in another 15 or 20 years time, by which time, the country will have three times more vehicles than at present," he said.
"We are not doing anything to curb this trend. If there is no vehicle fleet management, like in the last 20 years, there will be problems regarding space," he said. He believed that there should be a curb on ownership of vehicles, like in Singapore, where a vehicle permit is auctioned on a quota basis by courts, which will be more expensive than a vehicle. Permit holders cannot drive their vehicles wherever they wish. A toll is payable, while a vehicle should carry a minimum number of passengers.
"Singapore has a strict traffic management policy which restricts vehicle ownership. On the other hand, they invest heavily on upgrading the public transport system. Hence, their vehicles to population ratio is 250 vehicles for 1,000 people", he explained.
"Other countries use high quality transport as a viable alternative to overcome the space problem, while curtailing ownership and its use. In such a scenario, families owning vehicles would not use it for all their travel, which would probably be the best scenario for Sri Lanka. With a higher population density, there cannot be unlimited use of vehicles, with over 50% of people using public transport for their travel," he said.
Prof. Kumarage elaborated on the problem of congestion due to the increase in vehicles, when average speed decreases, leading to longer travel times, causing a rise in pollution levels. "Hence the economic loss due to congestion rises steeply. Currently our congestion cost is Rs. 32 billion, which is 0.5% of the Gross Domestic Product (GDP), which is likely to increase by 2% of GDP," he said.
"Currently, our fuel bill is about 6% of GDP, and that is likely to increase to 8%. All this will become economic burdens for the country. We have a densely populated country, and need to design our transport system to suit that. We cannot design our road systems purely with expressways, elevated highways and flyovers. Those solve isolated individual problems, but in terms of a network solution, it should be a solution that helps everybody, by implementing a pro-public transport policy.
This would be providing high quality access by public transport, not necessarily by cars. If we promote cars and other vehicles, neglecting public transport, we will need four times more space than we have now," he said.
He was also of the view that the present road network is not suited to cope with the projected increase in vehicles in future, and therefore, the government should adopt a designed transportation system.
"Government has a land transport policy dated 2010, which clearly states that it will influence a shift from private to public transport. On paper, that will be the correct path to take, but in practice, these things do not happen. We have not seen any development in the bus sector, it has gone from bad to worse" Prof. Kumarage pointed out.
"To overcome such problems, new modes of transport should be planned, with studies and designs done well in advance. Expressways will no doubt help, but not solve urban transport problems, where most of the current congestion start. Our studies show that most of the expressways will be blocked. These solutions require careful study of transportation trends, cost of transport and availability of land," he said.
AMW Automotives Director Shivantha de Zoysa told the Sunday Times that the increase in importation of vehicles has benefited many. "Overall everyone in the industry has benefited," he added. "The import of vehicles from 2010 to 2011 increased by 150%. On an average, 4,800 vehicles were registered per month in 2011," he said.
Manori Learners Driving Instructor Manori Palawandram said the registration of vehicles has risen, as the number of learner-drivers has increased. She said that female learners have increased in number. Due to the high cost of living, people cannot afford to employ drivers. Therefore, owners and spouses learn to drive their own vehicles.
Commenting on the course duration, she said the courses in her driving school is for 20 days, but since the RMV brought a new rule, that all licence seekers should have 90 days of learning, the duration varies.
Last year, there were more than 2,500 fatalities in road accidents and the trend continues. Last month, more than 160 people were killed in road accidents, with the highest number of fatalities within a day- 17 in 24 hours, raising concern.
More vehicles, better economy-- MotorTraffic Chief
By Damith Wickremasekara
Motor Traffic Commissioner General B.D.L. Dharmapriya told the Sunday Times that one of the reasons for the increase of cars was reduction in taxes. Another reason for the increase in vehicle registration in other provinces was the end of the conflict, when large numbers from the north and east, purchased motorcycles, three-wheelers and trucks.
He said that the purchase of vehicles reflected an increase in personal income levels. "This could be considered a measurement in the improvement in the economy". In January, 47,461 vehicles were registered, while the average registered per month is between 40,000 to 50,000.
"For the first time in the history of vehicle registration in a year, it surpassed 500,000 last year, with the registration of 525,421 vehicles," he said. He said that there has been an improvement in the road network, but going by the vehicle registrations, more space will be needed on the roads.
"It is difficult to avoid congestion on roads. Last year, we faced the problem of not having sufficient examiners to register so many vehicles, because, in addition to registration of new vehicles, they also have to handle transfers of vehicles. He said all records need to be scanned and computerised to improve the services.