The use of farming tractors to draw in large fishing nets is sparking angry protests from traditional north western coast fishermen who say the practice is illegal. Traditional fishermen claim that the tractors ruin fishing resources and cause environmental damage.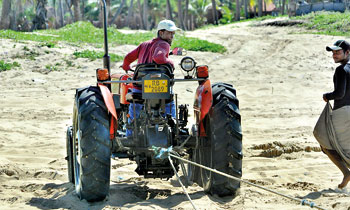 New method of pulling in fishing nets with tractors has sparked anger among traditionalists. Pix by Saman Kariyawasam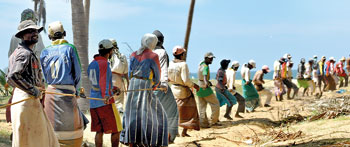 The traditional method of hauling in the day's catch
The tractors, used regularly in Puttalam, pull in large fishing nets from deeper waters, as opposed to the traditional method where smaller nets are drawn in manually. "When our men draw in nets no harm is done to the beach, unlike the big-time fishermen whose use of tractors do a lot of harm and affect the fishing community residing here," said W.R. Fernando, chairman of Sinnapaduwa's small fishermen's society.
W.R. Krishantha said he and his colleagues now return empty handed from the sea due to the activities of the big-time fishermen. Day boat and small boat fisherman are unable to go deep sea fishing so large net owners get all the catch.
"Their use of large nylon nets drives the fish into deeper seas. Often the situation causes fisticuffs between the two feuding parties," he said. According to a Government Gazette issued in 1985, the use of mechanised systems in the areas where the smaller fishing nets are used is prohibited.
Day boat fisherman P Priyantha said that his group had repeatedly informed the environmental authorities about the activities of the big-time fishermen but they had not yet received any response.
Justin Lionel Fernando, president of another society of fishermen claims that using tractors does no harm to the environment. He said members of his society have been using this method for the last eight years.
| | |
| --- | --- |
| | |
| Support for new method: Justin Lionel Fernando | W.R. Fernando: A voice against the new method |
He estimated that over 200 fishermen depend on large net fishing and this yields about 10 lorry loads of fish that are transported to Colombo.
He said that like farming, fishing too has improved in its methods and techniques.
Wayamba Fisheries Minister Sanath Perera, asked to comment on this issue, said that big-time fishermen have requested the use of tractors to draw in nets, an activity he said that is harmful to the environment.
He added that permission was also requested from the present Fisheries Minister Rajitha Senaratna, but it was denied. Mr. Perera said that such permission can be given only after further study is undertaken on the subject.