The Kandy Society of Medicine held their 34th Annual Academic Sessions on Thursday at the Plant and Genetic Research Centre, Gannoruwa, honouring the late Foreign Minister Lakshman Kadirgamar as the symbolic Chief Guest at the function.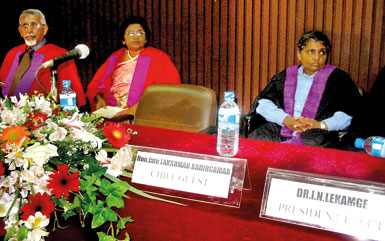 Picture shows the empty chair for the symbolic chief guest, the late Foreign Minister Lakshman Kadirgamar, at the opening ceremony of the 34th Academic Sessions of the Kandy Society of Medicine. Pic by Shane Seneviratne
In her speech introducing the late Mr. Lakshman Kadirgamar, P.C., the President of the Society, Prof. Chandrika Jayasinghe said that they were honouring an extraordinary son of Mother Lanka. "While being proud of his Tamil origins, he spoke of a Sri Lankan identity, and fought on behalf of a country where all sections of our communities could think of themselves as Sri Lankans, while maintaining their own ethnic identity.
In recognition of his astute advocacy of Sri Lanka's case in international fora, and his undaunted valour and indomitable courage in the pursuit of a united Sri Lanka, he was appointed to the rank and dignity of Sri Lankabhimanya, posthumously. His vision was for a secular, multiethnic and multicultural Sri Lanka. He firmly believed that the very foundation of a united Sri Lanka lay essentially in its cultural diversity.
He believed in unity through diversity, and that the very divisions that plagued Sri Lanka for many decades, could easily become the strong foundation for a new Sri Lankan identity".
"It is now- for the people of Sri Lanka – to prove him right and to realise his vision, by building mutual trust and confidence between all people on this island, and live together as brothers and sisters within the framework of a united Sri Lanka," she said, following a powerpoint presentation of the late Foreign Minister's life as a brilliant student and sportsman at Trinity College, Kandy, an astute lawyer, and then, the bold Foreign Minister he was.
The introductory speech was followed by a song created by an unknown artiste, after Mr Kadirgamar's demise, and then a replay of a speech on 'Professional Ethics', by the late Foreign Minister, at the 15th Annual Congress of Chartered Accountants, in 1994. This recorded speech was narrated by Emeritus Professor- Microbiology, University of Peradeniya, Prof. S.N. Arsecularatne.