A credit line for US$200 million was one of three Memoranda of Understanding (MoU) Pakistan and Sri Lanka signed yesterday. The MoUs were signed during President Mahinda Rajapksa's official visit to Pakistan, on the invitation of President Asif Ali Zardari.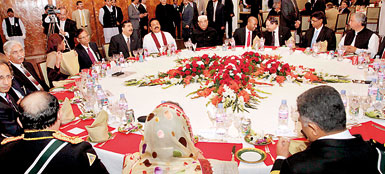 President Mahinda Rajapaksa at a banquet hosted by President Zardari
The bilateral talks with President Zardari and Prime Minister Syed Yusuf Raza Gilani covered trade, education, media and economic development, science and technology, healthcare, agriculture, tourism, sport and cultural exchange.
Another agreement covered cooperation between Sri Lanka's Ministry of Mass Media and Information and Pakistan's Ministry of Information and Broadcasting. The third MoU covered cooperation between Sri Lanka's Tertiary and Vocational Education Commission and Pakistan's National Vocational and Technical Education Commission.
Both leaders agreed to hold frequent summit-level meetings, promote parliamentary exchange and enhance consultation, cooperation and coordination between institutions of both countries. On financial and banking, it was agreed that the Central Bank governors of both countries would promote cooperation, including the opening of bank branches and trading in local currencies. Pakistan has offered Sri Lanka training facilities in banking, information technology, engineering and medical sciences.
The Pakistan and Sri Lanka leaders expressed satisfaction on the two countries' cooperation in defence and security. They also agreed to enhance air and sea connectivity, which would include joint ventures between the shipping corporations of both countries.
Pakistan thanked Sri Lanka for its assistance in containing an outbreak of dengue fever in the country last year. President Rajapaksa also visited Taxila, the first centre of Buddhist learning, testimony to Pakistan's rich Gandhara heritage.