A doctor is supposed to be a saviour to those who go to a State or private hospital, clinic or dispensary when they fall sick.However, in a shocking revelation, for every qualified doctor in the country there is a person who practices medicine illegally, in other words a 'quack', the Sunday Times learns. These quacks comprise mostly retired pharmacists, dispensers, paramedics, estate medical assistants or relatives of late doctors. Worst of all in some instances these quacks bear the registration of doctors residing overseas.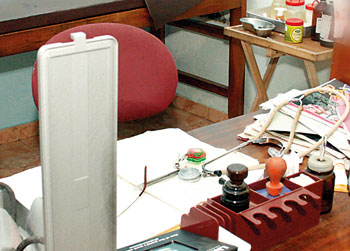 Raids on illegal medical centres have proved futile. Pix by Indika Handuwala
While there are 20,000 doctors registered with the Sri Lanka Medical Council and 17,000 with the Ayurveda and Homeopathy Councils, there are about 30,000 quacks, the Sunday Times learns.
Allopathic (Western medicine) practitioners are registered with the Sri Lanka Medical Council while Ayurvedic doctors are registered with the Ayurveda Council and Homeopathy doctors with the Homeopathy Council.
Last week, Health Minister Maitripala Sirisena instructed the Ministry secretary to draft amendments to the Medical Ordinance which will see an increase in the fines and jail terms being imposed on those who pose off as doctors.
"The present fine is less than Rs. 2000. The Minister highlighted the need to increase this amount and introduce a minimum five-year rigorous imprisonment. This follows an increase in the number of complaints about quacks," Health Secretary Dr. Ravindra Ruberu told the Sunday Times adding that legal advice had been sought from the Attorney General regarding the new amendments.
"The unfortunate victims are mostly those who live in rural areas or belong to urban low-income groups," he said. Meanwhile, the Government Medical Officer's Association (GMOA) that consists of registered medical officers charged that the public have no access to names or qualifications of registered medical practitioners.
GMOA spokesman Upul Gunasekare said a number of child deaths, cases of over-dose of drugs and related side effects among patients have been reported at the hands of unqualified doctors. He added there was no online database to check whether a particular doctor was registered or qualified to treat patients.
"This is the same with medicinal drugs. Some quacks treat patients with medicines that have been removed from the market several years back. These patients often suffer from side effects and related complications. Despite requests, the ministry has failed to establish a drug information centre for the use of doctors and the public. An information centre will allow the patient to check the medicines prescribed," he said.
Dr. Gunasekare said authorities should also be vigilant about foreign doctors who are brought down by private hospitals. "There have been a number of instances where the doctor after a failed surgery has left the country. In some instances he/she will practise as a surgeon but does not possess enough training to be one," he charged.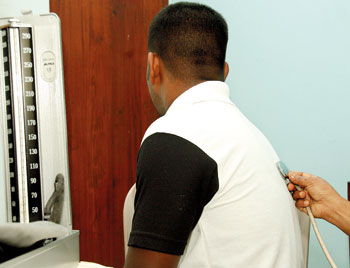 Pateints should have access online to check on the registration and qualification of doctors says the GMOA
Sri Lanka Medical Council (SLMC) Registrar Dr. N.J.Nonis said as quacks are not registered as medical professionals, the SLMC did not have the power to take action against them. "If the doctors are registered with us, the SLMC can take disciplinary measures. But this is a crime therefore the police should take action," he said.
Answering a question about foreign doctors Dr. Nonis said the Council was in the process of registering them. "Their qualifications will be submitted to the relevant colleges such as the College of Surgeons to obtain approval before they are brought here to perform surgeries or specialized treatments," he said.
The Sunday Times learns that Medical Officers of Health (MOHs) along with the Police have the authority to raid illicit clinics and dispensaries and produce the offenders before courts.
However a cross section of the MOH's interviewed by the Sunday Times said they do not conduct raids but conduct investigations only when a complaint is lodged. "We launched several raids but as the fine was a small amount, they pay the fine and continue with their practice. These quacks are highly influential therefore it is important to have the support of the police and the military to curb their activities," said the Embilipitiya MOH in the Ratnapura district.
He said some quacks had fake degree certificates while some were retired pharmacists. Dambulla MOH Dr. Jayanath Jayasundare said a number of Ayurvedic practitioners display their Ayurveda Council certificate but run dispensaries that issue western medicine. He believed that raids should be done districtwise as MOHs are also from the same area. The Kaduwela MOH said a number of Ayurveda practitioners serve as western medicine practitioners without obtaining any qualification in that area.
"Some health inspectors have been informed that there are medical college dropouts who have been prescribing medicines for a number of years. In some instances nurses too run small dispensaries. It is therefore important to increase the fine and impose jail terms," he said.
"In Colombo, it's the low-income dwellers who are victims of unqualified doctors and unfortunately we don't get any complaints from public," Colombo's MOH Dr. Pradeep Kariyawasam said. Medical officer of Health in Wellawaya, Moneragala district said it was public knowledge that a private medical clinic run by a once interdicted-medical officer also employed an unqualified person to treat patients during his absence.
"We have warned them several times and unfortunately due to the lack of medical centres and transport facilities people still seek treatment from this clinic," he said.