St. Patrick's College, Jaffna has the honour of becoming the first cricket team from the North of Sri Lanka to travel down all the way to the South and brought down the barriers of differences through sport even during the ethnic war. Through cricket St. Patrick's conveyed the message of peace and strengthened the dented relationship with their Southern counterparts. Each time the cricketers of St. Patrick's visited Colombo or a nearby city, it was news of a different sort to the media. Spectators came in their numbers to see how they fared.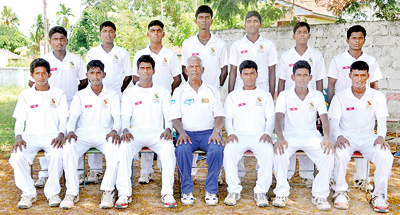 St. Patrick's cricket squad (Pix by Amila Prabodha)
Making their gateway to the South to play top school cricket teams while at the same time playing games in Jaffna helped St. Patrick's to improve their cricket.
This helped them gain promotion to Division II from the overcrowded Division III in 2009, following the strategy in 2003. Today St. Patrick's cricket has the strength to match any competitive team. Their target is to reach Division One by 2013.
One of the reasons behind the success of St. Patrick's could be attributed to Rev. Bro. Anthony Francis, a fatherly figure who has been involved with their cricket since 2002. Rev. Bro. Francis knows every player on the field. He has also created a strong junior squad with the intention of feeding the senior team in the future.
"Earlier even during the war, many schools in Jaffna played cricket. But they didn't have the opportunity of traveling south to improve their skills. We were the first schools cricket team to break that barrier. In the process we have built the bridge and many schools from Jaffna have benefited when leading schools visited the region for matches. It actually helped us to develop our players' skills," said Rev. Bro. Francis, who heads the coaching staff.
St. Patrick's faired well during the last couple of seasons. They lost at regular intervals. They learnt new methods of fighting whilst playing positive cricket. This prompted them to achieve better status in schools cricket and others gave them due respect on the field.
Their progress in the game is evident. In the five third term games played so far, (out of 14 games from the entire season) St. Patrick's has gained first innings honours in three outings – against experienced teams such as Kegalu Vidyalaya, Asoka and Bandaranayake Gampaha. Ther are aiming high for the rest of the season which is scheduled to recommence in January 2012.
| | |
| --- | --- |
| | |
| J. Clinton (Captain) | A.M. Norbert (Vice Captain) |
The squad has 19 players. This includes five seniors and a set of talented youngsters which is a pleasant blend. Their most senior player is Vice Captain A.M. Norbert who is the leading off-spinner of the team with four years of exposure in First XI cricket. St. Patrick's has four players with three years of experience in skipper J. Clinton, Rishanth Tudor, V. Kugabala and Ajith Darvin.
The openers of St. Patrick's are wicketkeeper/batsman Tudor and R. Jackson followed by Morris Miroshan, Kugabala and Clinton in the top order. The rest of the line-up is made up by J.M. Alestin, W.C.L. Livington, Nobert, Darvin, R. Nishanthan and D. Suhirthan. Right-arm fast bowler Darvin opens the bowling attack. To support Norbert in the spin department is Kugabala. Apart from these players St. Patrick's has a strong bench with loads of talent.
"We have rested about five players these days as they are doing their examinations. They will join us during the first term. We have a committed team. They are well balanced in all departments - be it batting, bowling or fielding. There is not one player who could be considered as a star performer as all have been contributing equally to the game. With this setup we hope to win as many matches as possible and fight our way to the top," said Rev. Bro. Francis.
St. Patrick's cricket squad: J. Clinton (Captain), A.M. Norbert (Vice Captain), G. Rishan Tudor, V. Kugabala, W.C.L. Livington, J.M. Alestin, R. Nitharsan, A. Ajith Darwin, R. Jackson, D. Suhirthan, T. Morris Miroshan, S. Sajeenthiran, K.A.A. Vithiyananthan, M.D. Kajeendran, S. Kapilan, A. Subaneshan, Rev. Bro. Anthony Francis (Cricket Coordinator), S. Sahayarajah (P-O-G), Rev. Fr. A.P. Thirumahan (Sports-in-charge), A.S. Nishanthan and M.A. Niloshan (Coaching staff members)