Mickey Arthur has had some success as a coach with South Africa, including helping plot Australia's downfall in a Test series here in 2008-09, but he would not have been my choice to take over as coach of the Australian team.
The captain of a US aircraft carrier needs to have a pilot's licence for all the different types of planes that land on the ship. Arthur hasn't flown a jet - or more importantly in this case, played cricket at the highest level.
It's not a problem that Arthur is not Australian. My choice would have been former New Zealand captain Stephen Fleming, possessor of the finest cricket brain I have seen, and a man who coached Chennai to consecutive Indian Premier League titles.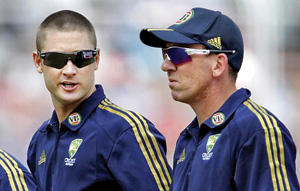 Michael Clarke and Tim Nielsen
Arthur will now be a selector. How much of a say he will have over the captain and other selectors, time will tell. Michael Clarke did not get the coach of his choice in Steve Rixon. So while Clarke is in his infancy as captain, it seems that Cricket Australia does not agree with or trust its new captain in all matters.
There are also questions on how CA uses its resources. Do we use Shane Warne in the best way to talk to spinners and potential leaders?
Why isn't Dennis Lillee being used more to help our quicks? Should Rod Marsh be a part-time selector when he was clearly the best coach of our kids coming through? Why doesn't CA use wonderful cricket brains like Bob Simpson, Keith Stackpole, Adam Gilchrist, Glenn McGrath, Geoff Lawson, Mark Waugh, Merv Hughes, Rod Hogg, Damien Martyn and Damien Fleming? Sadly, for some reason, CA doesn't use these wonderful resources properly.
Maybe the Test team could have two past players at each Test working in a mentoring role - just watching them prepare, talking about the little things of the game. Or maybe they should have these legends sit down and have dinner with them occasionally. Or help players when they are struggling. Either way, we don't use their knowledge enough, nor do the current players seek it.
What now for former Australian coach Tim Nielsen? It seems that no one is interested in Tim, nor has anyone thanked him properly for his time as Australian coach. Wrongly, it seems that he is being used as the scapegoat for Australia's shortcomings over the past few years.
Everything is new at CA. In one month, it has appointed a new coach, high-performance manager and chairman of selectors, along with a couple of part-time selectors. Everything is on the go, with a new Big Bash League approaching, but what will happen to Nielsen?
Cricket Australia can be very hard to read sometimes. It rakes in millions of dollars every year. It spends hundreds of thousands of dollars on young players and coaches coming through and when they retire they are thrown to the wood heap. Is that fair?
There is an old saying, ''I have been in a lot of shops over the years and I still can't buy experience anywhere.'' With all the knowledge and experience gained over many years in Australian cricket, it seems that Nielsen has been kicked to the kerb.
During his time in charge, Australia lost two Ashes series, including a 3-1 defeat at home, and relinquished the World Cup.
Beyond those three bad tournaments during his tenure, Nielsen had a win-loss ratio of 48 per cent. That is better than Simpson and Geoff Marsh, and yet he is not seen in the same light. In his 4½ years as head coach, he had achieved a lot. There were many Australian greats retiring and he had to find players to fill some massive shoes.
There were 25 players who made their Australian Test debuts in his time and 31 new one-day internationals. Many failed at this level, but he never moaned to the media that he didn't have the team he wanted.
Many might say Nielsen had to go as we lost two Ashes series and a World Cup. But he didn't pick the team. Surely Andrew Hilditch, Jamie Cox and David Boon should cop most of that criticism. Cox and Boon particularly went silent and hid deep. Both retain better cricket reputations, but it seems that poor old Tim copped the worst of it.
For the record, thanks, Tim, for your efforts. You are a wonderful bloke and put in a lot of work for Australian cricket when it was in a transitional stage. www.theage.com