Rifle shooting, a sports discipline where Sri Lanka could reach the Olympic standards has finally reached grassroot level. The eagerly awaited news broke in May this year when the Ministry of Education decided to approve rifle shooting as a schools sport. This took place after many considerations and several rounds of talks which went on for months.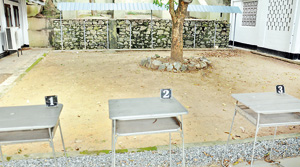 Inside the shooting range.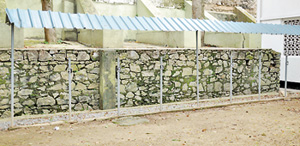 The target end of the range.
As a sport rifle shooting has a relatively good reputation in Sri Lanka. However due to several reasons, it has been limited only to a certain section as equipment and facilities are hard to obtain. The potential of the sport was realized when Sri Lanka took part at the 2008 Beijing Olympics.
Schools today are elated that rifle shooting was accepted by officials as a sport in May 2011. Today the sport is recognized, identified and approved as an appropriate sport for youngsters and thus the Sri Lanka Schools Shooting Sports Association (SLSSSA) was formed. The inaugural meetings Secretary of SLSSSA, R.M.S. Ratnayake revealed this development to the Sunday Times.
"Many schools have been engaged in rifle shooting for a long time. Different schools conducted their own competitions on an invitational basis as the Ministry of Education did not recognize this as a schools sport. After lengthy discussions, which dragged on for years, ministry officials were convinced and gave rifle shooting the 'green light' to reach schoosl level. Many schools endorsed this as a welcome step," said Ratnayake, who is also the sport's master-in-charge at Nalanda.
Amazingly, according to reliable information, nearly 50 boys' and 12 girls' schools have engaged in rifle shooting for many years. Nalanda College, Colombo was the pioneer among schools to embrace the sport in 1993. Apparently, Nalanda has the only shooting range in schools. While engaging in rifle shooting which was adopted after a request made by the school's cadet corps, Nalanda continued to develop the sport in a small scale while spreading it among other schools.
Several rallied around to support Nalanda's endeavour during the infantry stage. Since 1993, Nalanda's long standing coach, Sgt. Dayaratne and many who wished to see the sport prosper worked tirelessly to train shooters at the school and outside. The rifle shooting fraternity of Nalanda only cultivated in numbers averaging 50 shooters per year, for the past 19 years, until the sport was recognized officially.
"Including those who did rifle shooting as a sport at Nalanda and many from other schools did not have a true validation for their certificates and awards in the past. But today these credentials will have significance. This is a big relief for us as officials who promoted the sport. In addition there are other important characteristics of the sport that others don't see. It is not an easy sport to master," added Ratnayake.
The President of Nalanda College Rifle Shooting Association, Thilanka Herath who is a senior student at the school has been engaged in the sport for past two years. As a student and a shooter Herath explained: "Many think that rifle shooting is easy as eating a piece of cake. But if one goes through the entire process before holding an air gun or rifle, then he will understand the depth of the this sport. This is not just about aiming and pulling the trigger – it's about bringing your aim to a certain spot and then reaching the target in a perfect manner. I had to undergo training for six months before entering the shooting range and being given the opportunity of holding a gun. This sport is ideal for youngsters as it has the power to control one's self. It also builds character. I have experienced it and I know the importance of this sport".
| | |
| --- | --- |
| | |
| R.M.S. Ratnayake - One of the key characters to promote the sport to schools. | Thilanka Herath - Shared his views as a student. |
Nalanda has conducted up to three competitions annually without a break for many years. They were held at their shooting range where there are all facilities. These competitions had improvement in participation. This had prompted them to spearhead their attempt to seek official approval from the Government. Nalanda officials, willingly and voluntarily, took the sport to potential outstation schools while many leading schools in Colombo and in the main cities followed their footsteps.
Recently Nalanda officials and shooters got together with the SLSSSA and prominent figures from the military to introduce rifle shooting at Sri Sumangala Wariyapola who adopted the new sport keenly. At present they have got together to construct a new shooting range at Devi Balika Vidyalaya in Borella.
Their greatest task lies ahead when the sport expands throughout the island, which is the main goal of SLSSSA. Their main worry will be generating funds which were not a burden when the sport was handled individually by schools. But the SLSSA has many key prominent characters from Nalanda as officials, who were selected to the schools governing body by the ministry.
They also have the assistance from many others who joined in the cause of spreading the sport throughout the island. The new set of officials has the fullest backing from officials of the Sri Lanka Rifle Shooting Association who eagerly got together to foster the sport at grassroots level. The show of support from all these factions can certainly make rifle shooting an alternative international sport for Sri Lanka, provided things fall into the correct places.