Sri Lankan skipper T.M. Dilshan hopes that the Lankan fans back home would have patience with his team and understand their plight. In one of the worst tours undertaken in recent times Sri Lanka on Friday lost the final game on their tour of the Middle-East going down to Pakistan in their one-off T-20 game by five wickets. They also lost the Test series 1-0 while losing the one-day series 4-1.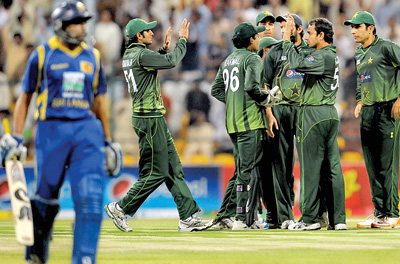 LW1137 - Abu Dhabi, -, UNITED ARAB EMIRATES : Pakistan's cricketers celebrate after
Sri Lanka's cricket captain Tillakaratne Dilshan (L) was dismissed during the Twenty20 match between Pakistan and Sri Lanka at the Sheikh Zayed Cricket Stadium in Abu Dhabi on November 25, 2011. AFP PHOTO/ Lakruwan WANNIARACHCHI
Dilshan in his post match meeting said ""I know every cricket fan back home would be disappointed. I hope fans would believe in us and give us more time because we tried our best. There were times when we were in very strong positions but we didn't capitalise on them and lost track".
Dilshan also admitted that oncoming South African tour would be even a tougher proposition. He said that the team was keen to learn from their mistakes and would strive do better during that tour.
The Pakistan cricket team since they landed in UAE just over a month ago has shown the world that nothing is impossible, having won the three-match Test, five-match ODI series and the T20 it seems that they are going in the right direction. They will no doubt have plenty of their supporters and a host of others talking about their sterling performances in time to come.
The Pakistan skipper Misbah-ul-Haq after the completion of their successful series against Sri Lanka said ""I hope my team shows more improvement and consistency on the tour of Bangladesh which like any other tour is not easy. The morale and confidence of the team is very high after beating a team like Sri Lanka, but despite that we are not going to take Bangladesh lightly as they are a tough team in their home conditions."
In the past they have been noted by the cricket fraternity as a team that could be the best on their day or could self destruct. But with so many problems in their country the team has not been discouraged. They showed their consistency and during the Test and ODI series and they are now beginning to rediscover their good old days of their former stalwarts who kept the flag flying high. The main ingredient for this massive change which no doubt is visible to the eyes of many is that the team has shown during the past month or so is the mental toughness which is essential and what you need to produce positive results.
Pakistan interim coach Moshin Khan mentioned that he was pleased with the team and this is only a start of better things to come. "The players have done a great job we have strived hard and got the desired and wonderful results. Since I took over I had the feeling that they were a talented set of players which needs a bit of fine tuning. From the captain downwards all the players executed the real team spirit which is essential if you want to reap positive results.
"Nevertheless I know we have won the Test and ODI series against one of the top teams in the World, but Sri Lanka are finding it difficult to replace a great player in the caliber of Muttiah Muralitharan, even then they are a side who could beat any team. The series win is a good sign for the future and the 16 players that have been selected for this tour are good enough to play in any team in the world. It's a bit difficult where the selection is concerned as all the players are talented and it's great to have such players, which makes things easy."
The most pleasing aspect he mentioned is the mixture of experience and exciting young players in the team and some youngsters waiting in the sidelines to be called up. This augurs well for Pakistan cricket, further adding that one of the priorities were to prepare a back up. Which means senior players to combine with youngsters, which has been done very well so far. Moshin also praised the Pakistan Cricket Board selection committee for having selected some talented youngsters which I feel is the best combination.
"We are moving forward with that policy and are hopeful that with this kind of combination we could come out on top".
Moshin was not concerned about the rankings saying "I don't care about that, what we are focussing is to first win a match. Even during the Test and ODI series we went match by match, so that is also one of our policies and to some extent we have succeeded. It's after that the winnings gained by the team or by any team will automatically see them go up the rankings. But our main target is to win the matches."