Three local motor sport heroes and a leading Indian rider emerged as best performing drivers and riders to win the four main awards at the CEAT-SLARDAR Championship Awards Night organized by the Sri Lanka Association of Racing Drivers and Riders at Hotel Galadari on Friday. The Championship awards were won by drivers Pasindu Peiris, Ashan Silva and riders K.P. Aravind and Shehan C. Adhikari.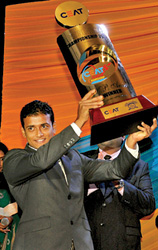 Indian rider K.P. Aravind, had to rush back to catch his plane soon after ercieving his prize. (Pix by Amila Prabodha)
A total of 16 awards covering various categories were presented at the glittering night which saw the finale for the calendar year of SLARDAR sponsored by CEAT. The champion drivers and riders were determined on their performances at Supercross Motor racing events of Fox Hill, Cavalry, Gajaba, Gunners, Sigiriya Rally Cross and the Rotherham Circuit Meet which are backed by the sponsor.
Champion driver Pasindu Peiris was adjudged the best performer in the events SL-GT Cars up to 3500cc which took place during this year. Ashan Silva won his first award in the SL-H Cars up to 1600cc category.
Indian rider Aravind who outsmarted local riding hero Gayan Sandaruwan for the first time in history become the first non-Sri Lankan to win the championship award in MX Racing category. Young Shehan C. Adhikari who also won an award in the Group MX Racing up to 85cc Under-16 years category, won the championship award in the MX Racing up to 125cc which is one of the four main awards.
Twelve drivers and riders won awards from supporting events and they were claimed by Lahiru Jeewantha (Group M Street Trail up to 125cc), Ramal Pathirathne (Super Motard up to 450cc), Uddika Srimal Malavige (Super Motard up to 250cc), Abhishek Wanaguru (Group J up to 50cc PW & QR Under-10 years), Jacques Gunawardena (Group J up to 50cc PW & QR Under-13 years), Sampath Kumara (Group M Street Trail up to 250cc), Shehan C. Adikari (Group MX Racing up to 85cc Under-16 years), Upulwan Serasinghe (SL-N Ford Laser/Mazda up to 1300cc), Chaminda Weerasuriya (SL-N Ford Laser/Mazda up to 1500cc), K. Parameswaran (SL-A Mini 7 1000cc), Ajith Keerthi (SL-A Cars up to 1050cc) and Dinesh Senanayake (SL-T&J Truck & Jeep Open).