The Mercantile Rugby Sevens is an event that takes the monotony of work out of the otherwise busy human resource of the corporate world. To those that play in the cup segment employing some of the best; it is a boost to their image.
The significance and influence on rugby in management cannot be underestimated as we discuss the success of All Blacks based on responsibility, professionalism, maximizing full potential, creativity and preparation which can be used to get the best of your team in business. Along the way they help sportsman sustaining them and the game.
Talking to people who have convinced the big men in their firms to employ and play in the Sevens it was a disappointment they had. Most thought that teams have come up and done well in the past but have been missing the next year. Take the case of past year's losing finalist? Not to be seen anywhere in the horizon. Probably returned to sender address unknown.
Or are they playing for another team this weekend. As one said are we wasting our energy or boosting for a "bloody" time as those who volunteer for the week end have no affiliation.
In the lower segment of bowl and shield, teams continued to come year in year out so that those from a rugby background have something to look forward. Meeting their rugby social group and having some fun. Talking to a few managers of teams in this segment I was told that they were in the tournament so that the rugby players in their company can play and enjoy. To him it was a corporate social event that helps to let the steam off. They said that they employ rugby players and give them jobs and provide a pathway for life.
Rugby is secondary but is an important aspect of the corporate social life. A rugby player was to them an employable human resource. We have continued to take part in the lower league and have enjoyed being a participant. Yet we may have to reconsider the future as teams who take part at the lower group comprise of players who may be recent schools leavers who cannot have been employed for a reasonable time. Next year round you may see a few more players lured by the money for a weekend. The following year it will be another set. They wonder if it will be a bloody time they will face or maybe a gory time.
Talking to people who matter from the teams in the top competition they were of the view that they employ some of the best in the field and give those jobs and a future. We are proud and understand our corporate social responsibility. Our business is not rugby but we make it our business to employ and play rugby as it helps the boy.
The game and gives us publicity when we do well. Our responsibility and our contribution cannot be for a week end of rugby as some do. Most players from the top teams have been playing for two to three years. If we have to play against those that are employees for the tournament our purpose in helping the game and the players are lost.
As one said we take rugby players and nurture them and train them to be responsible employees and help the sport.In some teams of the tournament there were many who may not have been in employment for long. This was evidenced when substitutions were made or yellow cards were issued and managers were asked for names and they seemed not to know.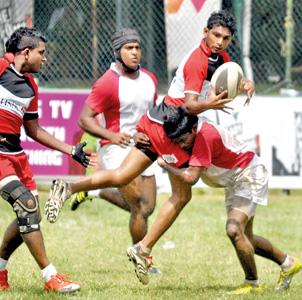 Action at the Mercantile Rugby 7s
I was little foxed by an acquaintance whose company was about to take the field and showed a player with a remark that he is playing well. The big man was a little red in his cheek as he said I did not know he was playing for us: I thought he was still in school. Meaning probably does he work for us? In another case on seeing player kitted to go an officer from the Army who was on the grounds asked how he was playing for a company when he was a "regular". That was the last we saw of that player.
Some things that happen do no good for the company or the player and the organizers must be aware of this. As you go deep into the issue one cannot fault the organizers and control must come from within the teams. These players represent the companies that talk of corporate culture, governance and transparency among other names that are in fashion to utter.
The Mercantile Sevens which attracted forty one teams saw MAS Holdings winning the plum in a close final played against debutants Nations Lanka Finance.
Taking cue the members of mercantile rugby may need to have volunteers in their system and may be called for active duty as the sevens come up each year. Volunteers are taken for a specific task and have no claims for being in the main stream. Better still we can call them outsourced rugby players.
Pramod Kanna the President of the Indian Rugby Football Union announcing the HSBC sevens in Goa said that Indian Rugby is working on an Indian Premier League like idea with an initial pool of eight teams which will be increased to sixteen.
The corporate class is getting attracted to the sport. In fact we are having a special rugby tournament for the corporate in Mumbai. More than 50 corporate teams are taking part in it,' he said. This will be similar to the mercantile sevens played in Sri Lanka.
On the smiling side we found two Sri Lankan referees Aruna Rankothge and Dharmapalage Nimal doing well in the Asian Sevens series in Goa. Nimal refereed the final. So much for the competence of local referees that some wants to talk about?
Vimal Perera is a former Rugby Referee, coach and Accredited Referees Evaluator IRB