President Mahinda Rajapaksa held bilateral talks with Indian Prime Minister Dr. Manmohan Singh on the sidelines of the recently concluded 17th SAARC summit in the Maldives, where issues related to fishermen were discussed, as well as the Sampur Coal Power project being constructed with Indian aid.
During the talks, the two leaders agreed that the issue concerning the fishermen can be solved amicably, and decided to have the Joint Working Group on Fisheries meet in December this year. The Working group was to meet in October, but it was postponed indefinitely, on the grounds that experts in the field who advice the Group were unavailable.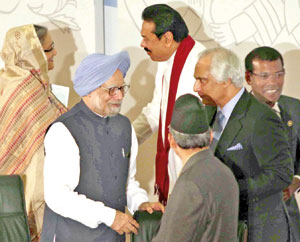 As SAARC leaders greet each other, President Rajapaksa is seen exchanging pleasantries with Bangladesh Prime Minister Sheikh Hassina Wajed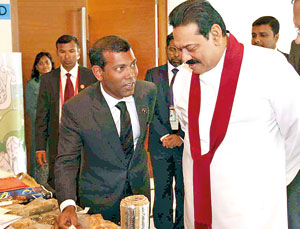 Maldivian President Mohamed Nasheed making a point about his Country's products and handicraft.
During the talks, President Rajapaksa also explained to Premier Singh the problems faced by fishermen in the northern region, who are engaging in their livelihoods freely, after a long period of strife.
The President also briefed him on the rehabilitation and resettlement activities in the north, and said that the people in the area need to be provided permanent houses. He detailed steps taken in this regard, by the government, to provide houses to the IDPs.
The President also held bilateral discussions with Maldivian President Mohommed Nasheed, Nepalese Prime Minister Baburam Bhattarai, Afganistan President Hamid Karzai, Pakistan Prime Minister Yousaf Raza Gillani and Bhutan Prime Minister Jigme Thinley and Commonwealth General Secretary Kamalesh Sharma.
President Rajapaksa discussed areas of trade, security and culture with the Pakistan PM. Discussions were also held with the Nepal PM on resuming air services between Colombo and Kathmandu.
President Rajapaksa also laid the foundation stone for a concrete road to be constructed joining the islands of Maradhoo-Feydhoo with Addu City across Sunset Bridge.
The government will finance the construction of the 4.5-km road, which is to be the longest road constructed in the Maldives, with financial assistance from a foreign nation at a cost of US$ 10 million.
Foreign ministers of SAARC member countries signed four agreements on rapid response to natural disasters, multilateral arrangement on recognition of conformity assessment, implementation of regional standards and establishing a regional seed bank.
The 18th SAARC Summit is to be held in Nepal. In the 20-point declaration, the SAARC leaders decided to direct the SAFTA Ministerial Council to intensify efforts to fully and effectively implement SAFTA and the work on reduction in Sensitive Lists, as well as early resolution of non-tariff barriers and expediting the process of harmonizing standards and customs procedures, and to direct the SAARC Finance Ministers to chart a proposal that would allow for greater flow of financial capital and intra-regional long-term investment.