Leeks were a favourite of vegetable grower and writer Samuel Baker, the Englishman who made Nuwara Eliya his home and garden in the 1840s. Plots of leeks are a common, and pleasing, sight in the district. In the 150 years since, leeks have been grown widely, and constitute a major part of the hill country's produce that goes to the market.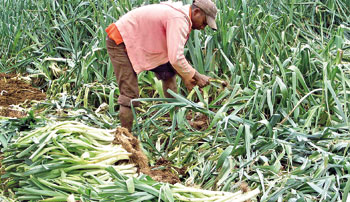 Leeks have dropped in price to Rs. 6 a kilo, good news for the consumer but disastrous news for the farmer
Unfortunately, over-production is affecting the market for this popular vegetable. The tea-growing area of Kandapola is the biggest producer of leeks, but these days supply exceeds demand and excess leeks are left to rot, and end up on compost heaps. Piles of leeks are left to rot by the wayside along the roads of Kandapola.
Farmer W. M. Sirisena, 66 years, said prices started to fall in April, as farmers in the North took up leeks cultivation. "The Matale farmer grows onions for the Dambulla market, while everyone is growing leeks, instead of growing potatoes, which need to come down in price," he lamented.
Farmers in the Uva Paranagama area have also taken to leeks cultivation, and even grow the vegetable in paddy fields.
K. Rajasekeran, 65, has taken three acres of cultivable land in Welimada on lease, and grows carrot, cabbage, beet, and leeks. Growing leeks is a total loss, he said. "It costs Rs. 27 to grow a kilo of leeks over a six-month period, from planting to harvesting, but a kilo fetches only Rs. 6 today," he explained.
Farmer and police constable Nimal Wijesinghe, 47, owns two acres of ancestral land on which he grows paddy. After his entire paddy harvest was lost to the rains and floods of January this year, farmer Wijesinghe pawned his valuables to raise money to start leeks cultivation. But he has lost his money because of the depressed market for leeks. He said other farmers are in an identical plight, and pointed to the number of pawn broker businesses that have come up in the area – a sign that farmers are desperate to raise money in order to survive.
M. Vedikkaraaraachchi, also of Kandapola, whose family has farmed for generations, says the farmers' associations are inactive and doing nothing to help farmer. He said there were no seed potatoes available; earlier, he and other farmers in the area supplied the Jaffna farmer with seed potatoes. His attempt at leeks cultivation has ended in failure. He said the state was not doing anything to help the solitary farmer, while taking the side of officials in the farming associations. He said there was something suspicious about the drastic drop in the price of leeks, and called for urgent state assistance.
The Ven. Dambagolle Somananda, who speaks on behalf of farmers in Kandapola, told the Sunday Times that he called on state officials after the January floods, but the promises to help have come to nothing. Farmers should be compensated, the monk said, adding that there should be controls on arbitrary price marking by traders. He said farmers' associations should be rallying and working to help the farming community. He said excess locally grown vegetables could be exported, rather than be left to rot.