Thirty-year-old Thiyagarajah Selva Ruben who lives in London, came home recently to visit his mother in Uduppilddy in Nelliadi, Jaffna. While heading to the airport after a month's holiday here, he met with a tragic end when his vehicle collided with a lorry on Wednesday. It transpired at the inquest that his vehicle had been travelling at an excessive speed at the time of the accident. This was revealed by his sister S. Thiyagarajah, a teacher of a Jaffna school.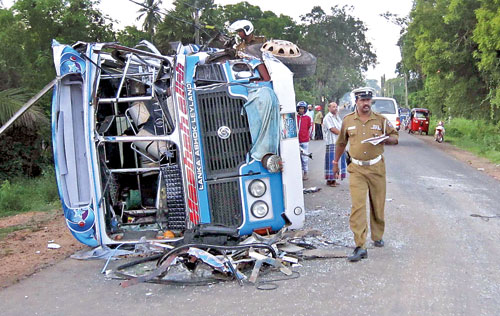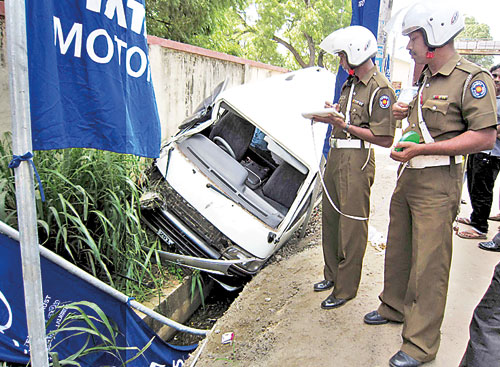 Scenes of the accident at Karuwalagaswewa. Pix by Hiran Priyankara
Police statistics indicate that the newly carpeted expressways in the north have caused many accidents with fatal consequences on all other roads, save the Puttalam-Anuradhapura-Jaffna highway. Drunken drivers who think the road is theirs, have caused many an accident, as much as weary drivers, more often than not sans sleep in the night, also contribute to the toll.
Thiyagarajah's van had stopped for awhile at the Karuwalagaswewa area, to allow a little nap for the driver. He then drove at speed and crashed into a bus before ending in a drain.
It is a strange quirk of fate that Thiyagarajah, with 15 years experience at the wheel in England, had to die at the hands of a hired driver. As many as 45 persons have died from an equal number of accidents in the area covering Puttalam Mundel, Chilaw, Saliyawewa, Nawagattegama and Anamaduwa-Kalpitiya. Another 1,000 suffered injury according to SP Puttalam. While this was the figure in 2010, it has been already surpassed by six this year.
Police believe that drivers sans licence and experience along with under-aged youth caused these tragedies. A luxury bus belonging to a private company, and driven by a person without a licence and under the influence of liquor, was caught by Puttalam police.
The offender, Saman Perera from Ganemulla, was produced before the Puttalam Magistrate who sentenced him to three months RI and fined him Rs. 5,000. Last week, 15 persons were injured in an accident on the Vavuniya-Colombo road, with six of them said to be in serious condition.
Police said that most accidents took place between midnight and dawn, a time the drivers think the road is all theirs. Police appeal to drivers, particularly those sdriving long distances, to take proper rest and sleep, before embarking on their journey.