Three sisters at play! Having different personalities, one likes to laze around, another to romp a bit, while the third, the most mischievous, is all over the place, not only annoying her siblings by nipping at their tails, but also "attacking" the shoes and bags of those who have the privilege of being allowed into their special domain.
Beautiful felines are what they are – three 'Big Cats', though in age they are still about six months, who have been saved from certain death by a dedicated team at the National Zoological Gardens at Dehiwela.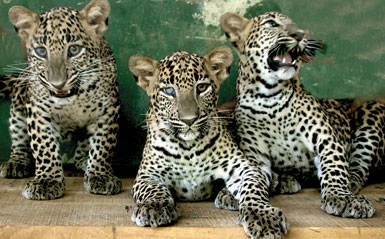 Th cubs at play and visitors to the zoo delight in their pranks (below). Pix by M.A. Pushpa Kumara
Handed over on July 3 by the Department of Wildlife Conservation to the Zoo, when they were around a month-old, weak and feeble, having lost their mother in the jungles of Tabbowa. "It was a challenge to bring them up", says the Zoological Gardens Director Bhashwara Senanka Gunarathna.
"Night and day, my staff monitored them closely," he says, paying tribute to his people. "It is a historic event," according to the Director, it being the first time that three leopard cubs from the wild have been nurtured and cared for and brought to what they are today at the Zoo. For if, tigers, leopards or lions looked after at the Zoo, give birth to cubs, usually, their own mothers look after them. Their genes have also adapted to the captive environment.
This, however, was different, and his staff took up the challenge willingly, with some even foregoing their family life for the cubs. The team included Veterinary Surgeons Dr. Ramani Jayalath, Dr. Ganga Wijesinghe, Dr. Jagath Jayasekara, Dr. Samanthi Mendis, Dr. Prasad Soysa and Dr. Arundathi Ponnusamy; Animal Curator N. Amitha Perera; Animal Keeper, L.W. Piyasiri; and Animal Hospital staff including P.R. Aruna Indika. Two external experts, Veterinary Surgeon Dr. D.S. Kodikara and Eye Specialist Dr. D.R.R. Kodikara also extended their fullest cooperation in looking after the cubs, it is learnt.
As the Sunday Times is guided into the enclosure of the three motherless cubs on Friday, the special measures taken by the staff are obvious. The cubs greet the staff with affection, and as Animal Curator Perera recalls how he was handed over three furry balls not weighing more than 900gms each on July 3, we have to wash our feet in a small pool of water before entering the enclosure.
It is Animal Keeper Piyasiri, who, regrettably, is absent, as his child is ill, who had himself built the pool to prevent infection being taken in. w is also told of the long days and longer nights when Piyasiri and Perera watched over their protégés.
One night, the cubs were running a fever, so was Piyasiri's child. Piyasiri, however, felt compelled to be with the motherless cubs, and see them through their illness, requesting his wife to take care of their child, we hear.
The tiny shed next to the enclosure is proof that both Perera and Piyasiri have spent many a night there by the side of the cubs.
Perera talks of those "touch-and-go" days when the cubs' lives were in danger. "We fed them milk through feeding bottles with teats," he smiles, explaining how the cubs, as they gained strength, grabbed the hands of the handlers tightly with their paws, unwittingly claws unsheathed, injuring them. It was then that he got a wooden plank and made a hole in it so that the bottle could be given through that. The early days were also wracked by worry for the handlers, because the little ones were prone to indigestion, diarrhoea and viral infections of the eye. The handlers would bring bedi haal kenda from home to see them through their illness.
The eye infections can blind them, says Veterinary Surgeon Dr. Jayasekara, adding that they have successfully treated them, and only a little infection is left in one cub's eye. Gradually, the cubs graduated from milk every three hours to minced meat four times a day. In the early stages, the handlers could feed them only about 50gms of "watery meat". Now at six months, the cubs weighing over 10 kilos each, are fed two meals of chopped up beef and chicken. They eat about 350gms for each meal, the Sunday Times learns.
Regular blood and faecal samples are also taken to ensure that the cubs maintain their good health.
What next, we wonder, as we leave the cubs approaching the enclosure boundary to make friends with a family with small children gazing at them in amazement and awe.
Romance, it seems, is on the cards when they mature into sleek young beauties, for the Zoo has mainly leopards. So these leopardesses will be much in demand.