Australia's Gold Coast yesterday won the contest to host the 2018 Commonwealth Games. The decision was taken at a meeting of the 71-member Commonwealth Games Federation which met in the Caribbean Island of St Kitts with 43 voting in favor of Australia and only 27 backing Sri Lanka.
The news was disappointing for a Sri Lanka contingent of 160 who had flown to St Kitts in a specially-chartered SriLankan Airlines plane. They are due back in Colombo today. It was headed by Central Bank Governor Nivard Cabraal, who was Chairman of the Committee that launched the Rs 100 million campaign to make Hambantota the venue for the games. In marked contrast, the Australian contingent for the decision making event had only 20 members.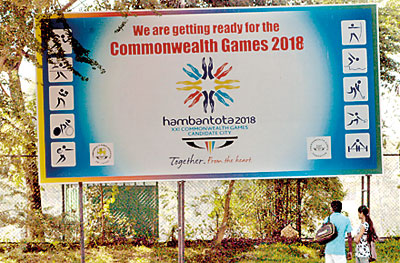 End of a costly campaign
For two days running, ahead of yesterday's decision, the Sri Lankan delegation had put on a grand show at the St Kitt's Marriot Resort. Besides lavish parties, a Sri Lankan troupe had performed whilst several members canvassed for votes.
Undeterred by the defeat, Mr. Cabraal said in a statement that plans to redevelop Hambantota would go ahead despite the city not being the venue for the Commonwealth Games. The Government had planned to spend Rs 42.4 billion if it won the right to hold the games.
Deputy Economic Development Minister Lakshman Yapa Abeywardena told the Sunday Times the redevelopment plans for Hambantota would attract investors and tourists. The remarks came as President Mahinda Rajapaksa sent a message of congratulations to Australia on its victory in the contest to host the game at Gold Coast in Queensland.
Commonwealth Games Federation President Michael Fennell of Jamaica was not required to exercise his casting vote. Australian bookmaker SportsBet was last night paying $1.50 on a Gold Coast win, compared with $2.50 for Hambantota.
Prime Minister Julia Gillard offered her congratulations to Gold Coast and Queensland. Responding to the news yesterday in Hawaii, where she is attending a meeting of leaders of the Asia-Pacific Economic Co-operation group, Ms. Gillard said the honour would provide a great economic opportunity for the Gold Coast and for Queensland.
"Congratulations Queensland," Ms. Gillard said. "Absolutely great news. This is a fantastic achievement. All Australians will be looking forward to hosting the Commonwealth Games but this is going to be a particular delight to the people of the Gold Coast and the people of Queensland."