While tour operators have stopped tours to Bangkok, with the country facing its worst floods in decades, ready-made clothes, automobile spares, computer parts and canned food with the tag or label 'Made in Thailand' will be scarce in the local market.
With the floods in Thailand claiming 500 lives and displacing about 2.3 million and houses and factories being submerged, travel advisories were issued by most countries.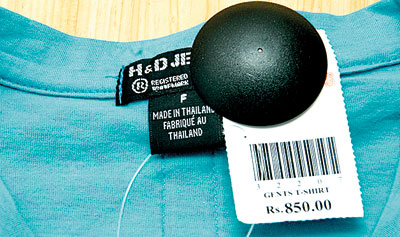 Towels and T shirts from Thailand at a popular clothes store in Colombo. Pix by Indika Handuwale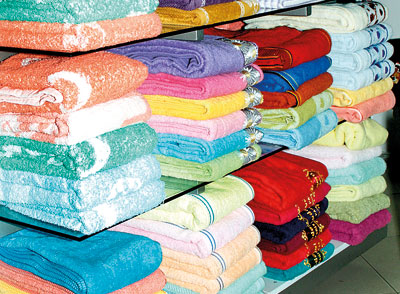 The Ministry of External Affairs here requested Sri Lankan nationals to travel only if it was urgent. Thailand is one of the most popular travel destinations among Sri Lankans with about 30,000- 40,000 travelling to the country, mainly Bangkok, annually.
"Unless it is extremely essential, Sri Lankans are advised to temporarily postpone their travel to Bangkok until such time the situation improves," the warning stated.The Tourism Authority of Thailand (TAT) has also projected that between 220,000 and 300,000 visitors would cancel their trips to the capital.
Thai tourist authorities and tour operators here are however promoting other destinations exlcuding Bangkok, such as Pattaya, Phuket, Chiang Mai, Chiang Rai, Phang-Nga, Surat Thani, Chumphon, Koh Samui, Hua Hin and Krabi that have not been affected by floods. But the main attraction for Sri Lankan tourists is Bangkok, with its glitzy malls, Buddhist temples and luxury resorts.
A Gabo Travels spokesman who said tour packages to Bangkok were cancelled owing to the floods and added, "Airlines were supportive by changing flight dates without any charges. We are now promoting tours to other areas of Thailand like Phuket, Chiang Mai and Chiang Rai."
Jetwing Holidays Director J.D.Weiman said tour packages to Bangkok have been cancelled until the situation has improved. Tour operators have also cancelled Buddhist pilgrimages to Thailand which is now becoming popular among Sri Lankans.
Meanwhile Thai-Sri Lanka Chamber of Commerce President Suresh Ellawala told the Sunday Times, that Thailand's Sri Lankan community comprising around 500 was helping those affected by the floods.
"About 40 Sri Lanka students studying at the Asian Institute of Technology (AIT), who were directly affected by the floods have been provided alternate accommodation by Sri Lankan residents with the help of the Embassy," he said.
Commenting on Thailand's trade and export market he said about 1000 factories have been affected by the floods while three industrial parks housing a number of manufacturing plants have been submerged.
The manufacture and export of computers, electronics, garments, rice, canned food, gem and jewellery, wood and plastic products, circuits, parts of motor vehicles and electrical appliances have all been severely affected he said.
Sri Lanka's main imports from Thailand include ready-made clothes, fancy jewellery and cosmetics. Because of the shortfall, prices of ready-made clothes are set to increase not only during the upcoming Christmas season but will also affect the Sinhala and Tamil New Year season next year. Romafour, a clothes store in Colombo 04 usually places orders in November, so that the latest designs can be put up for sale during the season.
| | |
| --- | --- |
| | |
| Canned fish from Thailand | Gnanam Imports in Pettah: Enough stocks of fragrant rice for the season |
"We bring dresses from Bangkok in small quantities. We hope by the end of this month the situation would be better," a spokesman said. Thiangra Fashions in Thimbirigasyaya, Colombo 05 usually imports clothes directly from Thailand during festive seasons but this year they are forced to purchase from ready-made cloth importers here.
Tilakawardena Textiles in Kiribathgoda sees a big crowd during Christmas season. The manager (supplies) said, most ladies garments are imported from Thailand while baby clothes and children's clothes are imported from both Thailand and Indonesia.
"We had got the stocks for this festive season from Thailand before the floods. But since many garment factories are flooded in Thailand importing clothes for Sinhala and Tamil New Year may prove to be difficult," a spokesman said.
Kandy Fashions in Wattala has been importing mainly menswear from Thailand for the past three years while ladies garments are manufactured here. "The items imported from Thailand sell fast especially during this festive season. Fortunately, we had received our stocks for the season before the floods," said a manager at the store.
Thailand is one of the major exporters of rice in the world market, which includes about 1000 tons of fragrant rice to Sri Lanka that is mainly used for Thai and Chinese cuisine here. Director of Gnanam Imports in Pettah, G.Rajendran said about 80-100 containers of dried fish (sprats) are imported to the country monthly from Thailand.
Canned fish, sago, black gram, mung bean, soya bean, canned fruits such as pears and apricot and vegetables such as baby corn, asparagus are other items imported from Thailnad."We import about 500 tons of Thai fragrant rice and the stocks are available. When it comes to canned fish we import from both China and Thailand, therefore a shortage would not affect the Lankan market. But there maybe a shortage of sprats," he said.