Search of premises by police without a search warrant has been a contentious issue for over two decades. But sadly, the question as to who is to guide the police, continues to be a serious worry. In view of the public interest in this regard, as evident from media reports, it behoves to elucidate the relevant law.
In an article in relation to a police search of WPC Minister Nimal Lanza's premises, Senior DIG Gamini Gunawardena (retired) quite correctly states that, "This question of police entering places to conduct searches without a warrant is being raised by many people of late, and has led to many a controversy, ………"
But, unfortunately, in his "attempt to clear the air once and for all', he has made the confusion more confounded, when he goes on to write: "I give below the instances where the Police are empowered by law to enter any premises, vessel or boat or conveyance without a warrant, to conduct a lawful search".
Nowhere in our law books is there any reference empowering the police to search any premises without a search warrant.
The introduction of the word "any" is most misleading, especially to police officers. The most important feature of Section 68 of the Police Ordinance that needs emphasis is the restrictions imposed on the police, which I have been pointing out time and again in the media. I was, in fact, prompted to emphasise on this aspect of police action, when a decade ago, a former Defence Secretary, IGP, and DIG-CID floundered before the Supreme Court in this regard, and were found guilty of violating Fundamental Rights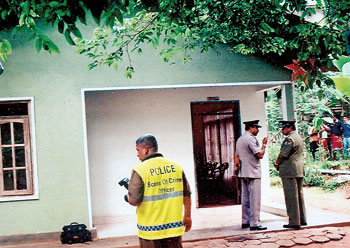 Section 68 of the Police Ordinance spells out the restrictive grounds on which the police are empowered to search premises
Section 68 of the Police Ordinance spells out the restrictive grounds on which the police are empowered to search premises. It reads as follows:
"68- It shall be lawful for any police officer without a warrant, to enter and inspect all drinking shops, gaming houses and other resorts of loose and disorderly characters, all premises of persons suspected of receiving stolen property, any locality, vessel, boat, or conveyance in any part whereof he shall have just cause to believe that crime had been or is about to be committed, or which he reasonably suspects to contain stolen property, and then and there to take all necessary measures for the effectual prevention and detection of crime, and to take charge of all property reasonably suspected to have been stolen, and of all articles or things which may serve as evidence of the crime supposed to have been committed, and to take charge of all unclaimed property." The need to emphasise on the operative words on "reasonable suspicion/on credible information", restricting police action, cannot be over emphasized, in view of the public outcry that the Rtd. S-DIG speaks of.
It is clearly laid down in law that police powers to search premises without search warrant are restricted to:- "on reasonable suspicion" --- or "having just cause" i.e. on credible information. The terms "reasonable suspicion" and "credible information" are not just words to be glossed over. These terms are defined in law. "Reasonable suspicion" has been defined by the US Supreme Court as, "the sort of commonsense conclusion about human behaviour, upon which practical people — are entitled to rely." Further, "reasonable suspicion" has been defined as requiring something more than an unarticulated hunch. It requires facts or circumstances that give rise to more than a bare, imaginary, or purely conjectural suspicion.
Due to the glossing over of the ingredients, "reasonable" and "credible", police officers have had to face many a difficulty. We have to accept the premise that judges are practical and intelligent people who have the final say. That is why I have always maintained that the police should place on record the facts and circumstances that gave rise to more than a bare, imaginary, or purely conjectural suspicion, or to the credibility of an information, to the satisfaction of a competent court.
Writing on the same Lanza episode in the Sunday Times of October 23, the political editor is spot on when he writes: "Even more significant, it says it (the search) was based "on information". A cardinal rule that governs police on such circumstances is whether there is 'credible information' or 'reasonable suspicion.' That is a key factor that is inculcated to the police during training, as well as on the job. That the police were simply acting on "information" they had received is therefore, "not good news"
When will the police hierarchy learn what used to be inculcated to the police?