The prevalence of Stroke in Colombo is 1%. This chilling statistic that 1 in 100 people in Colombo has had a Stroke, is revealed in a study carried out by Consultant Neurologist Dr. Thashi Chang, and presented as a paper at the Asia Pacific Stroke Conference (APSC) held recently.
Stroke has also been found to be the 4th leading cause of hospital deaths in Sri Lanka, Consultant Neurologist Dr. Padma Gunaratne says, uncovering the fact that this is more than any developing country, and stressing that "Stroke care" needs to be in place at major hospitals. It causes more deaths than tuberculosis, malaria and Acquired Immuno-Deficiency Syndrome (AIDS) put together.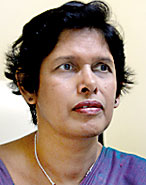 Dr. Gunaratne
Understanding the importance of Stroke care, the Health Ministry has issued a circular (No. 01-06/2011) as way back as March, to Directors on the need to establish Acute Stroke Units in all Teaching and Provincial General Hospitals.
No huge building is needed, no equipment is needed, says Dr. Gunaratne, who is also President of the National Stroke Association of Sri Lanka (NSASL). A small area with a dedicated staff is all that is required. Just find the beds and the staff, is her plea to hospital Directors.
Why, questions Dr. Gunaratne, should we focus our attention on Strokes? The statistics should make us activate our grey matter and work in the right direction.
Stroke is a leading cause of death in the world.
Every other second, one person somewhere in the world, suffers a Stroke.
Every six seconds, one person dies of a Stroke in the world.
One in every six of us will suffer a Stroke during our lifetime.
Stroke is the 2nd leading cause of death after 60 years of age.
Stroke is the 5th leading cause of death for those in the 15-59-year age group.
Stroke is also the leading cause of adult disability such as weakness, numbness of the limbs and speech and vision disturbances as well as problems in swallowing and sphincter involvement.
Stressing that Stroke is no longer a disease of the elderly, Dr. Gunaratne points out that it has also become a disease of the young.
It is not all gloom and doom, however, the Sunday Times understands, as this Neurologist underscores the fact that Stroke is not only preventable, but also treatable. Long-term rehabilitation should be strengthened, she says.
Turning the spotlight on Sri Lanka, Dr. Gunaratne says that, when a person suffers a Stroke, if the hospital facilities, infrastructure and rehabilitation are poor, the risks of death and long-term disability are huge.
While making people aware that Stroke is becoming a disease of the low socio-economic groups, due to risk factors such as smoking, unhealthy diets and sedentary lifestyles, coming about because of urbanization, she says that it is also important to control high blood pressure, high cholesterol and non-communicable diseases such as diabetes and cardiovascular disease.
Referring to her passion of Stroke management, Dr. Gunaratne, who spearheaded the Stroke Unit in 2004, by allocating 10 beds in her 40-bed Neurology ward at the National Hospital of Sri Lanka (NHSL), says there are gradual developments in this area. In 2007, Kurunegala Hospital and this year, Ragama and Diyatalawa followed suit.
There are improvements, though they are slow, she concedes, proud of the fact, however, that the NSASL won the Gold award of the World Stroke Organisation in 2009, for its far-reaching work in the country.
If a Neurologist has 20 beds, then four can be for Stroke patients, and if 10, it can be two, she urges her 25 Neurologist-colleagues scattered around the country, commending the demarcations of "Stroke beds" at Badulla and Kalutara, until separate space is allocated for a Stroke Unit.
Strokology being a speciality in itself, Dr. Gunaratne is happy that the Director- NHSL, has promised to allocate space for Stroke beds in the third medical complex being built here.
The onus lies with all of us, says Dr. Gunaratne, urging hospital Directors to readjust space in their vast premises for a few Stroke beds.
Spreading the word in schools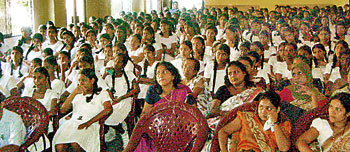 Awareness programme being conducted at a school in Colombo
"My mother is overweight. Will she get diabetes? Will she suffer a Stroke?" This is just one of the concerns expressed by teenagers, during a novel programme launched to mark World Stroke Day by the NSASL, by highlighting the dangers of Strokes to schoolchildren.
Not only do we hope to spread the message among children, that they should cut out junk food, reduce their salt intake and be active, but also to create a ripple effect, so that the message will be carried to their homes, says Dr. Gunaratne.
Four Neurologists, Dr. Gunaratne, Dr. M.T.M. Riffsy, Dr. Arjuna Fernando and Dr. Harsha Gunasekara, along with Physician Dr. Ariyarani Ariyaratnam and Counsellor- Social Service & Social Welfare Ministry, Renu Shiromala, have been fanning out to schools in Colombo, amidst their busy schedule, to talk 'Stroke' to students. It is not only children they have been focusing on, but also the Police Force, while the NSASL has also been concentrating on the improvement of Stroke services by training the essential cogs in the wheel such as healthcare professionals, nurses and therapists.
This was as World Stroke Day was celebrated on October 29, and Sri Lanka successfully hosted the first APSC from September 29 to October 1, with delegates from 35 countries participating.
The academic sessions of the APSC were preceded by a trans-cranial Doppler and Stroke rehabilitation workshop for delegates from both Sri Lanka and abroad, and training for 125 Sri Lankan nurses, it is learnt.