A computer system failure at the Colombo Port halted the outward movement of about 1,000 containers and triggered a protest by angry container operators on Friday.
The dispute led to traffic jams as many of the containers scheduled to enter the Port were parked outside, with the container queue extending upto the Kelanitissa, Peliyagoda and Bloemendhal areas.
The computer failure from 1 p.m. to 8 p.m. on Friday left the containers idling for hours at the port, while other containers coming into the port were facing difficulties due to the congestion there.
Meanwhile container truckers then went on a strike against the new regulation introduced by police preventing their vehicles from entering the main roads via the Grandpass exit point between 4 p.m. and 7 p.m., as they were hampering the traffic flow to and from Colombo city.
The new regulation was introduced as a trial by the Colombo City Traffic division to reduce the heavy traffic during peak hours, as containers obstruct the smooth flow of traffic, and were holding up thousands of home bound office workers travelling in public transport.
The protestors charged that the new rule will force them to stay idle for some three hours inside the port, even though their vehicles are ready to leave.
The strike was called off later on Saturday, following talks with the Ports Authority Chairman Dr. Priyath B. Wickrema, Ports Director-General Nihal Keppetipola, Customs Director-General Sudharma Karunaratne and officers of the Colombo City Traffic Police.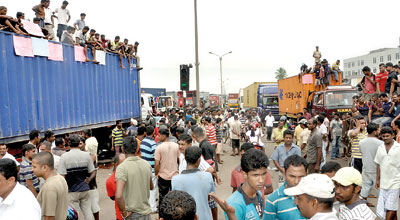 Scenes at the Ingurukada junction where one of the entry roads to Port begins. Pix by Lakshman Gunatilleke