Baby Sanari Muthumali cuddled in her mother's arms, unaware that her birth was symbolical to Sri Lanka. With almost all countries picking a symbolic seven billionth baby, she was chosen as Sri Lanka's baby who reached the 7 billion world population.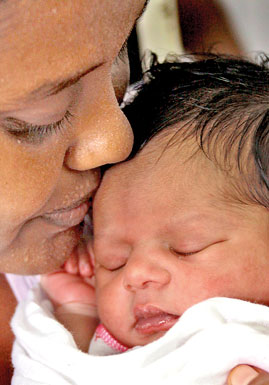 Sanari and mother: A bundle of joy to her parents and a landmark baby for Sri lanka. Pix by M.A. Pushpa Kumara
She was born at Castle Street Maternity Hospital at 12.01 a.m. on October 1, to young parents, both 23-years-old, from Gonawala, Kelaniya. Her mother, W.G. Danushika Dilani told the Sunday Times that she was not aware of the significance of her baby's birth until she was taken to the labour room.
"I was in pain and recall faintly a nurse telling me that our baby may create a record. After the baby was born, the staff started congratulating me," the happy mother said.
Demography senior professor and Colombo University's Arts Faculty Dean, Prof. Indralal De Silva said the past 50 years showed a considerable growth in the world population, and according to population projections, it should increase to 9 billion.
"India, China, Indonesia and certain African nations will contribute to the increase in population.
By 2030-2040, India will be the most populated single country, but as China has relaxed its one-child policy introduced in the 1970's, its population too will increase," he said.
According to Prof. De Silva, the United States and Canada, with their immigration policies, are attracting youth to the country maintaining the population growth, while Scandinavian and European nations and Japan would see a receding population growth.
According to the Department of Census and Statistics, Sri Lanka's estimated population in 2010 was 20.6 million.
This number consisted of 10.2 million males and 10.4 million females. The highest population was seen in Colombo, with 2.5 million, followed by 2.1 million in the Gampaha district, 1.5 million in Kurunegala and 1.4 million in Kandy.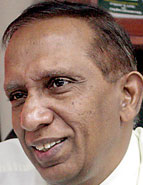 Prof. Indralal De Silva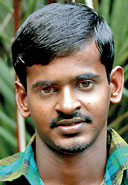 A proud father
The first census of Sri Lanka (then known as Ceylon) was in 1871, and the population was 2.4 million. In 1981, the population rose to 14.8 million. In 2001, excluding the war-torn three districts and partially enumerated four districts, the population was 18.7 million.
"The predicted maximum population is 22 million by 2031. Sri Lanka's population will maintain a stable growth from 2030s onwards.The population may not go beyond 25 million," he said. Prof. De Silva said the country will also see a growing aged population and a decreasing child population.
He said in another 20 years time, the present two million aged population will increase to four million, while the child population that was 4.9 million in 2001, will be 4.5 million in 2016, and it is forecast to come down to 3.5 million in 2031.
According to a survey conducted, during the 1950's and 1960's a woman would give birth to 5 to 6 children, but since 1995, it has come down to 2.
"Though it is predicted that the world's population will follow a stable growth rate by 2050, Sri Lanka will have a stable growth much earlier from 2030,"said Prof. De Silva.
According to the United Nations' projections, more than 40% of the country's population will live in urban areas by 2030.
The International Conference on Population and Development report by the United Nations Population Fund of Sri Lanka states that, despite its low population growth rate, Sri Lanka is one of the most densely populated countries in Asia, with a density of 300 people per square kilometers.