The pre-budget hike in fuel prices is expected to lead to an increase in the prices of several essential commodities and services in the next few weeks, and the public will have to be ready to pay higher electricity bills from January.
Three-wheeler fares and the prices of packeted foods have already gone up, including private bus and school van charges. Vendors of vegetables and other foods and owners of bakeries and launderettes say they too will have to raise charges to keep their businesses going.
Those directly hit by the fuel hike, such as private bus operators, three wheeler drivers and bakery owners, say the government should provide some form of relief, either by way of subsided fuel or exemptions from certain taxes.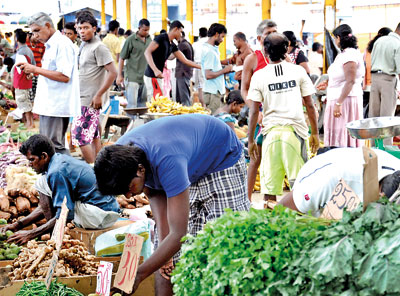 Pettah market vendors fear that transport costs will force them to increase the price of vegetables. Photos: Susantha Liyanawatte
Private bus operators serve about 70 per cent of the bus passenger population. "The government wants to cripple the private bus service, which is why they are not allowing us to increase prices," Gemunu Wijeratne, president of the Private Bus Owners' Association, told the Sunday Times. "We will be forced to take trade union action if we are not given some relief. More than 20,000 bus operators are incurring losses running into millions every day."
Bus fares were last increased in July, with the minimum ticket cost going up by one rupee, from Rs. 6 to Rs. 7. Bakery owners too are in a quandary. About 50 per cent of bakery owners use diesel and kerosene to operate their bakeries.
N. K Jayewardene, chairman of the Bakery Owners' Association of Sri Lanka, told the newspaper that they had refrained from increasing bakery product prices despite two increases in gas prices. But now, with the diesel and kerosene price increases, they faced a major problem.
"Many of our members want to know why we are not going ahead with a price increase. If our prices are too high, people will stop buying bakery products," he said.
The Bakery Owners' Association has submitted their pre-Budget proposals to the Ministry of Finance, seeking a reduction in Value Added Tax (VAT) and an exemption from the Nation Building Tax (NBT). "If our proposals are not accepted, we will be forced to increase our prices," Mr. Jayewardene said.
Many of the three-wheeler drivers have raised their rates by Rs. 20 to Rs. 30 after the fuel hike.
"Under the previous budget, the President gave a special concession to three-wheeler drivers to get fuel at a subsided rate," said Mahinda Kahandagama, president of the Federation of Self-Employees (3-Wheelers). "We are hoping for similar relief measures with the latest price hike. We are reluctant to pass the fuel hike burden on to our passengers."
Dr. Sirimal Abey-ratne, Senior Professor of Economics at the University of Colombo, said the fuel price hike would be reflected in the inflation rate. "The obvious increase will be in the cost of living, but the less obvious case will be the impact on economic activity, such as production, international trade and employment," he said.
Professor Abeyratne said fuel was an important component in the economy and the expenditure pattern. "Despite the post-war scenario, prices of essential goods are going up and people are not seeing the economic benefits that should follow with the end of the war," he said.
While a rise in cost cannot be avoided in certain cases, and inflation cannot be totally controlled, domestic policy factors, inefficiency and regulatory factors were making a bad situation worse, Professor Abeyratne said.
Public Utilities Commission chairman Jayatissa de Costa said an electricity tariff revision was due in January. "We are discussing the next revision, but we have to strike a balance between consumer interests and the economic viability of the Ceylon Electricity Board," he said.
Ajanthy de Silva, president of the Sri Lanka Housewives' Association, said the lower income families would be the hardest hit by the effects of the fuel price hike. "Families that manage on a single member's salary to cover daily expenditure and school fees will be badly affected," she said. "But urban families learn to adapt to increases."
The Sunday Times spoke to a cross-section of people about the impact of the recent fuel hikes.
Mr. Chandrasiri from Kochchikade goes around on his bicycle selling the buns he bakes for his daily income. "I am earning half as much these days," he said. "I use kerosene to fuel my oven for baking the buns," he said.
S. P. Samy, president of the Pettah Traders' Association, said prices of goods would go up if transport costs increased. Three-wheeler driver W. D. Lal feared fewer customers if he raised his rates.
Alfred Thompson, who manages a tyre shopin Slave Island, said a fuel price hike would push up transport costs. "The full range of domestic goods goes up in price when the fuel price goes up. Our business is affected because tyres are not an essential. Non-essential items are avoided when the cost of living goes up."
| | | |
| --- | --- | --- |
| | | |
| Mr. Kamal: Vegetable prices in the Pettah will go up by Rs. 10 or Rs. 15. | Mr. Jayawardene: Fruit, along with vegetables, feel impact on market. | Mr. Lal: Passengers will take a bus if three-wheeler rates go up any more. |
Lottery ticker seller L. Wijesundara is in a similar plight. "If you are spending more on household essentials, you tend not to spend on lottery tickets," he said. F. M. Zaffarulla of Mattakuliya runs a school van service, and depends heavily on diesel. "My present rate is Rs. 1,500 per student for a month, but I am being forced to increase the charge by Rs. 500."
Matugama housewife Ramyani Hettiarachchi fears the price of essential goods could continue to go up. "We will have to tighten our belts even more," she said. Sashi Prabath, who owns a shoe shop in the Pettah, said fuel cost affected his business because of higher transport costs to bring goods to his shop.
Pettah market vendor N. Kamal expected the prices of vegetables to go up. "I will be forced to raise prices of any vegetable by Rs. 10 to Rs.15 per kilo." Vendor Sugath Jayawardene expected to do the same with his range of assorted fruit.
F. M. Makeem, who owns a hotel in Maradana, said menu prices were set to go up. "A paraata that costs Rs.12 will cost Rs.15, a koththu packet that cost Rs. 120 will go up to Rs. 140, and a Rs.100 lunch packet will cost Rs. 125."
A leading laundry business in Park Street, Slave Island, uses a large amount of fuel for its boilers.
"The laundry business is highly competitive," said one of the managing staff. "If we increased charges, there will be a drop in customers. We have not raised our charges for the past 12 months."