What began as a game among a group of children at a children's home in the Gampaha district ended in real-life tragedy, with one of the children being burnt to death when a fire broke out during play.
It was raining on the morning of September 12, and the 13 children at the Sada Sarana children's home, in Bathalahenawatte, Thihariya, in Gampaha, decided not to go to school. It was around 9.45 am, and six-year-old Ramesh Dilshan, his older brother Chalana Madusanka, and two other boys decided to play hide-and-seek upstairs. They used a store room. As there was no electricity on the top floor, they used a lighted candle to find their way around.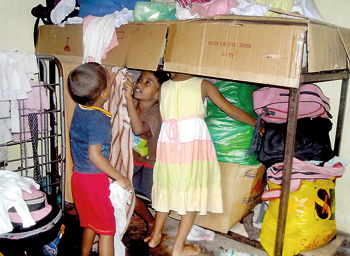 Despite local and foreign funding, the home lacked basic facilities and was below standard.
A fire broke out when one of the boys dropped the candle. All the boys, except Ramesh, ran downstairs. Ramesh stayed behind, hiding behind a pile of dry mattresses. At the time of the fire, there was no adult present on the premises. By the time the police and the fire brigade arrived on the scene, Ramesh had succumbed to his burns.
Since the tragedy, tales of negligence and maltreatment on the part of the children's home management have been surfacing. It is understood that the Sada Sarana children's home, which is now unoccupied and has been sealed on court orders, was funded by local and foreign organisations.
Ramesh and his brother are not orphans. Their father, who had abandoned the family, is serving a jail term, while their mother is working overseas as a domestic helper. Bathalahenawatte neighbours say that out of pity for the children, they would supply them meals and classroom materials.
On the orders of the Attanagalle Magistrate, D. A. Ruwanpathirana, the Sada Sarana has been closed, and the home's warden and a female and a male assistant have been remanded in custody till September 28.
The Sunday Times finds that the Sada Sarana children's home was not registered with the Child Care and Probation Department. There are 341 registered children's homes in the country, and about 70 unregistered homes. The highest concentration of such homes is in the Western Province, with 95 listed, followed by the Eastern Province, with 76 homes, the Northern Province with 71 homes, and the Southern Province with 29. Children's homes last year accommodated, according to age, 153 children under two years; 577 children between two and five years; 10,641 children between six and 16 years, and 1,843 between 16 and 18 years.
Those authorised to inspect and monitor children's homes are staff of the Department of Probation and Child Care, provincial probation commissioners and probation officers, and the National Child Protection Authority. They are also empowered to take legal action if necessary.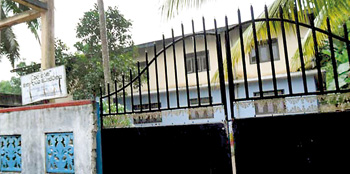 Police close Gampaha children's home where fire broke out, resulting in the death of a child.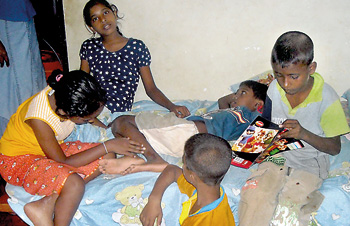 Home alone and helpless. Photos: Warana Jayakody
Inspections are carried out island-wide by probation officers from local government bodies, according to Nirmali Kumarage, acting commissioner, Probation and Child Care Department. "The Provincial Council probation departments are responsible for registering, monitoring and, if necessary, conducting raids on children's homes," Ms. Kumarage told the Sunday Times.
"According to Western Province probation commissioner G. P. D. Somaratne, there are 27 unregistered homes in the province, and the Sada Sarana children's home was not on record. "We will be inspecting all children's homes, registered or not," he told the Sunday Times. "Unregistered homes will be sent letters of demand and stern legal action will be taken against errant management that fail to comply."
Applications from 27 unregistered children's homes in the Southern Province are being processed, according to probation commissioner Gamini Weerawickrema.
"We find that only five of the 27 homes meet basic standards," he said. "We have 22 probation officers to cover the entire province. After the tsunami in 2004, a large number of children's homes were built for orphans of tsunami victims, but the number of children's home inspectors has not been accordingly increased. In the Galle district, there is only one officer for every eight homes," he said.
In the Northern Province, where the war raged for 27 years, there are more than 2,000 parentless children, mostly war orphans, accommodated in 71 homes, of which only 40 are registered.
"In the North, homes for children affected by the civil war are heavily funded by NGOs and volunteer organisations. But we get complaints that some of the homes do not provide basics, from food and space to education. We have closed down 10 of these homes," a probation commissioner for the Northern province said.
In the Eastern Province, there are some 3,000 children in 76 registered homes. "We recently ordered nine of the unregistered homes to close," Eastern Province Probation Commissioner Ishan Wijethilake told the Sunday Times.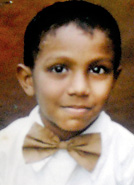 Ramesh Dilshan, six years
Child Protection Authority chairman Anoma Dissanayake said: "We will be sending authorised officers to conduct surprise raids on registered and unregistered children's homes. "Probation officers should be motivated, vigilant and conduct regular and effective inspections."
A year ago, the Child Protection Authority asked the Department of Probation for permission to set basic standards and grade homes. The department has still not responded, and neither has it introduced common standards for children's homes.
All children's homes should be registered with the government, said Save the Children Sri Lanka spokesperson Menaca Calyanaratne. Ms. Calyanaratne said each child should have an individual care plan and that the plan be reviewed regularly.
"Three females are holding the top posts in the country's judiciary," Minister for Child Development and Women's Affairs Tissa Karaliyedda told the Sunday Times. "I hope they will strengthen the laws against child abuse and child neglect."
The National Child Protection Authority has a 24-hour hotline – 1929 .