A rare exhibition, that will not only showcase recent archaeological finds in Jaffna peninsula but also portray how Jaffna society has evolved over the centuries, will be held at the Jaffna University from September 24-27.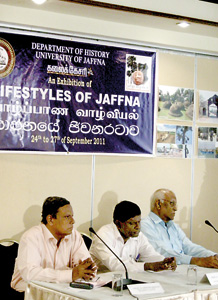 The news conferenceto announce the exhibition
The excavated items will include rare beads, terracotta items and various tools.
Speaking at a news conference in Colombo, exhibition committee chairman, Jaffna University's History Department Head, Prof. P Pushparatnam said on display will also be traditional dresses and cooking utensils and photographs capturing the lifestyles of the predominantly Hindu population as well as Muslims and Christians over the centuries.
Arts Faculty Dean, Professor N. Gnanakumaran said the exhibition was timely and laudable, adding that it will highlight the little known the facets of Jaffna's heritage.
Peradeniya University's Emeritus Professor of History S. Pathmanathan said the last exhibition showcasing Jaffna history, was organised by him in the 1970's.
Titled 'Jaffna Heritage and Lifestyle Exhibition', the event will be held from September 24 to 27 from 9 a.m. to 4.30 p.m at the Arts Faculty of the Jaffna University.