At least three people, including a foreign national, were killed and around 25 injured when a train crashed into the observation carriage of the Kandy-bound Inter-city train. The accident occurred in Alawwa last evening.
Police said a Rambukkuna-bound train from the Colombo Fort had ploughed into the Inter-city express which had stopped at the Alawwa Railway Station because another train in its path had stalled after developing engine trouble.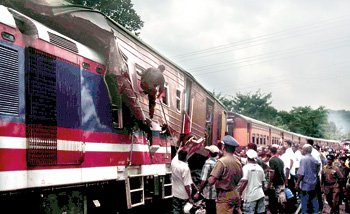 Train passengers look on as a rescue worker tries to cut through the wreckage
Among the dead was the engine driver, L. A. Kaluaarachchi, and his assistant, D. Nihal. The foreigner has not yet been identified. Hours after the accident, rescue workers were still trying to cut open the wreckage amidst fears there could be more bodies wedged inside.
The injured were rushed to the Alawwa and Kurunegala Hospitals.Kurunegala Hospital Director Dr. S. Rajamantri told the Sunday Times that three Buddhist monks from Myanmar were among the injured. "Most of the injured have sustained fractures, and one person suffering abdominal injuries is undergoing surgery," she said.
Passenger Muthusiva Dushyanthi, who was riding in the observation saloon on the Kandy Inter-city, said she and her husband ran to the back of the carriage when they saw a train heading towards them. "I made it to safety but my husband suffered a leg fracture," said Mrs. Dushyanthi, who is vice-principal of the Ranaviru Rajagiya Vidyala, in Gannoruwa, Kandy. "I was in Colombo to attend an exam at the Open University, and we were on our way home," she said.
Deputy Minister of Transport Rohana Dissanayake told the Sunday Times that a specially appointed panel, headed by Railways General Manager B. A. P. Ariyaratna, will be investigating the incident. He said initial investigations revealed that the accident was the result of a problem with railway signals.
Reports from correspondents Jayantha Kumara Dissanayake, J.A.Wijesinha, and Pushpa Weerasekara.