With election propaganda increasing in its outpouring for the Local Government (LG) polls to be held on October 8, there has also been a dramatic increase in election law violations, monitors reported.
Misuse of State property, illegal posters, cutouts and banners being the main areas of polls law violations.
State resources have been misused mainly in the Ratnapura and Badulla municipality areas.
Executive Director- PAFFREL, Rohana Hettiarachchi, said that he had received 22 complaints relating to polls' law violation and polls related violence.
"Majority of the complaints are related to election law violations and illegal propaganda activities in almost all the 23 local bodies. Misuse of State property, government job transfers, promotions and appointments are some of the issues reported during the present election campaigns" he said.
Commenting on incidents related to illegal activities, Mr Hettiarachchi revealed that, last Thursday, a senior police officer invited trishaw drivers to discuss their problems, at which a politician was present.
This matter was reported to the Elections Commissioner (EC), who requested the police to conduct such discussions without the involvement of any politicians. He has also sent his representatives for these meetings to carry out further monitoring, he said.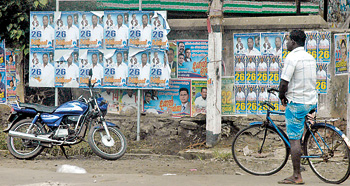 Posters galore in Negombo town
He mentioned other incidents such as candidates using government premises for their campaigning office and a government school premises used to conduct election meetings. Use of government officials, buildings and vehicles for propaganda activities are the highlighted complaints, he said.
"At the beginning, we complained to the EC, and he did take action to stop the illegal activities. We informed the commissioner of government appointments and promotions granted just after the nominations, and he wrote to the relevant authorities to stop it" he said.
According to the law, a candidate can put up his/her banner, poster or cutout, only on his propaganda vehicle, and the candidate should be in that vehicle. Posters, banners and cutouts could also be displaced in places where election propaganda activities or meetings are being held.
A candidate can only have a single election party office for the entire local authority area.
The team leader or the mayoral candidate can have two offices, such as the party office and the candidate's office.
All such offices should be reported to the police and approval obtained from the EC.
Mr. Hettiarchchi said that, less complaints relating to illegal party offices were reported, although many were in public view.
The Sunday Times learns that outstation candidates are using the surface of roads for illegal propaganda, by drawing their party symbol and numbers. Commenting on the illegal propagandas on the roads, Mr. Hettiarachchi said that, the main function of the LG is to maintain a clean environment, but would-be councillors violate laws by de-facing roads.
Meanwhile, Executive Director- CAFFE, Keethi Tennakoon told the Sunday times that the CAFFE received 38 complaints relating to election law violations and violence. Most of the complaints were related to propaganda activities. Worst affected municipalities were Kandy, Gampaha, Matara, Hambantota, Kurunegala and Ratnapura, he said.
Last week, a dramatic increase in election law violations was reported from the Ratnapura municipality, and the CAFFE communicated this to the EC regarding the gross and blatant display of banners, posters and cutouts numbering 45, he added.
He pointed out that the police department or the EC had not done their duty to prevent such acts and action not taken to remove them. Colombo and Kotte areas seem to be the exceptions, with activities confined to acceptable limits, he said.
"There are huge cutouts and banners within the Gampaha municipality and Yakkala town areas. in total disregard to and in gross violation of election laws. However, surprisingly, there is no dramatic increase in election violence," he added.
There were also intra party violence reported but were negligible in number, he said. Mr. Tennakoon said that despite candidates trying to keep the momentum going in their election campaigns, the people don't seem to be interested and hence election violence is really low compared with the other elections.
Commenting on the misuse of State property, Mr. Tennakoon said the worst affected areas were Kandy, Kurunegala, Matara, Hambantota, Anuradhapura and Badulla.
"There were complaints received during the last four days to the use of many State vehicles without number plates within the Badulla Municipality for election campaigns" said Mr. Tennakoon
He also confirmed that CAFFE had taken up these issues with the EC, which the EC was willing to address, and the reactions are being awaited.
However, EC Mahinda Deshapriya said that only a few complaints were received pertaining to the misuse of State property. "When I receive such complaints, I write to the secretary of the relevant authority and the relevant party secretaries, after which, most of these type of activities have ceased," he said.
He said that the elections commission did not receive any complaints relating to the misuse of government vehicles this time. Since the police took actions and arrested those type of vehicles, such activities are not taking place.
Mr. Deshapriya further said that, very few posters and banners could be seen this time, with Colombo city virtually free of it. "We had some problems in Ratnapura, Kotte and Gampaha, where orders have been given to our returning officers to inform the police to remove all banners, cutouts and posters," he said.