"He was clearly the star of the world leaders that arrived for the conference. Although we had more respected and powerful figures like Indira Gandhi and Marshall Tito staying in Colombo, people rushed mostly to see Colonel Gaddafi. Every time he arrived in a different floor of the hotel, or the lounge, ladies rushed in and lined up to see or talk to him. He signed hundreds of autographs and photos without rejecting any.
"My Army life was full of exciting and rewarding experiences; the experiences I had during the Non Aligned Movement (NAM) conference in Colombo in 1976 are definitely unique and truly unforgettable," says Major (Retd) Ranjit Wanigasundara speaking to the Sunday Times of his interaction with the now beleaguered Libyan leader Col. Muammar Gaddafi during his 1976 visit to Colombo.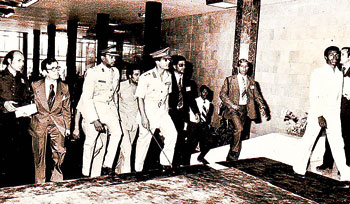 Major Wanigasundara accompanying Colonel Gaddafi for the NAM Conference and (below) with him on arrival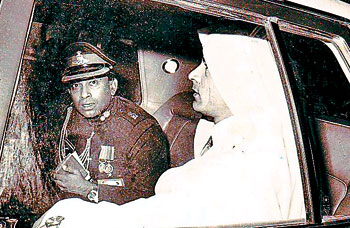 Born in Colombo and educated at Ananda College, Ranjit Wanigasundara joined the Sri Lanka Army in 1959 as an officer cadet and soon after, trained at England's prestigious Sandhurst Military Academy.
"During that time Prince Michael of Kent was also training at Sandhurst and our batch from Sri Lanka had four cadets. After coming back to Sri Lanka I was commissioned into the Artillery Regiment and served in various parts in Sri Lanka throughout my military career." He also trained three batches of officer cadets as Chief Instructor of Training at Diyathalawa Academy for two years.
Major Wanigasundara retired in 1980 and worked at John Keells for many years. He lived in Canada for four years with his family and now makes his home in a picturesque area in Attidiya with his wife Sandamini Samarasinghe.
The experience with Gaddafi was chaotic from the very beginning, he recalls. "Before Gaddafi arrived, a planeload of his security staff arrived with no visas, not even passports. All they had was pieces of papers saying who they were, and our authorities decided to send them back in the next plane that also came from Libya. Those people were also Gaddafi's staff, but fortunately, they had visas and passports and we sent the previous load in that plane to Karachchi. When Gaddafi arrived, he looked upset about the whole situation. He even ignored the guard of honour we had prepared for all the world leaders, and also snubbed the Sri Lankan minister who was waiting to greet him."
Gaddafi was one day late for the conference while all other leaders had arrived on the previous day as planned. The Major believes he had deliberately done this in order to make a special entrance.
"Chief of Protocol Manel Abeysekara led me to Gaddafi at the Airport and I greeted him and escorted him to the special vehicle that was awaiting the Libyan leader. The country had then imported about 100 Holden Statesman vehicles for the use of the world leaders who came here for the NAM conference. At this point one of his right hand men also tried to sneak in to our vehicle and I told him politely that he has to come in one of the other vehicles designated for the delegates and that this vehicle is purely for the Libyan leader, his liaison officer and the Police ASP in charge of security there. Gaddafi was quiet most of the time on our way to Colombo. He was dressed in his National Costume, though the rest of the time we saw him in his military uniform.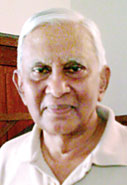 Ranjith Wanigasundara today at his home. Pic. Chamari Senanayake
"After we arrived at the Oberoi Hotel, I went to have my lunch but he had suddenly decided to attend the rest of the conference so I had to accompany him to the BMICH. During his three-day stay in Sri Lanka, I never saw him drinking or smoking, but he ate loads of fruit. At this time he was perhaps about 30 years old.
"Almost all the leaders stayed at Hotel Lanka Oberoi or the Intercontinental," recalls the retd Major. Indian Prime Minister Indira Gandhi was at Temple Trees and Marshall Josip Tito arrived in his own luxury yacht which was docked at Colombo harbour. The Algerian President was staying at then Acland House in Union Place.
Colonel Gaddafi had the entire South Wing of the Oberoi Hotel and he and his delegations occupied an entire floor, he remembers adding that one of the most difficult tasks he had was always trying to keep the crowds that tried to mob Gaddafi at a distance.
"At the state banquet hosted by our President William Gopallawa, Gaddafi tried to sneak out and meet some people. By then the day's events had finished and all leaders were leaving or had left to their hotels. Gaddafi said he wanted to meet the Algerian President at Acland House and wanted me to arrange the motorcade escort. I said it was too late and it was not possible to get any vehicles at this time, and as such a meeting was also not in the schedule that he should go and get some rest.."
But no matter how hard Major Wanigasundara tried to keep the Libyan leader to the schedules that were followed by the rest of the leaders, the stubborn young Colonel had his way. After contacting the Libyan embassy, he had privately organized a vehicle and left to see people in the middle of the night.
"I once accompanied him to the Holiday Inn where he was to meet the senior Muslim leaders in Colombo. As usual, he was mobbed by hundreds of people there who were waiting outside for hours to get a glimpse of him. At the Hotel he expressed his interest in talking to the young Muslims in Colombo."
Gaddafi later addressed Colombo Muslims at a mosque and had contributed generously for renovations and buildings of many mosques. The people who met him had the impression of a westernized modern Muslim leader.
"After three days of continuous meetings and escorts, and especially my struggle to keep people from coming too close to Colonel Gaddafi, I was exhausted. I gave my junior liaison officer Captain Asoka Amunugama the opportunity to accompany him to the Airport. I told Gaddafi that I am unable to come with him to the airport and he thanked me for my service, gifted me a stack of books about Libya and later sent me a gold watch through the Embassy.
"He was a very reserved person. He didn't talk much, and I never heard him raising his voice or being rough with anyone. It was mostly the people who worked under him that were rough," Ranjit Wanigasundara recalls.