Weeks after Shyam had left Royal College his mother, Lalitha Rajapaksa came to me and said that Shyam was spending a lot of his time with his friends and not studying. She asked me to do what I did with his father George. * Please see below.
George played cricket for Royal College and captained the First XI in 1944. George was the Royal Captain who scored two centuries in their match against Trinity. I was watching the Royal-Thomian match that year at the old SSC grounds seated with his father D.M. Rajapaksa who was the Member of the State Council (1936-45) who had played cricket for Richmond and later for Wesley College in 1915. He was telling me stories of his days at Wesley when he and a schoolfriend A. Ratnayake used to go to public meetings at the Masonic Hall in Colombo to hear Sir Ponnambalam Arunachalam speaking on " our political needs". Sir P. Arunachalam - it was, who persuaded the different parties at that time to unite and form the Ceylon National Congress of which he was unanimously elected President in 1919.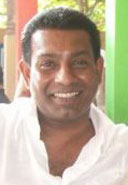 When George got out for a small score in the second innings also, D.M. started smiling and said "I also got out to this bowler's father in both innings of the S. Thomas - Wesley match in 1915. The bowler was Sam Elapatha whose father and grandfather played for S. Thomas in 1915 and 1884 respectively.
Mr. Rajapaksa died of a heart attack in May 1945. The only member of age to contest the by-election was D.A. Rajapaksa, the younger brother of D.M and father of President Mahinda Rajapaksa. D.A. was elected unopposed. D.A. was reluctantly taken to the Hambantota Kachcheri to submit his nomination for the by-election. He was proposed if I recollect right, by D.M.'s brother-in-law, Proctor George Weeratunge and by Proctor Nilaweera of Tangalle whose son Nihal is a tea planter of repute who now works for the world famous "Dilmah" tea known in almost 90 countries today.
At the general election in 1947, under the Soulbury Constitution, Hambantota was divided into two constituencies; Beliatta and Hambantota. D.A. won Beliatta by over 8000 votes. Lakshman, George's brother, won Hambantota.
* What I did with George referred to above by Lalitha I can't repeat myself, but as Lalitha insists, I can only refer to the speech of V.N. Navaratnam, MP for Chavakachcheri appearing in the Hansard of 6th July 1976 - Speech made on the condolence reference to George in Parliament.
Shyam's second death anniversary was on August 12.
Shyam studied at Royal College and left for London in 1986 and passed out as a Barrister in November 1990. He obtained the L.L.M. (London) Degree in November 1991, and completed his studies at the Ceylon Law College, to be enrolled as an Attorney-at-Law in August 1992. He joined the Chambers of Mr. Daya Perera P.C. where he worked as a junior counsel till June 1993. He joined the Attorney General's Department as a State Counsel. From June 1993 to April 1999 Shyam prosecuted in the High Courts in addition appearing in the Courts of Appeal. He was known for his wit and humour and the rich anecdotes surrounding his court appearances. Wherever he was there was laughter.
In April 1999 Shyam left the A.G.'s Dept. to contest the Southern Provincial Council elections in June and won with the highest number of votes in the Southern Council. Shyam never lost heart that his remarkable victory was not duly recognized but he continued as a Provincial Councillor for five years serving his electorate with commitment and dedication. During this period he also carried on his practice mainly in the Ratnapura District and in the Southern Province.
In 2004, Shyam joined the United Nations War Crimes Tribunal in Aruisha, Tanzania where he diligently prosecuted in cases of genocide and war crimes committed in Rwanda. His efficiency and tenacity as a prosecutor resulted in that he was promoted in June 2009 within five years by the United Nations. The impact Shyam had as a human rights champion is reflected in the statement made by Mr. Steven Rapp, the former Chief Prosecutor at the War Crimes Tribunal who was subsequently appointed as a legal advisor to the White House. Addressing the allegations of Human Rights violations levelled against Sri Lanka in the aftermath of our war, in a statement given to the press from the White House, Steven Rapp cast serious doubts as to the credibility of the allegations, perhaps the highest though a remote compliment that could be paid to Sri Lanka.
Shyam came from a colourful and distinguished family in the country. He is the grandson of the late D.M. Rajapaksa and the only son of George Rajapaksa, MP (1960-1976) a former cabinet Minister who held several portfolios and of Mrs. Lalitha Rajapaksa. His only sister is Nirupama Rajapaksa, Member of Parliament and Deputy Minister of Water Supply and Drainage.
Shyam met Prashanthi Mahindaratne at the Attorney General's Department in 1993 and they married in February 2002. Prashanthi also served as a State Counsel for 10 years before leaving herself for the Netherlands to take up an appointment at the United Nations War Crimes Tribunal, which tries genocide and war crimes committed in Yugoslavia during the Balkan war.
When Shyam as a State Counsel was prosecuting in Anuradhapura, the H.C. Judge had an inclination to discharge accused when the prosecution witnesses were not present due to non-service, of summons. In one such case, when Shyam realized that the witnesses weren't present for the trial, he made an application that the judge issue an order to the Registrar to buy Shyam a bicycle! When the judge, perplexed inquired what the application was about, pat came his response - 'Your Honour, this is to ensure the presence of witnesses. I intend to serve summons in person, so 1 need a bicycle for that".
When Shyam was prosecuting in Galle, one day, C.R. De Silva P.C., the former A.G. summoned Prashanthi, and asked where Shyam was. She responded that he was in Galle. He informed her that the High Court Judge had reported that Shyam was missing. The AG, immediately recalled Shyam to Colombo with a warning that unless he offered a reasonable excuse for his non-appearance in court, he would face disciplinary charges. Shyam arrived in Colombo with a medical certificate from one of his friends stating as he was critically ill. The AG summoned Prashanthi also and told her, "I called to congratulate you on the pending arrival". Apparently Shyam's medical certificate had been issued by the house officer in charge of the Galle Maternity Ward!
Shyam had a unique personality. He dressed fashionably and danced gracefully. He was articulate in whatever language he spoke. He was also an excellent cook and prepared exquisite dishes and taught his wife also to cook. He was loyal to his family and friends - supported them consistently. Shyam loved his family and friends. His friends were numerous. His relations were also numerous! Wherever he went, there was someone who knew him. Appreciations written by his colleagues at the UN in Tanzania record how he became extremely popular in Tanzania within five years to the extent that they would joke that Shyam ought to contest for parliament in Tanzania. He loved life and everybody who knew him loved him. The most endearing quality of this remarkable man was his ability to make friends, from whatever background. His ability to integrate into any part of society and be friends is reflected in the condolence book sent by the UN War Crimes Court to his family. In that there are people who have written personal and emotional messages expressing their shock and grief over his untimely passing and they range from the minor staff, right up to the Counsel and Judges of the Court. He had no barriers when it came to making friends.
There were many heartwarming stories of Shyam's kindness and care. One woman spoke about his travel to the Hambantota Magistrate Court about 15 times and appearing for her husband who was in remand due to lack of money for bail. Shyam defended the accused and once the man was acquitted Shyam gave him money to get home. Even his wife did not know these deeds until his passing away. In Tanzania he did much for the poor, from getting electricity for the home of his housemaid at his cost, to sponsoring her and her children to learn English, to teaching poor children in the neighbourhood, to financially assisting poor people in the area to start small business ventures such as selling fruits and vegetables.
There lies the essence of this wonderful young man with the sparkling smile. He helped people out of compassion. In his premature passing, we probably lost a very good human being who had an abiding love and cared for humanity.