Milk & Honey: Hush hush and hitherto the prerogative of Colombo 7's embassy clique, expats and Alliance Française staff. A converted bungalow with gardens dotted in pastel wooden benches, tables and play houses evoking a Montessori ushers you into a children's wonderland. Young owner Pri's taste manifests in beautiful handpicked kiddies' books at the bookshop and simple but simply marvellous food at the vegetarian café.
Nothing childish about the food, though. It is strictly for mature adults: those who've outgrown trying to sustain "puppy fat" with food effusing butter, cream, cheese, mayo and everything lardaceous Colombo seems to have a puerile penchant for. Milk & Honey is refreshingly different, so wholesome, justifying its Biblical name. Unsurprisingly, it has not yet captivated the local imagination. Indeed, Colombo might be perturbed, nay terrified, by anything so healthy.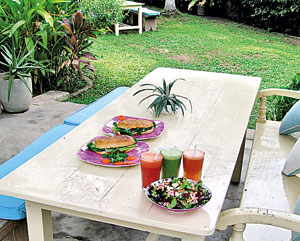 Milk & Honey: Food strictly for mature adults
I was tipped about this discreet address following lamentations over the generally ghastly sandwiches around town. Revealed was a paradise of pure, clean flavours. Pri's kitchen "experiments" (as she calls them) include imaginative organic foccacia like zucchini cream cheese or beetroot tzatziki mint vibrantly leaved. Should this disorient, local flavours are incorporated in seeni sambol cream cheese (a revelation).
Where does Pri source her excellent bread? That's top secret. But the secret seems out about Pri's enrapturing wraps. Unfolded or folded (as the case may be) is the subtle originality of spicy roast pumpkin paneer crisped with bean sprouts, cumin carrot and chick peas in coriander raita, courgette kofta, slow roast vege pesto or Colombo's only edible falafel and humus. These wholemeal wraps transport me to my Oxford days when the revolutionary Alpha Bar launched and had us students spending £4 for the sort of sandwiches Pri dispenses at mercifully lean prices. Nothing inflated about her café!
Pri, who incidentally lived in England, also concocts European-style smoothies which exclude that strange sweetened yoghurt most of Colombo insists on. Discover passion and banana, mango, pineapple and ginger, apple, spices and oatmeal or more playful Nutella and banana. Juices are equally adventurous: parsley pineapple is a must-do but so are celery pineapple and homemade lemongrass and mint lemonade whilst beet, carrot, apple is unexpectedly delicious. Such idyllic charm one almost wants to keep secret, to oneself.
Mitsi's Delicacies: "I make a thousand cakes!" exclaims Mitsi sounding like something from the Thousand and One Nights. Mitsi spent ten years in Colombo, left for her native Serbia, desperately missed Colombo and returned to tantalise the town with cakes as exuberant as her personality. She brings Pan-European flavours: Greek baklava, Italian panacotta, Turkish Sultan's cake embedded with dry fruit and nuts (excessively rich but tickles Colombo), exotic mango roulade, delightful carrot cake…
You haven't lived till you've had Mitsi's Death by Chocolate. Think intense chocolate thick in superbly textured sponge. Divine. Perhaps too divine, thought a hospital café Mitsi supplies- they rather patients didn't meet the Maker prematurely with Death by Chocolate…
"R": Colombo's most clandestine cakes. But those in the know constantly call 777616779. "S" for secret, "R" for Roshanara's wedding, love and maddeningly soft, spectacularly good jaggery cake. Ah, that jaggery cake, Hell is life without it. "My cakes have travelled more than I have," Roshanara smiles (her smartly packaged cakes are oft gifted abroad). And we suspect divorce is an excuse to order more of those home-spiced, finely wrapped wedding cakes!
Butter Boutique: Colombo is cupcaked out. But 27-year-old Rukshi has catapulted the cupcake to new heights of creativity playing with butter, batter and the bitter- all the better! Over 18 stealthy months Rukshi has rarefied textures and "fancified" flavours. A repertoire of 16 cupcakes encompasses the raciest, zestiest and indeed naughtiest: cupcakes oozing outrageous dark chocolate, straw-berried, zingy fresh lime, orange or passion curd.
But Rukshi's forte is filled fantasies for she innovated the two-in-one dessert: cupcakes filled quite extraordinarily with tiramisu, crème brûlé etc. Rukshi further raises the bar with just-launched chocolate bars encrusted in almonds and hazelnuts and rocky road blondies. Her brand new range and one's waistline expand with coconut and sesame cookies and Melting Moment (short bread encasing vanilla butter). For those who pretend butter won't melt in their mouth, we vouch Rukshi's satined sensations will!
The Cupcakery by Shelly: 25-year-old Shelly, Colombo's youngest confectioner, remains demurely shrouded in discretion. But we excavated criminality in all this secrecy: deadly Black Forest, Baileys and lemon meringue butter cream cupcakes! Shelley's date cupcakes were a rage over Ramadan. Make a date this Christmas with her rich cake cupcakes.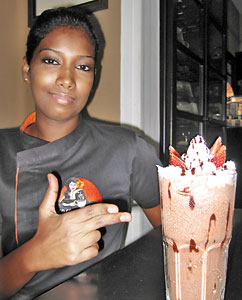 Nimara: Coco Veranda's queen of hearts and mistress of arts
Coffee Bean: No secrets about this address. Or are there? Did you know they alone serve homemade cakes amongst Colombo 7 coffee houses? Super cakes- if you can reach them, the cake counter being fatly glazed by cake monsters. Everyone makes cheesecake around town. Or do they? Coffee Bean believe they alone use unadulterated Philadelphia cream cheese. Their cheesecakes distinctly look, feel and taste different and you needn't saw through them…
With trepidation I venture chocolate fudge cake. However, this chunk of decadence is tastefully tame. Walnut brownies actually contain walnuts but espresso biscotti has more bite. Another secret: Manager Dilano, internationally trained, can customise coffees like Rocky Road or Oreo cookie. Should standard ice blends be too American, request Dilano's secret coffeed fresh passion. Not all secret passions are forbidden…
Nimara at Coco Veranda: Grand finale with a grand disclosure! Nimara, Colombo's only lady barista, has surreptitiously resurged. The girl who stirred up Coco Veranda last Christmas mysteriously disappeared abroad but recently returned to jazz up Colombo 7's coffee scene (quite literally, for Nimara sings too). Queen of hearts and mistress of arts, she displays with flair her myriad talents.
I'm to discover the famous Nimara's remarkable instinct for coffee when I challenge I've heard about her but remain unconvinced she can fulfil my draconian demands for a "defrapped" Coco-Frappe: I don't want Coco Veranda's exclusive Italian Filico Zecchini coffee smothered by what I consider "superfluities" (ie ice cream, cream, and sauces, all integral to Coco-Frappes). Nimara tailors ingredients to suit my taste and fashions the first of the four new Coco-Frappes, sumptuous Black Forest Blend, into a made-toorder Coco-Frappe without denaturing it. And she dresses it in elaborate creamy frills trimmed with sauce, beaming, "Look, I've made you art!"
Nimara's interpretation, or re-interpretation, of the new Chocolate Mint Blend impresses but then comes the master stroke… Thought coffee and fruit are like chalk and cheese? CV's Operations Manager and Nimara's mentor Mr Nawaaz the rules bends with his startling new fruit-filled coffee blends. Naturally Nimara next recommends Blueberry Blend or fresh Strawberry Blend flamboyant with strawberry-studded whipped cream. Apprehensive though about this suspect coffee-fruit combination, I risk it. And I'm astounded. Secret of Mr Nawaz and Nimara's success: He proves you don't need international exposure, just boundless imagination, to create perhaps the most intriguing ice blends and she crafts coffees with no sugar and tons of sweetness. But don't disclose their secret formulae. Ssshh...
Devanshi Mody is a freelance travel writer who has contributed to international magazines and newspapers including Tatler, Conde Nast Traveller, Harper's Bazaar, Wallpaper, Elle, The Telegraph, The Evening Standard and The Independent.