Alandmark in RG's political life was his appointment as a Minister in the Dudley Senanayake Government in 1952. He did not seek positions. He did not shine because of positions. On the contrary, the positions shone because of him. That is where RG was different from other politicians.
The moment he took oaths as Minister of Trade and Commerce, he decided to break the trade monopoly held by foreign businessmen and open out to the locals. Soon after he assumed office, the public realised that he had a vision and a plan. He had realised that by developing local industries, it would be possible to save a huge amount of foreign exchange spent on imported goods. With each step taken by RG to strengthen the local entrepreneur, the multinationals and foreign agents shuddered. They tried hard to get him on their side by offering commissions and valuable goods as 'santhosam'. Numerous agents approached him.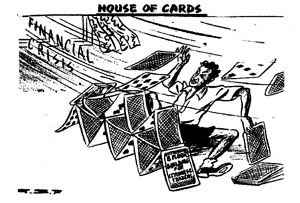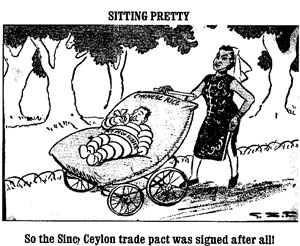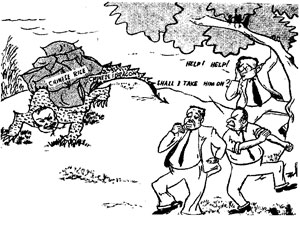 A selection of cartoons that appeared in the newspapers during R.G. Senanayake's tenure as trade minister have been reproduced in the book
He did not want to enrich himself by hoodwinking the masses. He did not collect funds from anyone even for an election campaign. Whenever he needed money, he sold an ancestral property and got the money. He used that money for the benefit of the masses. He distributed the money among the needy.
Following the first appointment as Trade Minister in the Dudley Senanayake Cabinet, RG served with great distinction until 1960 under four Prime Ministers holding the same portfolio. The other three Prime Ministers were Sir John Kotelawela, S.W.R.D. Bandaranaike and Wijayananda Dahanayake. He was bold enough to throw away the portfolio each time he disagreed on an issue.
RG quit the Ministry thrice. He rose against the decision to increase the price of a measure of rice from 35 cents to 70 cents by the Dudley Senanayake Government. Though he begged not to do it, Dudley had no alternative. He kept silent.
The price increase took effect. RG resigned. The rice crisis resulted in a hartal and there was loss of life. Dudley was forced to move out from the leadership handing over the reins to Sir John Kotelawela.
Sir John appointed RG as Trade Minister. He disagreed with the Indo-Lanka policy adopted by the Kotelawela Government and resigned. Yet again he was sworn in as Trade Minister in the Bandaranaike Government.
The government collapsed with the assassination of the Prime Minister.
RG was selected as Trade Minister by Wijayananada Dahanayake when the latter became Prime Minister. RG took a number of steps to protect both the trader and the consumer.
He initiated a separate institution to provide correct weighing scales, measuring instruments and other equipment in order to protect the consumer from crafty traders. While breaking the trade monopoly he formulated schemes to make available cheaper goods to the consumer. He was responsible for getting the private sector to compete with the cooperatives in the state sector thereby helping the consumer to get goods at competitive prices. He constantly maintained contact with consumers and identified their problems.
It was during his tenure as Trade Minister that the initial steps were taken to hand over the island's trading activities to the locals. As a result, a large number of foreign companies changed hands and local businessmen became their owners. The system of issuing import licences for those who employed local personnel was introduced by him. It helped to minimise unemployment. National chambers of commerce were started to give a place to local entrepreneurs. During his tenure, trade flourished. In order to break the supremacy of the foreign monopoly of trade in Fort and Pettah, he attempted to construct a seven-storeyed building to start a trade centre.
After negotiating with a Norwegian company, the first locally owned shipping company was formed with shares being offered to the government and the people. This was a most welcome move which broke the monopoly in shipping. The shipping rates fell sharply. But when he lost his ministerial post, it collapsed midway. If properly implemented, Sri Lanka would have got the ownership of 17 ships. The whole scheme was sabotaged by vested interests. It was a big blow to the consumer as well as the local entrepreneur.
RG had foresight and vision whenever he made a decision. He thought about benefits to both sides when he signed trade agreements. He could do so because he didn't go looking for commissions. He had a backbone. The textile industry got a boost when he was minister. It was the era when there were free imports of sarongs from India.
He introduced a system whereby a certain quota of locally produced sarongs had to be bought in order to get a licence to import sarongs from India. The public was not only able to buy a sarong at three rupees but the producers were also able to get rid of their stocks which had piled up. He found solutions for problems using his intelligence.
Another instance of his astuteness was when he formulated the Lanka-Japan-Egypt tripartite trade agreement whereby we sent tea to Egypt, Egypt sent cotton to Japan and Japan sent us textiles. This was commended by foreign observers too.
As Trade Minister, RG rendered an invaluable service earning plaudits both nationally and internationally. He successfully negotiated and signed the rubber-rice pact with China at a time when Sri Lanka was on the verge of a food crisis. Although there were so many leftist politicians, RG went into the history books as the first politician who signed a trade agreement with a 'red' government. The media started calling him 'Chinese Dickie' after this achievement. He was the first Asian to conclude a trade pact with a socialist country. He also concluded favourable deals with a host of leftist countries including Russia, Austria, Poland, Cuba and Hungary. Among other agreements were rice deals with Burma and Italy, and one with West Germany to export desiccated coconut and coir.
His service as Trade Minister over a period of nearly ten years was immeasurable. RG did the groundwork for the Colombo Plan by holding the preliminary discussions. Due to the solid foundation built by him as Trade Minister, we Sri Lankans can reap the benefits for another over hundred years. That is the vision of a capable leader. He set a fine example for future ministers holding the portfolio.
(A translation from the original in Sinhala)