"Sri Lankans are warmly welcome," said the resident manager of Mas Villa. "They enjoy it here and appreciate the scenery, the history of the area and of this walauwa, and the freedom to please themselves while on holiday."
The manager, himself a Sri Lankan, was emphasising how no guest need feel intimidated by the word "boutique" when used to describe Mas Villa. In addition, to encourage local residents to sample Mas Villa, a third night's stay is offered free of charge for every room booked for two nights.
Since this makes a holiday at Mas Villa cheaper than in characterless 50-bedroom hotels, it's only natural to wonder, "what's the catch?" There isn't one, unless staying in refined luxury in a setting of breathtaking beauty and utter tranquillity, enjoying amazingly well seasoned dishes cooked with local produce and served at any time of day, and simple rural elegance, is a problem.
Even guests who prefer action on holiday or just lazing with their favourite movies will be enchanted. The countryside surrounding Mas Villa provides plenty of opportunities for trekking and exploring the wilderness around the Kotmale Reservoir; and there is a swimming pool and a games room in the villa.
There is a movie library in the games room, which has a billiard table and television. Guests can also borrow books from the library of the late Gamini Dissanayake whose ancestral home this once was.
Formerly known as Pahala Walauwa, the name was changed to Mas Villa after the hamlet, Maswella, in which is it situated. It has nothing to do with the MAS garment conglomerate.
It is just over an hour's drive, via Gampola, from Peradeniya, by taking the turn off to the Kotmale Dam on the road to Nuwara Eliya. The entrance is well signposted and there are no security gates, just a sweeping two-tracked cement drive to the villa entrance.
A corridor of ancient wooden columns leads to the secrets of the interior. First there is the oil-lamp lighting welcome for guests and then a fresh juice and a cold towel are served in the lounge. Wooden-columned cloisters embrace the interior garden courtyard with four bedrooms on one side and the games room, butler pantry and tiny toilet on the other.
Stairs lead to a magnificent suite above the formal dining room. With polished ancient timber floor and wooden furniture including a four-poster bed, it is bathed in light from high windows. With views of the Kotmale reservoir on one side and the courtyard on the other, the suite is secluded and blessed with a cosy ambience of romance.
However, modern gadgetry such as an i-Pod dock, CD and DVD players, satellite television and WiFi are in place. There is one ensuite bathroom with a Jacuzzi, and a second separate bathroom with a rain shower. There is a fan but no air-conditioning as that is not necessary, given the moderate climate of the area.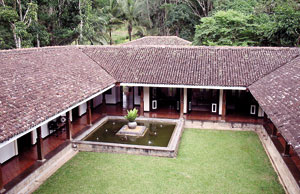 Mas Villa: Luxury with a homely touch
The three deluxe rooms with entrance from the courtyard are equally comfortably furnished, and rather plush. The sole superior suite has a bathroom that features a bathtub and a rain shower (solar-powered hot water) with a view of the pool and reservoir from its bay window.
Although the villa is ideal for friends and family booking all the rooms together, each room is available for individual guests. Meals are taken at separate tables on the veranda and, since guests usually eat at different times, there is no fear of forced socialising with strangers.
In fact meals can be ordered at any time and the manager proudly proclaims there are no rules or set meal times. He wants guests to be free to do as they please, and not feel inhibited as they might in a fashionable, rigidly run boutique hotel.
Mas Villa is winning a reputation for its ample and exciting meals, incorporating ingredients from its own garden or from neighbours' plantations. There is a flourishing spice garden and, for parties, an outdoor BBQ garden with evening campfire.While international dishes are readily available, guests generally prefer local cuisine. The chef, Umesh, is adept at preparing fish from the reservoir and flavourful curries. His special homemade jaggery ice cream, using kitul treacle tapped from a tree growing beside the villa, is a rare treat. It is served wedge-shaped and has a jaggery base topped with rich and creamy ice cream. Sweet rapture indeed!
To preserve guests' privacy, the restaurant is restricted to villa residents. There is a fine wine collection, with remarkably low-priced champagnes. Guests bringing their own wines are not charged corkage.
It's that freedom to behave as one would at home that is part of the delight of Mas Villa. To me, it isn't like staying in a boutique hotel but more like having a holiday in a friend's home that exudes intelligent luxury, comfort and sophistication.
Mas Villa, Kotmale; tel: 052 3794940; 077 7715747; hotline: 077 4045769; email: sales@masvilla.com; www.masvilla.com. Special offer until October 31 of a deluxe room with bed & breakfast for two at Rs12,000 Nett per night, but stay three nights and only pay for two.